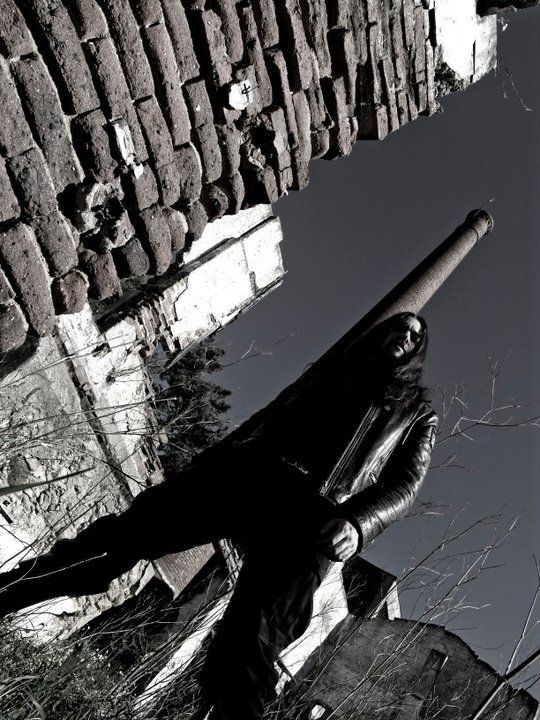 I think it's not necessary to introduce CORPUS CHRISTII, we can promptly move to your new album "PaleMoon". You chose the more moderate name of the album, why? It seems to me that the lyrical themes remained the same: Satanism, misanthropy, death.
I had the name in my head for a bunch of years, it was in fact a name for maybe a solo project or something. It came back to me not so long ago so I decided to use for a new CORPUS CHRISTII album. I used it since it makes me think of these old grim B.M. records, more grim, the old vibe, simpler and straight. More direct to the core of what B.M. truly is.
In my opinion, "Luciferian Frequencies" album was a little bit experimental stuff, while "PaleMoon" is the return to UGBM with the more raw production. Do you feel it in the same way?
It is precisely right, but I do music as I feel at that period. And when I did "Luciferian Frequencies" I was pleased in doing such an album. Now I was feeling more nostalgic, so it was obvious I would go more into what I started listening back in the early 90´s.
You recorded almost every album in the different studio than the previous one. Was it by reason that you wanted to try something new every time, or didn't you find the specific sound you would be satisfied with yet?
For a long period I recorded in my own "studio", a basement with some basic gear. Needed something more, so I started to try new things. I like to try different stuff and experiences, so I changed around. Also due to opportunities and budgets.
I am pleased with all the experiences I did so far. Each studio,/producer has given a special extra to the album they have recorded.
"PaleMoon" is your first album released by the German label Folter Records. You surely had the offers from various labels, why did you choose Folter?
We did not in fact, everyone thought we were still in Candlelight. I just got in contact with Jörg (Schröder, the boss of FR – edit. note) at some gig I think and asked him if he wanted to sign us. I think this is how it went through. Not even sure. I respect Folter and they have been in the scene for a long time, so why not. Better to work with people that understand what the band is doing.
You have very characteristic vocals and interesting voice range. Do you practice it somehow? Your vocals can be sometimes "indigestible" during the first listening. Is that a purpose in a sort of way?
I never practice, I normally just do the vocal lines when I am recording, all spontaneous.
Singing was always my main "instrument", and gladly I think I have a wide range. Not everyone likes it, but I do what I want. I try to emphasize each word, give life to each word.
I don´t think about it, I just know the way it comes out, is the way it is meant to be…for me.
You accepted the second member Joao Duarte alias J. Goat to CORPUS CHRISTII. Is he really the new permanent member? There were some drummers as Menthor or Necromorbus in the past and Ignis Nox helped you for ten years with keyboards and programming, but J. Goat took guitar and bass. Have you lost a fancy for doing everything on your own (except drums)? Did you stay the only author of all songs or did J. Goat or alternatively the guest drummer G. R. cooperate with you on it?
I am glad I have some external help, it was about time. J.Goat is a very talented guitar player and makes the whole process faster, he also helps with many other things so he was the right choice. I was growing fed up of doing everything myself, I could still do it myself but I think some help is nothing bad.
He has been session in the band for 6 or 7 years already, he knows already how I work, how I do my riffing, so it has been rather easy for him to know how to compose, and do my style. We work well together, and well, I am somewhat of a dictator, if I do not like it, I just say "no". CORPUS CHRISTII is still my "baby", I have the last word.
CORPUS CHRISTII are going on European tour in April and May 2015 accompanied by the Serbians THE STONE and the Spanish band MUERT. You were on tour across the Europe with the first-named act in the past. Do you have a great relationship with THE STONE that you're going on another trip together? I have to say that your common show in Prague in 2011 was very intensive!
THE STONE guys are brothers, it is with great pleasure we will hit the road with them again. I remember very well the Prague show. I have no clue why we have not played there again, it was a awesome show. Great audience also. Get us there again!!!
You are also one of the two members of another black metal band MORTE INCANDESCENTE. What is the main difference between CORPUS CHRISTII and MI in your opinion? Do you plan a new album soon? Five years are gone since the last full-length recording.
MORTE INCANDESCENTE is an active band, we just do not care so much in releasing the material. We have a new album recorded. 12 tracks, recorded more or less like a rehearsal. Maybe one of these days it is released. Going to be called "…o Mundo Morreu!"
I see no comparisons between C.C. and M.I. that´s why I have both bands. If it would be similar I would not have both bands. Ok, both are Black Metal but that is it.
What about the bands STORM LEGION or NOX INFERI, in which are you also participating, are they active? What I found interesting is that you are also a live-member of DECAYED since 2014, although you did not usually record the drum parts of CORPUS CHRISTII. Why?
STORM LEGION is basically over, Ainvar (Ara – bass, guitar, vocals – edit. note) has been living abroad for many years and he is a very very busy man with a family. But I am sure one day there might be a new album.
NOX INFERI, well, there was some talk about doing a new album but I never heard back from Wraith (guitar, keyboards – edit. note) again.
With DECAYED we are doing new material, I will record drums for them, we will do a new split 7´´ with GOATFUKK. Already did some live shows for them. I do not do drums for C.C. because I am not good enough, simple.
You owned the label Nightmare Productions in the past and released not only CORPUS CHRISTII albums, but there were also recordings of MERRIMACK or MÜTIILATION released under the wings of your company. The last albums were released in 2011, why did you stop the activity then?
Because of the mailorder, people was just buying what was hyped. The trendy stuff. I had a mailorder full of awesome record at very good prices and no one cared. Everyone wanted the trendy albums even if at higher prices. BM should be about not following trends, about being "punk", rebel and all that. But the last 10 years has been about being like everything else. Just bullocks.
In Portugal, you are one of the frontal representatives of black metal and the metal genre in general. When I take the whole metal scene in Portugal, only MOONSPELL have a bigger commercial success, but I think it is not your aim. Could you somehow describe the Portuguese scene and maybe recommend some acts? I know only AVA INFERI or IRAE and I'd like to discover other interesting bands from your country.
I do not consider there to be any scene, at least not still. I think bands here are too independent to try and work things out together. Going nowhere. If I would have relied on others I would have still be nowhere. I am sorry to say but people here are lazy bastards.
But I sure recommend bands like: GOATFUKK, ALCHEMIST, PROCESS OF GUILT, BLEEDING DISPLAY, MIDNIGHT PRIEST, MONS VENERIS, VETALA, NEFASTU, SCUM LIQUOR, DECAYED, ALASTOR, GROG, DAWNRIDER, DRAGON'S KISS, ONIROMANT…
Are you keeping an eye on the news in the music scene or are you rather supporting the older bands and recordings and the new bands do not interest you that much? What albums released in 2014 do you like the most? And are there any upcoming releases you are really looking forward?
I know there´s some good new records, listened to some tracks here and there, but it just does not attract me enough to want me to get them. I mean, now I just remembered I need to get the debut THE DEATHTRIP and new DHG. Also missing the not so new INQUISITION.
I have a vast collection and in the end one always goes for the classics. I know that in 10 years time, the classics are the ones I will listen to. Most new stuff will not "stick".
Thank you for your time and answers. Keep the Black Metal flames burning! The last words are yours....
Praise the Light!
REVIEW
(In Czech language)
http://officialcorpuschristii.bandcamp.com/