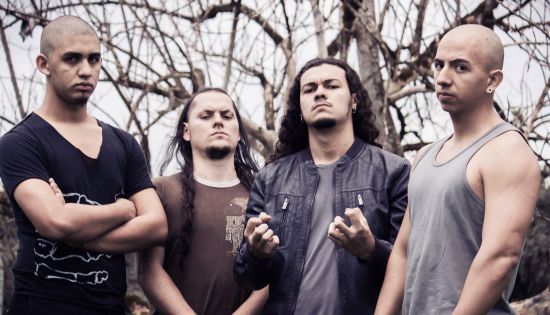 When was your group set up, why this particaler name, what does it mean and what the initial reason of its creation?
Eshtadur is a black metal band since 2006, the name is according to demon literature and kind of myth from greece, a word used by several autors to resume easily the meaning of "rebellion of angels", the act of how angels rebel.
Introduce the individual members - their age, whether they have played somewheres, and how long they have played  their instrument?
Jorge Lopez (founder of Eshtadur), i used to play drums at the beginning, then i started to work alone as a solo project, and i recorded all instruments, in live shows i played with some friends musicians not members of the band. And the last 3 years, i worked with two guitar players (members actually), Wilmer Herrera who played live shows with Eshtadur like 2 years more and Sebastian Supa, he played with Wilmer too.

Under what conditions have you made a recording, are you satisfied with it, how many have you produced, has it been with sales, what is the cost?
I always tried to have a nice recording, i took my time to have an acceptable budget, but i was just 15 years old when i made first recording, it wasnt the best. in 2011 i tried again, and finally i was not satisfied with production and mastering, but i send hundred of copies, actually i have less than 100 cds. and label made 1000.
This year i worked completely different, i recorded great tracks with less money, i just have the real price with Mastering, i produced it carefully, and im very satisfied with new album, that is what i was searching for.

Lyrics - why did you decide to sing in English... who wrote the words, what topics have you choosen?
Well, Eshtadur´s music is not the genre that moves south america, here in our lands we are having a particulary boom, with thrash, death thrash metal, so i have to do as a universal product and thats why i write all in english. In my songs i write about global dictators, politic, religion, many more, i write about darkness, and i think im doing same genre from thriller movies, just that.
Who is the author of the logo, cover, Website? How much importace do you placeon these things?
The logo was created by Manuel Valencia and me, about 2005.
Cover of new album was made by Sergio G. as my ideas, i think visual stuff is very important and thats what make the difference between a band and other, a nice album should have a nice artwork, and it has to be great as visually as it sounds.
Which bands have inspired you?
Well, i started to  listen metal with Metallica, my influences are Cradle of Filth, Dimmu Borgir, Graveworm from italy. Arch enemy.
Talking about what i listen normally, Journey, Survivor, Black sabbath. I also listen to Decapitated, Vader, At the gates, and of course as im young, i have to listen whats new in genres, like the Black dhalia murder, Vidjartha, and all new albums from In flames, Soilwork, Chthonic, finally i love Ihsahn.
Have you sent your recordings to the labels which ones? What was their response?
I´ve never send cd´s to universal labels, i know im not prepare, with new album, i´ve send to several labels, but i got no answers, only nice comments from underground labels. i guess i have to be recommended by any important guy.
How many shows have you done, and which ones do you consider the best?
Well, i dont have a count, im bad with this stuff, but i remember a very nice show in Peru, opening for VADER, we sould out all material there. and i guess the best show i had with Eshtadur, was this year, openning for Cradle Of Filth in our country, people loved what we did. And thats pretty nice to know, that people like your show.
Do you have ambitions to play in other countries?
Of course, this is one of the goals, i have to focus on, make all people in the world listen to my musical propose with Eshtadur.
Plans for the future...
We have now a latin american label, first move i guess, it will be, to find an european label, we have to make a latin amercian tour, with new album. And then try to played in North america or europe.
https://www.facebook.com/pages/Eshtadur/177549565617566
REVIEW 1 (In Czech language)
REVIEW 2 (In Czech language)