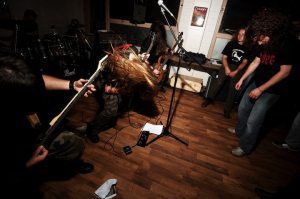 When was your group set up, why this particaler name, what does it mean and what the initial reason of its creation?
 
Death agony was born in July 2005. Both the drummer (Olivier) and me (Matthieu, Guitar and voice) founded the band. In the past we had other bands in which we played together, but this time we wanted to make something in the Death metal way, influenced by bands like Vader, Six feet under...
The name of the band, Death agony, was chosen because of our interest in human feelings in front of strong realities: despair, fatality, suicide ... everything that deals with psychologic violence and the incapacity to overcome dark thoughts.
Introduce the individual members - their age, whether they have played somewheres, and how long they have played  their instrument?
- Matthieu, 30, play guitar for 11 years and voice for 8 years, played in bands influenced by alternative metal/power/death.
- Olivier, 32, play drum for 11 years, played in metal and rock bands.
- Philippe, 29, play guitar for 12 years, played in alternative / metal / thrash bands
- Julien, 28, play bass for 6 years. Played guitar in different kind of punk bands.
Under what conditions have you made a recording, are you satisfied with it, how many have you produced, has it been with sales, what is the cost?
 
Our first album, "Carcinogenic memories" has been released on 8th September 2012. It's a 9 tracks album which has been recorded with a friend who works in the "Ace of Spade studio" in France. We are fully satisfied with it, we always wanted to have a particular sound inspired by the 90's bands, I think our identity is also based in this sound.
As we are an independant band, we try to sell the album by our own way. But we also try to make deals with music shops and especially metal shops, all over europe . Actually it's available in the north of france and belgium, and some deals might be possible with shops in Swizerland, Germany, Poland ... . We are working on it!. You can also get the album during shows, or by mail order selling, we can ship worldwide!
Lyrics - why did you decide to sing in English... who wrote the words, what topics have you choosen?
 
We don't know what the feelings in other countries are, but in France, singing in our native langage sounds very particular. We chose to sing in English because there are many ways to transcribe feelings in words. It's much harder to make it in French without it seems silly.
Moreover I'm really interested in the aesthetic of words, English is a good material if you work seriously with it.
It's me (Matthieu) who write the lyrics. Sometimes, the other members give me ideas about the topics, and I'm writing the entire words. As I told you before, we are particularly interested in psychological violence. We focalize on the human feelings in front of all destructive experiences. That's death agony, the death of the soul, in a certain way. And that's what Carcinogenic memories is about. All the songs deal with it, every kind of traumatizing experiences.
Who is the author of the logo, cover, Website – how much importace do you placeon these things?
The actual logo of the band was made by Forcas, singer of the French brutal black metal band, Dark managarm (You have to listen to this, they are killers!). We are friends of them, we played a lot of gigs together.
Of courses every mean is important to promote the band. We have now myspace, facebook, and other pages, but we are working on our official website, in french and english. Stay tuned!
Which bands have inspired you?
We are firstly influenced by death metal bands of the 90's: Death, Six feet under, Cannibal corpse, Vader... We have also some other kind of influences, which depends on the members: Slayer, Behemoth, Azarath, Sepultura... Every musician have its own principal influence, and it can be rock , thrash, death black, or grind... Death agony's identity is feeding on this
Have you sent your recordings to the labels… which ones? What was their response?
 
We send the album to few labels, but we decided to promote it by our own, principally because of delays. It is also a way to do things as we wish to do.
How many shows have you done, and which ones do you consider the best?
We are now reaching a hundred of shows. We had the opportunity to play with international bands such as Debauchery, Pandemia, Destinity, Disgorge (mex), Fleshless, Master..
Great experiences for us to meet such fucking great bands like that! We hope we can gather again such great moments, on stage and also with the musicians.
Do you have ambitions to play in other countries?
 
Yeah, we are now working on it. We are organizing a european tour for 2013. We hope we can also play in Czech Republic! Stay tuned!
Plans for the future...
Our projects are now to tour in europe, and also to release the second album which is being composed.. And other stuffs: a european distribution, recording a video clip...  We will have so much to do in 2013!
Website:
Official website is coming soon, stay tuned on:
www.myspace.com/deathagonynews
https://www.facebook.com/pages/DEATH-AGONY/126576403494