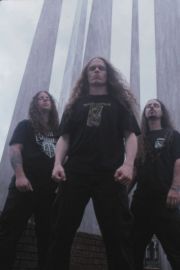 WHY DID YOU LEAVE MORBID ANGEL AND WHAT DO YOU THINK OF THEIR ONGOING EFFORTS ?
I have been a member of Morbid Angel for ten years, they have meant a big part of my life to me, but I felt that it was time to move on, so now I hope that I can spend the next 10 years with Hate Eternal and have my own career. I wanted to express my own ideas with no limitations, you know, Morbid Angel is Treys band and Hate Eternal is my band, that´s it. Morbid Angel in my opinion is the greatest death metal band of all, of course there were other originators of the genre like Death, Cannibal Corpse or Obituary, but to me Morbid Angel are the most diverse of them all. They have always been an outstanding band and all of their albums are unique and uncomparable to any other death metal band.
WHERE DO YOU WANT TO GET WITH HATE ETERNAL ? MUSICALLY YOU ALREADY SEEM TO BE A MILE ABOVE THE REST SO WHERE IS THE MOTIVATION ?
Well, as I said before, to me Morbid Angel are the number one, but we are not here to compete with anybody, Hate Eternal is my vision of how I want to play this brutal music. We are not going out to win any commercial acknowledgement or prices, we are here to play the most brutal way possible. I think we still develop from album to album and I want to become a better guitarist, a better songwriter and a better musician and as long as I can assure that, I think, Hate Eternal has a reason to be here. I mean, hey, there is so much much that can be done within this type of music, of course, if you trace it neatly, you can always say, this is inspired by Morbid Angel, that is inspired by Slayer, but as I said, we want to develop it further and that seems to be the motivation to do it.
YOU PRODUCED A LOT OF BANDS ? I IMPOSE THAT A LOT OF THEM SOUND LIKE MORBID ANGEL OR HATE ETERNAL...IF SO, DO YOU LIKE THE FACT OR WOULD YOU SEE THOSE BANDS RATHER GOING THEIR OWN WAYS ?
All of us have our influences and as long as a band feels comfortable with what they do, why would I try to change that. The most important thing about producing is to keep the spirit of the band as it is.
WHAT IS THE PRIVATE ERIC RUTAN ABOUT ? ARE YOU SATISFIED WITH YOUR LIFE UNTIL NOW ?
Well, I guess that right now I´m having a very good period of my life, if not the best. I´m having a very good home situation at the moment, me and Derek (Roddy) are having this studio together and there is really a lot of good things going on in my life. Of course, I could mention the same amount of bad things in my previous life, things that influenced me in my early days, like getting into fights, problems with authorities etc., but I guess I managed to get rid of a lot of those bad habits, I really try to improve on myself very day. The most influencing thing about me is maybe that I am a very angry person. Anger is the driving force behind me I guess, but with my musical career I think I manage to channel a lot of that aggression very well through my music and therefor I have become a lot more settled and calm then before. In my youth, I was really having a lot of trouble, at school, at highschool, even got in trouble with the police...but I really think that I have become a much better person, I mean, I always was a good person at heart, but sometimes my anger gave me a lot of trouble. I really still try to work a lot on myself nowadays, to become a better person, a better musician, cause one should never be satisfied...
YOU PLAYED IN RIPPING CORPSE, A GREAT BAND AT THEIR TIME....CAN YOU TELL US THE REASONS WHY THEY SPLIT UP ? AND WHAT ABOUT DIMMAK ? ARE YOU SATISFIED WITH THEIR LATEST OUTCOME ?
Yes, Ripping Corpse was the band I played already in when I was still in Highschool. We recorded ?Dreaming with the dead? and supported Morbid Angel on the ?Altars Of Madness? and ?Blessed Are The Sick? tours in the US. The split came when our label went bankrupt, a bad situation, but still, as an outcome of that situation I had the chance to join Morbid Angel. I guess, Ripping Corpse was a band that played very diverse music at their time, we tried to bring in a lot of influences that some people wouldn´t understand then, cause the genre was more strict then nowadays...
WOULD YOU SAY YOU WERE AHEAD OF YOUR TIMES THEN ?
Well, that would sound cocky to put it like that....yes, it definitely sounds cocky...but in a way, one could tell it like that, we did a great mix of styles then and also tried to implement a lot of musical elements which bands came up with 10 years later and were thought of as great innovators...but honestly, I just think, we tried to do the best we could with Ripping Corpse.Dimmak, huh...yes of course, I like the album, it has a great vibe I think and its making reminded me a lot of the great times we had while being in Ripping Corpse...just to make you curious, there might be something in store for all Ripping Corpse fans later on this year...
THE COVER FOR KING OF ALL KINGS LOOKS VERY "METAL" WHEREAS "CONQUERING..." WAS MORE INFERNAL ? WHAT DO YOU THINK ?
The cover of ?Conquering...? shows a painting which is about 500 years old, when times were strict and so also theart of those days was very strict and direct, it shows ?hell? as people might have thought about 500 years ago so this evokes this kind of diabolic impression you get when you watch it these days and yes, the cover for ?kings...? is metal, but I think, the guy who designed it, Andreas Marshall, he did some great metal covers and you can find some kind of diabolic touch also this painting, but yes, I would definitely say, it´s metal
DO YOU THINK THAT THERE IS STILL ROOM FOR NEW THINGS TO COME UP WITHIN DEATH METAL ?
Basically I think you can always come up with something new, as being innovative is one of the driving forces behind Hate Eternal, too. As I said before, you can always try to trace something back to its origin or the idea that stood behind it and then accuse someone of copying or being influenced, but hey, what´s wrong with being influenced ?
WHAT IS YOUR OPINION ABOUT NEW METAL, RAP METAL OR ELECTRONIC METAL ?
Hmmm, ah....no comment
IF EARACHE WOULD PUT ON A TOUR WITH HATE ETERNAL AND MORBID ANGEL, WOULD YOU JOIN IN ?
Yes, of course, immediately
A LOT OF BANDS HAVE BEEN DOING COVER VERSIONS OF SONGS YOU WROTE / CO-WROTE. WHAT KIND OF FEELING DO YOU HAVE WITH THAT ?
Well, I guess it is a big honour if that happens, so I would sum it up like this...I really feel very honoured. It is a great feeling when you manage to create something that in other peoples´ opinion is good enough and worth to be covered...
CAN YOU TELL US A LITTLE BIT ABOUT YOUR MUSICAL CAREER AND A LITTLE LOOK INSIDE YOUR MUSICAL THEORY, SCALES YOU USE ETC.
My musical career probably started in the moment I first took a guitar in my hands. I never thought of fucking around with it, you know, when I first held a guitar in my hands I knew it would have to be serious. I grew up in a very musical family, almost everybody played at least one instrument, even me, at the age of 7 or 8 played violin for a short time, but I wouldn´t say that any of my musical theory dates back to that time even though maybe some of it remained in some corner of my brain and later on might have been brought up again by my going through all the hours of practising. I do not use scales in the way that I say I go on composing in this or that scale, it´s more like that I use a lot of scales for sure but I don´t know their names, if you know what I mean. That´s also a thing I would like to concentrate on in the future, to become a better musician, also theory-wise. In general I try to use more exotic kind of scale combinations, I try to break out from the ordinary scale system even though I of course use stuff like pentatonic or the obvious major/minor stuff as well.
WHO WERE AND ARE YOUR IDOLS IF YOU HAD(VE) ANY ?
As far as guitarists are concerned I´d probably like to cite Yngwie. There´s alot of people saying that he´s no good nowadays, denying him all the credit he deserves for he has done but I´m here to say: Yngwie deserves all of your attention if you are a guitar player...of course I need to mention Steve Vai and also Eddie Van Halen, I mean, what´s wrong with what he did ? His play was so inventive and boundbreaking at his time...maybe the main reason why I wanted to play real evil music are Slayer. There were others before, like Metallica or Iron Maiden, but when I first heard Slayer it changed my whole approach to music...yes, I would mention Slayer in the first place when it comes to idols or influences...I would even go as far as saying, without Slayer there would not be any death metal, I mean, they recorded some of the most intense, most evil and most aggressive pieces of music that were ever written
IS THERE ANYTHING YOU KNOW ABOUT CZECH REPUBLIC AND THE CZECH METAL SCENE ?
We just were in Czech Republic two days ago and it was nice to play there. I have the feeling that people are more enthusiastic about music over there, well, I only had the chance to play there twice in 6 years, once with Morbid Angel and now with Hate Eternal, but it was great to be there now and then. It is a beautiful country and the people are very friendly, I really like it.
WHO CAME UP WITH THE NAME HATE ETERNAL AND WHAT EXACTLY SHOULD BE THE MEANING BEHIND THE NAME ?
Well, I guess it was me who came up with it, partly cause as I explained, anger is a driving force in my life and partly also because I think that the name perfectly explains what Hate Eternal stands for: the quest for playing the most brutal music I can imagine.
WHAT ABOUT ALAS ? ANY NEWS ?
Yeah, sure...the material for the next album is mostly already written, I just need to get together with the rest of the band and make it happen...we really didn´t have much time lately since we did 8 tours for ?King Of All Kings?, but I´m really looking forward to get my stuff together and record a new album with Alas. We also might be looking for a new deal for Alas, hopefully for a bigger label. Hammerheart has done a good job over here in Europe, but the US were a disaster, so we will see what happens in the end.
YOU SPENT QUITE A LOT OF TIME WITH JARED, NOW HE HAS LEFT THE BAND WHAT ARE YOUR FEELINGS ABOUT THAT ?
Jared is a very good friend of mine, we have really been together for a very long time and we miss him very much in the band. He is going through a very hard part of his life right now and so he took this decision, also to not to endanger what we had built up together over the past years with Hate Eternal. I speak to him very often and he seems to be getting better now. You never know what the future might hold for Jared, but he definitely will always remain a part of Hate Eternal no matter what happens. Randy (Piro) has taken over his place for now and he does a great job, mainly cause he had only a very limited amount of time to learn the songs. He´s also a long time friend of ours and so we are happy that everything was kept ?in the family? haha
FINALLY SOME WORDS FOR YOUR CZECH FANS PLEASE
I really enjoyed my stay in your country and I hope it won´t last another 6 years until I come back into your beautiful country. At the moment we are talking about maybe doing a tour towards the end of the year, maybe already in support for a new album...