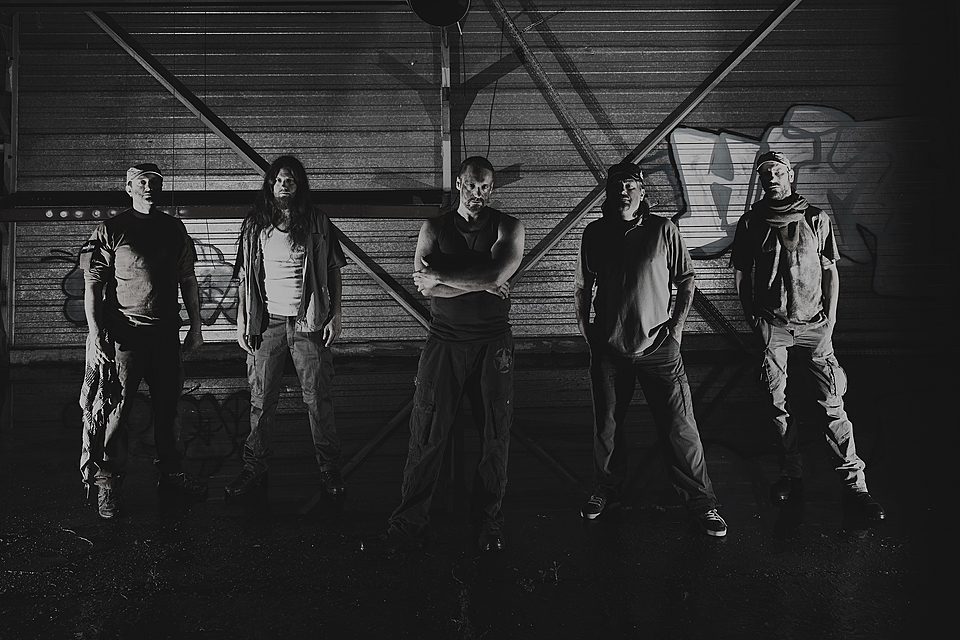 When was your group set up, why this particular name, what does it mean and what the initial reason of its creation?
We were established in 2017 and have been looking for dome time for a name which would suit our music, lyrics and concept. Finally we came up with Mnemocide which can be explained as 'erasure of collecrive memory". This term is used for example with the armenian genocide, where the regime tries to cancel evidence and remembrance of this tragedy.
Introduce the individual members - their age, whether they have played somewhere, and how long they have played their instrument?
We are six members and have been playing already together in a former project, which helped us a lot finding our common path. We consist of a vocalist, each one bass player and drummer, one member taking care of our elektronic soundscapes and two guitarists. So, despite "Feeding the Vultures" being our debut, we are well experienced death metal heads.
Under what conditions have you made a recording, are you satisfied with it, how many have you produced, has it been with sales, what is the cost?
We have recorded the album at the Iguana Studios with Christoph Brandes. We know him since many years and are extremely happy with the result! The entire album cost us around 8'000 to 10'000€ with printing and everything. The artwork has been created by Daroc, who also takes care of the entire visualisation of Mnemocide beside creating all electronic parts you can hear on the album.
In terms of sales we have been literally devastated by the corona virus, as people buy 95% of our cds at our gigs. As the album came out last may, we have not been able to have one single gig with our new songs.
Lyrics - why did you decide to sing in English... who wrote the words, what topics have you choosen?
Writing I English came out very naturally for us, it was never put in question. Our frontman Matthias write all the lyrics. They are a very important part of our concept, with a very strong message. "Feeding the Vultures" has naturally turned out to become a concept album describing the process of indoctrination, going to battle and remaining left with only destruction and despair. As humanity is not able to learn from history and the owm mistakes, this vicious circle starts over and over again. This is the Mnemocide!
Who is the author of the logo, cover, Website – how much importace do you placeon these things?
As mentioned before, Daroc is the guy taking care of all these things. Our logo, artwork, homepage and also our appearance on social media and the lyric video
for our song "In Pain" are subordinated to one concept.
Which bands have inspired you?
Difficult to say, as everyone of us has its own roots and influences. But for sure we could name the traditional death metal bands from the 80s and 90s.
Have you sent your recordings to the labels… which ones? What was their response?
We have been in contact with Fredy from Czar of Crickets since the beginning. So it became natural to publish our album through his label without having to send our album to other labels.
How many shows have you done, and which ones do you consider the best?
Since beginning we did quite some gigs and festivals, until we had to stop due to corona. Our most important one was for sure our concert at the Meh Suff winter festival 2020, where we could play with icons such as Grave, Dismember and Paradise Lost in a packed concert hall.
Do you have ambitions to play in other countries?
Yes sure! We would be pleased and honoured to play abroad! Especially in the current situation we realoy crave for life gigs and are immensely frustrated, as we feel to have a really good album to present to the people!
Plans for the future...
Gigs!!! As soon as feasible and possible….at the moment we are composing new songs, so watch out!