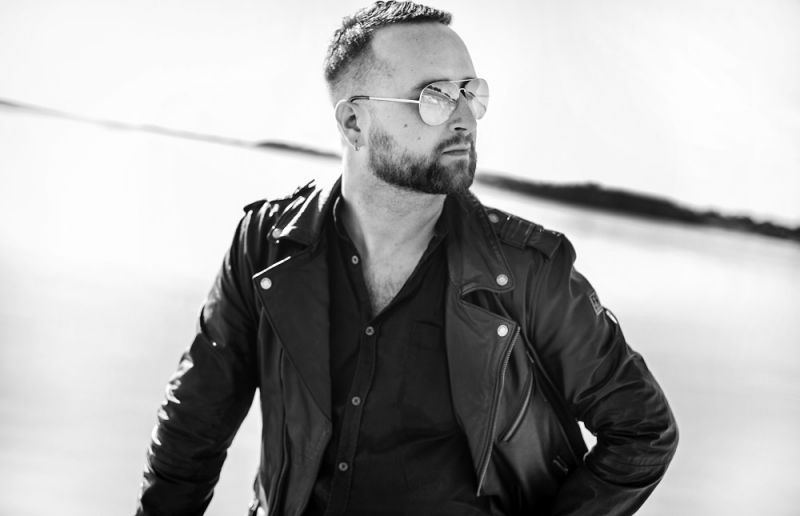 Although you are very experienced musician, UNTERVOID is the new act on the scene, so I would like to ask you for the little introduction of the band. With what visions did you start the new project?
UNTERVOID is my main band now and I'm strongly focused on creating music. Together with A. we decided to play together some years ago, having the comfort of doing whatever we want music-wise, without compromises. We are enthusiastically looking into the future, promoting our band. And yes, we play extreme music.
I listened to your brand new mini-CD and heard there mostly black and death metal influences, but it also contains some doomy or rock elements. How would you personally describe UNTERVOID's genre?
I don't like such an exact labeling of music styles. I call our music extreme, there are BM elements as well as rock, doom and thrash ones as you said. If it's dark enough, it's good for the UNTERVOID.
Could you name some influences which had an impact on you before and during the creating process of the mini-album?
There are many influences but not calculated ones. When it comes to music I like BATHORY, 90's BM bands like BURZUM, THORNS, also electronic music, industrial, rock, blues, fusion etc. We made UNTERVOID to have this kind of artistic freedom, connecting many elements together, but of course mostly the darkest stuff.
You use very large quantity of various vocals, which make the mini-CD even more interesting. Do you somehow practice any special vocal techniques?
I am classically trained vocalist. I've been taught how to chant arias, all vocal techniques needed as well as diction and stage movement in music school. I used to sing in a choir and play with the orchestra as saxophonist. Before recording vocals for UNTERVOID, I came back to vocal training after many years.
It took a few years before you released the mini-CD. Have you already composed another songs? Do you prepare the full-length album?
Yes, it took some time, but we wanted to be one hundred percent satisfied with the result. When it comes to the LP, we have more than a half ready. We want to make 9-10 songs and choose the best ones to record. The plan is to record the new music during fall this year, but we are not in a hurry. We want to be sure of the material before entering the studio.
Do you need any specific conditions when you compose the music?
It depends. I spend whole days with my guitars, so if I have any sudden idea I just record it, mostly straight on my phone's voice recorder. If I like the idea, later I make a demo, using my mini studio. It's like, sometimes I just have a flow and good riffs just explode, but it's not so often. It takes time. Some concepts on my laptop are years old. I don't tolerate mediocrity, there have to be real emotions included.
Do you plan to perform live with UNTERVOID? Have you approached any musicians about being your session-players?
Yes, we do. We have a proper line-up for live activities. Serious and experienced people. If we have some interesting propositions, we'll play.
Your new recording was released by the French label Osmose Productions. How did you get to the cooperation with this respected company? Do you know each other, or you sent promo recordings to some labels and Osmose got in touch with you then?
No, we didn't know each other. I've sent some promos here and there. Herve from Osmose Productions answered straight that he wants to release our material. It's a great honour for me. I've got tons of respect for his activity during the years and his label. We've signed a contract for EP and our first LP. We couldn't start better.
I must ask you a question regarding your departure from HATE. You left this band in 2015 after nine years, why did you decide to do that? Was it just because you needed to move different way musically, or were there any other reasons?
There were many reasons, both artistic and personal ones. After major line-up changes, I decided to focus on my own music and projects. Being involved in HATE was taking too much time. I decided to quit just after "Crusade: Zero" album, feeling that it's the right time to move into a different direction. I've spent great times with HATE and I always wish them all the best, but it's not my thing music-wise anymore.
You're also a member of black metal band KRIEGSMASCHINE. More than three years passed since the latest release "Enemy of Man" (which is a tremendous piece of art!). Any news, planned events or recordings?
No specific plans for this project. All of us are busy with different bands at the moment. If we are ready one day, we'll record something new, but it's not going to be soon.
I know you also give guitar lessons? How many "students" do you have? Is it aimed for at least semi-skilled guitarists or do you also teach the absolute beginners?
Last four years I'm busy teaching guitar lessons at my Rockstarguitar school. It's my full-time job. I have a lot of students and their skill vary from complete beginners to very advanced guitarists playing in own bands. As I said before, a guitar is my main companion almost all the time.
Technique is something what the musicians can learn, at least sufficiently, with a lot of endeavour and precision of course. But do you think there is a way to learn the necessary feeling, the sense of playing and creating music? Or it has to be inborn?
Of course, being born gifted is the best thing. In my opinion, you can develop this kind of feeling, but you have to listen to a lot of music, try to understand it and let emotions flow. It takes years. I also think that one's experiences can shape fragility and feeling in music. My ear training teacher used to say that orchestra conductor should be minimum forty years old because a grown-up man understands life and music better, more complex. For me, lack of emotions is the worst thing. I see guitarists that have very good technical skills but play like robots, there is no music in their notes. It's the main thing I want to avoid.
In my opinion, Polish extreme metal scene is currently one of the greatest. What bands from your country you think are extraordinary and you like them a lot? Are there any new bands or projects, not so well-known yet, you could recommend me?
I cannot disagree. We have some good bands in this part of the planet. For those who don't know them yet, I would strongly recommend AZARATH, BLAZE OF PERDITION, ANIMA DAMNATA, NON OPUS DEI, VOIDHANGER. All these bands are amazing.
What are your favourite albums released in 2017? No matter what genre it is.
Including albums of the bands I've already mentioned above I really like new ALLUVIAL, MASTODON, MARILYN MANSON, DOOL, RITCHIE KOTZEN, DEPECHE MODE.
Thank you very much for your time and answers, I wish you best of luck in all aspects. The final words are yours…
Thank you for an interesting interview. Get ready for the UNTERVOID! We are just warming up.