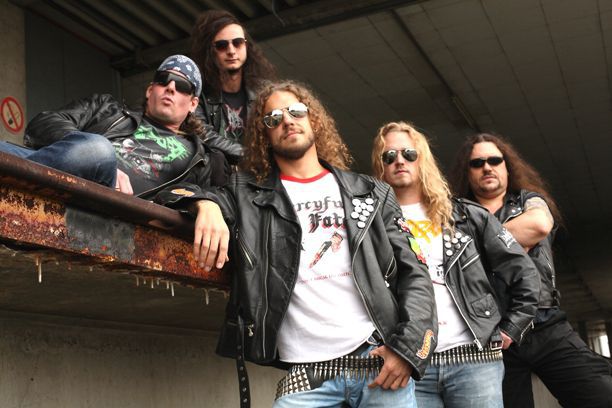 Hello guys! I think it's pointless to introduce DELIRIUM TREMENS to thrash metal fans, so let's start with some history. You started the band exactly 20 years ago when thrash metal was almost a "dead" sub-genre of metal. What was the impulse to start a band and play thrash? And who came with the great band name?
So let`s do a little timetrip. Back then, I (Rowdy Rocket, guitar) just left my Space-Rock-Band and my rowdy friends Ralle and Mütze, better known as Rowdy Roll and Rowdy Mütze Piper were right about to start a band. The drummer Roberto S. was a cool and crazy guy, but lacked of talent. So I told them to play the drums for them cause I want to keep on playing in a band and with your drinking buddys it is always best. Next thing the guitarplayer couldn`t play within the rythm and so we were looking for a new drummer and me back on the six string. At this time, we were listen to punk and 70`s Rock as well but the neckbreaking power of thrash pushed us pretty much higher and here came one thing to another and we were writing songs for violent mosh ground within a month cause we were really hot for the band, the music, the lifestyle, the chaos. The drummer we had stolen from another band, Andreas S., prooved to be the hard-hittin` drummer we were lookin`for and soon the idea of stage shows in the likes of goddess of desire and venom soon seems to fit us, too! So it was less an impulse to start a thrash band for the sake of being in a thrash band like nowadays, it was more a growing process to play the way just you are – raw, dirty `n`nasty rowdy-ass motherfuckers! Yeah! And the bandname was some drunk thought for sure (Ralle and Mütze, heh?).At that time we were known as some loud-ass, piss-drunk, hard-partying bunch of idiots, ha! But we didn`t care for black metal hipsters or crindcore vegans. Just got their looks and; oh, you play thrash – why? Cause we love it and don`t give a damn shit `bout you.
Fuck posers, fuck trends!
I personally think, that Germany is the best country for metal, when it comes to how the scene works. What were your shows like back then?
At this time when we started playing our first shows we always played with non-thrash bands most of the time. We were lucky just to hit the stage to kick some ass! We get a strong fan-base over the years and there were always people in the audience who liked us for our 80`s feeling and rowdy behavior (ok, some NOT!) Thanks a lot people, it means much to us! Stay heavy! In the beginning of the 2k`s we played pretty often, but the so called thrash revival in the mid 2k`s went without us due to our bad reputation I think, harrr! Come on, don`t be scared. We only bite when we stick it up your bloody arse, mofo!
When I first heard DELIRIUM TREMENS, I thought it's an 80's band. The more pleasantly surprised I was, when I found out that you started in 1996 before the return of thrash metal around 2000. How do you feel about the current boom? Does it affect DELIRIUM TREMENS or do you follow your own path?
Fuck posers, fuck trends. `Nuff said.
You've released three big albums in 20 years. That may seem too little when compared to other bands, but I say "sometimes the less is more". Do you release an album at the precise moment when you feel the time has come? Or is it something else?
At some times, and this times could had last years, the band was almost dead (especially the songwriting process was near impossible to be honest). Thats why it took so much time between the releases. A few line-up changes did the rest to say: fuck it, this way can not go on! But there was only one rule ever for the songs put on an album – no fillers, just killers. We cannot afford some bad shit. We need to play stuff that really satisfies us. So if it takes longer, then it is because we want only songs on the album we also enjoy!
The first record "Violent Mosh Ground" was released in 1999. Dirty old school thrash metal, simple, yet full of energy. What were your recording conditions? If I'm not mistaken, the vinyl version came out a few years later. Did you release the album by yourself or was there some label involved?
Violent Mosh Ground was meant to be a demo recording. The hellsound studio was our rehearsal room and we were just recording the best way we know back then but with an attidude that was meant to melt faces down. We were barley twenty back in the days, Mütze was even seventeen, the youngest lad in the gang. We recorded in two weeks, every day after work till late at night. Then the mixing, the printing, etc. all was mouth to ear – hey, you know something? Later, the vinyl version was still a selfproduced output. Still with the same sounds as 1999. You hear, at that time we were big fans of bass drums. Just to mention.
Your second record "Thrashing Warthogs" came out five years later. The first DELIRIUM TREMENS record I heard. Again aggressive and raw material, dirty sound... I feel like I'm listening to 1987 record. Fans apparently like this album as much as I do. It was published by Merciless Records – how did you get in touch with them? Do you still perform songs from this album live? I still like the simple, but accurate album cover (laugh)
We had known Volker from Merciless Records before. He also lived ini the area near to Bamberg, so we came together for some talk `bout how we can get it done and so Mütze checked out studio, pressing etc.. Yes, we are still playing songs from the Warthog album, every live set is a cut through all our albums. Call it our faves from the past 20 Years, hey. The album cover was painted by a friend of the D.T. Bunch. Crazy bastard!
And finally, the third and so far the last album - "Read My Fist" from 2004. It feels like I'm listening to a totally different band. The sound, the production, the interpretation of thrash as well is on totally different level. What was the reason for this change of DELIRIUM TREMENS?
No particular reason for some change or anything like that – it`s just the way we like to play – rowdy ass thrash`n`roll. We don`t mind if we`re not sounding like some hip blackthrash band or some occult doomer from donohwähh – but what was important to us was the professional recording of the songs - done by Patrick W. Engel - and the layout of the cd and especially the Vinyl-version with the gatefold cover the way we want to have stuff like that. Always a trip back in time to look on them. Grin. And the patch is a killer (Commodore 64!!)
"Read My Fist" is for me your best record. I could compare it a little bit to TANKARD – high quality, entertaining thrash metal. Who wrote the music on this album, how long did it take to make it and what were the fans' reactions?
This album was mostly written by Rowdy Bad bone except two songs done by Ivan the russian rowdy who left the band soon after the release by reason we know but don`t talk `bout (just to mention: no bad blood). This is a sad part of the story cause he was a great buddy and talented stringburner. Miss you motherfucker! I had little to do with the songwriting process because I was nearly three years out of the band cause lack of time, and in the meantime they had not the best drummer pounding for the D.T. Of course, some little riffs and some advice were given to get it finally well done, häh? It took two weeks of the whole recording and we had our fun you bet. The fans reaction – well to tell the truth, lots of people hadn`t known or still don`t that we excist still as a band, or you can buy some releases and seeing a live performance. The promotion of the album was not the best and so many people did not recognize that there was a new record out... So, we`re looking forward to tearing down Piscek.Party on!
The album "Read My Fist" was released on three formats – vinyl, CD and MC. All at different labels. Did you want to have the new record available on all three formats or were you just reacting to demand? In what quantities was the album released?
Vinyl and CD was what we had wanted, the Tape output was on demand. Quantities, puh, I dunno... All I know is, that the Die-Hard edition of the vinyl (with Condom and Posterflag) was sold out pretty quick, but that's all...
You know, that's the kind of part of the business we don't care that much about... we want to do our stuff, we are not that interested in sales or so...
What haven't changed are the DELIRIUM TREMENS lyrics. I like, they revolve around classic metal themes. And "Read My Fist" is very relaxed – alcohol, party, drinking. Why such themes, who is the author and what's your source of inspiration?
Responsible for all lyrics is Rowdy Mütze Piper. Why the fuck not, it`s just big fun for us. Don´t take us to seriously, guess we are a bunch of punch-in-idiots who laughed their asses off once too often. Inspiration – concerts, lifestyle, movies, talking shit and antisocial behavior.
There are also two covers to be found on your records - "Paradise City" by GNR and "Hoy Hey, Live to Rock" by Wendy O. Williams. Unlike other thrash bands, you took covers out of your genre and both came out great. Why these covers exactly?
As said before we are not only listening to thrash but also other heavy music as long it is raw, dirty & nasty. And we are a thrash band – why play a cover of a thrash song? We got plenty of our own you see. And by the way – these covers you mentioned are just great rockerz!
When I check your website, you have a list of all shows you've played. You do around five shows a year. Why so little? Is it a time issue, or you simply prefer less shows, but more quality ones?
We just get less invitations cause a lot of peple think we`re out of the game. We would appreciate it if we could play more shows in the future. After the release of "Read my Fist" we got a lot of offers to play outside of Germany but we couldn`t cause we lacked a willing drummer. Now we´re lucky with our "new" one, Rowdy Rumble, who is a perfect drummer for this band and a great guy in every way. Cheerz.
How do you choose which events you want to play at? When I look at the list it's mostly great old school festivals with famous bands (like Desaster, Necronomicon, Manilla Road etc.). Have you ever considered touring?
Depends on the people who wants us to play for their concerts. We don`t cooperate with assholes. But, luckily, to this day, most people were really cool and the number of asses in this places were less than one hand has fingers. And, of course, touring would be great! Just give us a message.
You were performing in the Czech Republic at Open Hell festival in Volyně. What are your memories of these shows?
Open hell fest. Fuck, it was the purest chaos. Really - drink, rock, pass out, drink, eat, puke, hey what time, fuck it, again eat, then puke, still drink more, wow tits, hey baby, bruahah, oh, look at my puke. Klobasa, Klobasa!
How often do you get together as a band? Do you rehearse regularly or just when a show is nearing? How does songwriting work?
Rehearsals been not reguarly in the past two years since the Read My Fist came out, but before live shows or recording we play sometimes twice a week if it`s possible for the four of us. About songwriting, many riffs and ideas start in jam-sessions or at home... we then bring them to the rehearsals and check out if we could create something out of it.
Could you tell, which albums or bands you like the most? I know, that your vocalist Christian likes PILEDRIVER a lot. I saw his great performance of "Metal Inquisition" at this year's Raging Death Date festival...
That question is difficult to answer cause everybody in the band is a character of its own and finally this is it what makes the difference to I wanna sound alike`s.
And Piley, yes, still ugly, hehe! What a great guy
You used to have a stage fire show involving guitars etc. but according to more recent videos you don't have them anymore. Do you want DELIRIUM TREMENS to be more about music?
After the first years with show and so on, we get just lazy and wanted only plug in and play. But I think of a Special gig maybe next year with special oldschool show with all the fire`s and womens and sperm and schlongs, mmmh, would be great. Maybe with some old fellows, would be great, wouldn't it?
You used to be a five-piece band with second guitar. Guitarist Alex left your ranks. Did you make a decision to continue as a four-piece? Does the absence of a second guitar affect songs on "Read My Fist"?
Sure you have more possibilities with the second guitarist in the band but more stress in the practise room, on stage, etc. Time will tell, maybe some young gun shows up some day and tell us to be the perfect fit in this band. Or some old seasoned bone who knows exactly how to rock some heads to the wall. We had not that much to rearrange in the Songs for live performance ... on some parts we will just play rhythm-parts instead of solo-parts or the other way round... depends on the song.
Let's take a break now, what beer do DELIRIUM TREMENS like? Any favorite brands, types of beer? Do you like tasting new ones or do you prefer your favorites?
Mostly we like free beer as our favorite. Ha! Always looking forward to check out new beers, but don`t forget – Bamberg were we live has the best beers in Germany if not in the world. It`s hard to get impressed by any other beers. Show us no mercy Pisek, we drink till we drop.
It's an honor to have DELIRIUM TREMENS at our event Thrash Nightmare in Písek in October. What can the fans expect from you?
We have the honor too, my friend! Expect no mercy and a fuckin`good time. Let it roll, see you there Piscek!!! Yours, Rowdy Rocket
Thank you very much for the interview and for your time! See you in Písek!
THRASH NIGHTMARE PÍSEK vol. 4: Facebook událost