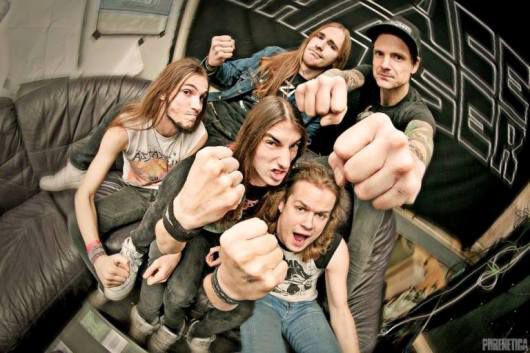 Hi everyone! Space Chaser are less known band in the Czech Republic so you can introduce yourself little bit - Who are Space Chaser?
We are a 5 piece oldschool Thrash Band from Berlin/Germany, formed in 2011. Our Style ist mostly comparable with the sound of the classic Bay Area Thrash Bands. We released a demo in 2012, the "Decapitron" EP in 2013, our first Full Length "Watch the Skies" in 2014 and another Single "Skate Metal Punks in Dezember 2014. We are currently touring a lot, mostly in Germany, plus writing our second album.
You came on the metal scene in 2011 and made the huge move forward in the 4 years which passed by. Has someone from you played in other band in earlier times?
We all had some projects before starting Space Chaser. Leo played in a Thrash Band, Siggi had a classic Power Metal Band, Basti played more in a Death/Thrash Combo and Matthias played in various Extreme Metal Groups.
The first EP "Decapitron" was made after two years of bands existence. The first record is really important for every band. The four songs from this EP sound really great and even it has helped to create complete band from you. If you look back, was the EP Decapitron the ticket to wider awareness on the German music scene?
This EP was our first professionally produced record and took us to a new level. It got distributed by the label we signed later for the LP (This Charming Man Rec.) and we had excellent reviews in various German Metal Magazines (e.g Rock Hard, Legacy).
You released the first large record last year. The LP "Watch the Skies" is really excellent album which I immediately enjoyed after its releasing. Was the music material older on this LP ? Or you recorded the new ten songs per one year? Who is the main creator of the music in Space Chaser? Who is coming with ideas?
We had some older songs on that record, yeah thats right. The instrumental Song "Space Chaser", "Predator" and "Wastecrawler"  were our newest creations for that record. So most of the songs were older yes. Leo is the main composer for all the riffs, that structure the songs. Basti writes the lyrics. But you also have to mention, that Matze edited or kind of rewrote many Drum Parts, especially of the older songs - that made the songs mainly more powerful!
And then it was followed by the EP "Skate Metal Punks". So let´s confess - Who rides on the skateboard from your band? (smile)
Absolutely noone but with a collaboration with koloss skateboards we feel quite close to the scene.
Let´s talk about the lyrics. What themes are you using in your lyrics the most often and what do lyrics mean for you? Do you want to express some specific view or message with them?
The lyrics are mainly about science-fiction and horror themed stuff. Really classic. But we also got some party songs (Skate Metal Punks/Loaded to the Top). Lyrics are important as they can be the cherry on the cake for people who already like the song and want to read a cool story or maybe have a laugh. We don't want to send a specific (political) message to the people. Enjoy the music, have fun and thrash!
I have noticed on youtube you often include some cover of bands like Slayer, Agent Steel or Anthrax into your setlist. Do you take it as the honour to mentioned bands? If I compare these covers, yours sound really cool because you always bring something new into them. It is created something special what characterize you.
Well, we normally covered bands, that had a huge influence on us. We     pay a tribute to their work and yeah of course the covers sound always a     bit different, but the reactions from the people were always positive,     thanks!
You have played with Tankard, also at the Rock Hard Festival or we can see you at the Stormcrusher festival. You are very busy this year! How is it going with planning your concerts in Germany? Do promoters call to your band by themselves? Or it is necessary to help it by yourself a little bit?
Yeah the festival season was great, we had a lot of fun! If everything goes as planned, we gonna have 30 concerts behind us this year! Especially in September and October we will be on the road every weekend! Normally we get inquiries from promoters, thats the normal way! Booking a tour by yourself without having any contact with a promoter before is really hard, you need friends and people who like and recommend you to local clubs and then you have a higher chance to get a gig.
You have played two concerts in Prague in spring this year. The one of them was in a club and the second was in the hotel where you were accommodated. How have you got on to this weekend event? Have you taken also as a trip to Prague with an idea that you want to play two times here?
We got in contact with Thomas from Bajonet and he recommended some locations - so we ended up in playing that little bar "Rock Hard Bar Praha". Many thanks fly out to him and his help for us.
And what about the music scene in Berlin? Of course the series of tour of the great bands do not miss your town but how is it going with the underground scene? Do you also organize some concerts? If so, how many people are going on these events? Would you recommend me some great bands from your town?
Regarding the oldschool metal scene, Berlin is really difficult. The scene is small and with attending 3 or 4 concerts you already know the hardcore. The problem with a big city like berlin is, that there are a thousand concerts every day that you can go to. So often people decide spontaneously, where they go. Normally we don't organize any concerts - with one exception in october. We organized some concerts together with other german underground bands called the "Metal ´em Down" Tour with Pripjat, Dust Bolt, Blizzen and us. Every band organizes its own festival, which they headline! So we got the Space Fest, Reactor Fest, Blizz Fest and the Dust Fest. The Reactor Fest in Cologne last week was already sold out!!!
You are releasing your records also on vinyl. So I have to ask if you are fans and collectors of vinyl. If you are, in which one are you fascinated in last times?
Matze and Martin are Vinyl fanatics. Especially Matze has a huge collection. He has been collecting for more than 25 Years. He always is on the hunt for new additions in his collection.
I suppose your music don't earn salary to you yet. What do members of Space Chaser do if don´t compose new music or if aren´t they on tour? (smile) I know it is hard to break into metal scene, bands are compelled to be on tour for a long time, also have to release some other record minimaly every two years, etc.. What is your vision in future?
Every money input that we earn by playing concerts goes directly back! We spend that money on artworks, new merchandise, studio costs etc.
We are all either having full time jobs or are still studying. We are just constantly songwriting and want to take our time for the next record without being under hard pressure. As long as the musical output justifies, that we may take a bit longer than 2 years, thats totally ok for us.
You have quite often concerts. Do you plan any longer tour in Europe? What are the most nearest plans for your band?
We are on tour every weekend from early september until november 7th. By now, no tour lasting longer than 3-4 days is being planned for the future.
What concerts and festivals in Germany you can recommend to czech thrashers? In your opinion, do exist some hot spots? Actions which are worthwile and simply everyone has to see
Definitely Headbangers Open Air near Hamburg, Keep it True Festival in Lauda-Königshofen and the Stormcrusher Festival. There is also a new Festival in the Ruhrpott Area called "Ruhrpott Metal Meeting"  - quite Killer Lineup too!
You came back to play to the Czech Republic in October. You will play with local band LAHAR and with the other czech and slovakian bands at the Thrash Nightmare. What can czech thrashers expect from Space Chaser? (smile)
We always give 100 % and want to deliver a powerful, energetic and  aggressive Thrash Show! Get prepared for some relentless Unstoppable Force Metal!
We are coming to the end of this interview so here is the space for you. Really thank you for your time! We are looking forward to your show in PISEK at Thrash Nightmare!
Thanks for the opportunity - we are really looking forward to have a great  party at october 31h!
Translation:
Anet
Bandcamp
Facebook

Thrash Nightmare event:
https://www.facebook.com/events/1673708996194496/