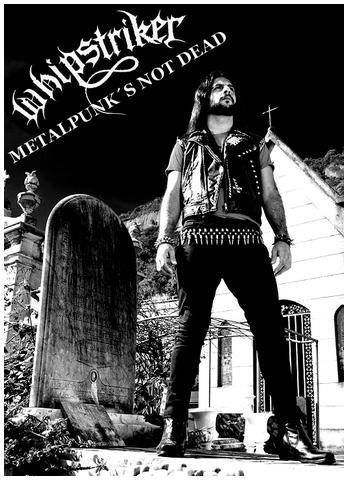 Hi Victor, how are you? Do you look forward to the monthly european tour with your band WHIPSTRIKER , FARSCAPE and APOKALYPTIC RAIDS? Was it difficult to create and prepare this tour?
Victor:
Hey ! First I would like to say thanx for the interview. Total support to underground stuffs like zines, blogs etc. Well we´re very excited for the tour. It is the second european tour for Whipstriker and the first for Farscape and Apokalyptic Raids. I think nowdays is easy to organize a tour because we have many ways to find the promoters, clubs, venues. The new technogies help a lot with that. You can find everything on facebook for exemple. In 2011 we had a booking agency to book the gigs (Agipunk from Italy). This time I booked almost everything alone and Agipunk is helping in some shows.
WHIPSTRIKER was founded in 2008 as mostly your project. Can you introduce your band?  You are hiring musicians for live show, do you have the permanent composition or do you change the people in band?
My plan was only record stuffs and be a studio band. But I love to play live then I started to book shows in 2010.  Many friends played on the band last years but I have a permanent members. I always play with my two great brothers Leo and Pedro (who also play in Farscape). They are my friends since 1993. I do all the compositions and they record and play live with me.  
When I have listened the LP "Crude Rock 'n' Roll" for a first time I said to myself that its fucking awesome! It´s like a mix of Motorhead and Venom . The old school dirty sound - It´s like when you jump to 80´s, really awesome! What bands influenced you and WHIPSTRIKER?
Oh man, there are many bands.  But I think the english bands are my favorites. Venom, Warfare, Motorhead, Tank, GBH, Discharge, Diamond Head, Iron Maiden etc. The same for the 60´s and 70´s bands (Beatles, Deep Purple, Black Sabbath, Free etc). Thin Lizzy is my favorite bands. They are from Ireland but it is almost England. Include in the list bands like Bathory, Hellhammer, Crude SS, Anti-Cimex, Sarcofago, Mutilator, Kreator, Sodom, Slayer, Morbid Angel, Death, Sacrifice, Exciter, Voivod, Bulldozer, Possessed, Master, Running Wild, Accept. There are many more and I like to mix everything on the whip´sound.
You have made many records for four years with Whipstriker. The main and most important are two LPs "Crude Rock 'n' Roll" a "Troopers of Mayhem". Then many split albums or EPs and the new one "Black Rose killz". Where do you take many ideas and the inspiration to still create music? (smile)
I don´t know. I compose songs everyday when I back home from my job. Everyday I buy some beers and take my old accoustic guitar to try to create something.  And it´s easy because I´m not trapped in one only style. If you check the stuffs they are different. The demos is more Crust, the first album is more Rock n Roll and the second album is a mixing of everything. The EPS are mixed too. So I can compose in all of these ways.
You are the mastermind in WHIPSTRIKER, how does the process of composing the new material look like and the composing in the studio proceed? Do you hold in music in the familiar routine? Or do you think you can bring to music (metal/punk) something new? And how much Márcio "Slaughterer" Cativeiro participates in music?
As I said before, I compose new songs everyday for the bands I play (Whip, Farscape, Atomic Roar, Diabolic Force and the new-one Virgin´s  Vomit). I don´t want creat nothing new. What is new? The modern sound is a fucking shit for me. I mean the plastic recodings, extreme music without good refrains, new instruments etc. I don´t like it. I just wanna play what I like. And I like the bands I told you before.  In the same time I can see the "new" in the nowdays bands. For exemple. Midnight is a new band, but completely influenced by Venom and Bathory. I think they are original, super original, super new but keeping the old vibe. That´s it. This is the conception of "new"  for me. Marcio recorded 3 stuffs with me. 2 demos and 1 seven inches.
And what about the lyrics, in what theme of lyrics are you most interested? Do you try to tell something with the lyrics or you are thinking about them only as the part of the music? Have you thought sometimes about to compose songs in your native language Portuguese?
The lyrics are like music. I don´t have a specific way. I write about war, anti-christianism, sex, drugs, lowlife, prostitution. Indeed all of these themes are part of my life. My city, Rio de Janeiro, is fucking wild. We live in a constant civil war. So I saw dead people everyday. And I also live among drug-dealers, crack-heads, prostitutes, etc.  About the stuff in portuguese, we have a demo called "A porta, a guerra civil" that is in portuguese. And I will release a new song called "Viver e Morrer no Subterrâneo" very very soon.
You are very active man on this scene. You have activities with next bands except WHIPSTRIKER..  and I´m most interested in FARSCAPE who I love from the new wave of the brazil thrash (together with Violator) most. News "Primitive Blitzkrieg" has totally hacked me up!
Next bands are ATOMIC ROAR and DIABOLIC FORCE. Can you shortly introduce these bands and describe your role in them?
My first band is Farscape. We´re together since 1998 but we´re close friends since 1993. We´re the same members in Atomic Roar (2003). Diabolic Force started in 2001 and we stopped in 2004. Then we had back in 2008. Farscape plays an Old SchoolThrash Metal in vein of early Kreator, Sacrifice, Slayer etc. Atomic Roar in more Metalpunk in vein of Warfare, Discharge, Motorhead, Venom. Diabolc Force is more obscure, in vein of Early Sodom, Hellhammer and Bathory.  And there is a new band: Virgin´s Vomit. We´re playing a mixing of Speed Metal and early Death Metal. Just wait !
You are one of the founder member of FARSCAPE. You have played together since 1998. It is the classic and uncompromising thrash metal like the old KREATOR, DESTRUCTION or the old SEPULTURA. In what years have you started with FARSCAPE? The first album "Demon´s Massacre" is really good !
Yes!  As I said, we´re school friends since 1993.  The line-up never has changed. We´re true brothers. That´s why all the bands have the same members.  The bands started in 1998 when we were fucking young.  I was 13 years old and the drummer has 11 years old. Eh eh eh !
You have included one "NWOBHM" song Night Tripper on the last year album "Primitive Blitzkreig". It has been really great diversify! Did you want to try something new and play good heavy metal?
Indeed the second album has a NWOBHM song called Wild Rocker. We like a lot the NWOBHM bands. We recorded a cover for a Tygers of Pan Tang song too. This song Nightripper is an old song. We recorded this songs in 2006 but we didn´t release it. Then we decided to record it again for the new album.
You are playing even with POWER FROM HELL and with APOKALYPTIC RAIDS who will be with WHIPSTRIKER on tour. Can you manage temporally all these things? Isn´t it a suicide to going on the tour with three bands? (laugh)
Yes I´m playing live sessions with Power From Hell but they don´t play a lot. Power from Hell played only 3 times until now. I don´t play bass in Apokalyptic Raids. I play sometimes when the bass player cannot do that. I played bass in brazilian tour (2008). I played live sessions for other bands like Toxic Holocaust (USA), Warhammer (Germany) and Besthoven (Brazil).  I will not play in 3 bands on upcomming european tour. I will play only in Whipstriker and Farscape. I will be tired for sure but all the tour I played I played in 2 bands. So I think it is ok.
You have played as a live musician with TOXIC HOLOCAUST who are my another favourites. Is it only the concert cooperation or we can expect you and Joel Grind will make another project? If we´re talking about the projects who do you want to play on the stage or create music together with? Do you have some dream?
No brother. I played only that live session in brazilian tour. I don´t think me and Joel will play together in a new project. Joel is totally busy with the band and the new life of studio producer. But we will work together soon cause he will mix one whip´s new stuff. Toxic Holocaust Kills and his new project is amazing too (Yellow Goat).
How does look the underground scene in Rio de Janeiro? It have to be really great to be at thrash concert in Brazil, it´s my dream! What about the attendance of the thrash metal events in your town? It looks really wildly according to some live records (smile). I sometimes have feeling in my country bands are playing for only pair devoted people.
The scene in Rio is good. We have great bands like Grave Desecrator, Apokalyptic Raids, Unhaligast, Flagelador and Velho. The people in concerts are fucking savage! We´re working a lot to the scene. We organise many gigs for the bands from other brazilian cities. I organize 3 fests "Noize as Fuck", "Loudpukers"  and "We want Armageddon".  Come to Rio and play. You´re invited. Unfortunelly there are many who don´t think like us. They are completely out of underground ways. You know what I mean! They want to appear in big magazines and open to international bands. They pay to appear in facebok (laugh!). It´s is ridiculous. This is the "other" scene. I don´t give a shit for them.
What about you and Czech Republic. Does exist something what you want to see here? Do you listen some czech or slovakian bands? Did you listen LAHAR, who do you will play in Písek with?
I confess I dont know many bands from Czech Republic. The first band I knew was the legend ROOT.  I like the crust/grind bands Risposta and 6Mas. And I knew LAHAR few months ago. I really like their stuff. Fucking agressive Thrash Metal !   I´m happy to play with them !
This leads me to a question about your music collection. Are you true old school  man who is still buying vinyls of his favourites? Which vinyls do you like and which vinyls have fascinated you at the current time?
Yes, I ´m a underground-stuff maniac. But I collect more cassetes than LPs! I like to buy the stuffs of new underground bands. I mean the bands of my time, my generation. This is what I like to collect. I have the classic stuffs from the old bands. But only the classic and nothing more. I´m listen to Satan´s Satyrs in last times. They are fucking great and the two albuns are amazing. I got the new LP and Tape.  Listen to them !
So let me steer away from the theme to my favourite sport, haha. When someone said "Brazil" I imagine mostly football and this year your country was lucky – in Brazil was the World Championship in football, holiday for all Brazilian people. How did you perceive it? The atmosphere before the Championship, all the demonstrations, the media full of discussions and disputes.. Absolutely it was theme number one in Brazil…
I was a football player before I started in headbanger life (laugh).  My father gave me all the support to be a footbal player. And I played until 14 years old. But it is a slavery life !  I dont care about football nowdays.  I was totally against the World Cup. And I think many brazilians think the same. We have many problems with hospitals, schools, highways, violence, corruption etc. We cannot waste money with this shit. I went in many protest acts agains the cup.
And also if we talk about the football – are you (like the majority of Brazilians) crazy in this sport, or not? If so, do you have some ideals in football who you´re still following?
What atmosphere was in Brazil when you have lost matches two times consecutive almost at the conclusion of the Championship?
As I said I don´t are about football anymore. Fuck the cup!
The tour is shortly before you. You will be in Europe for one month. What will czech thrashers can expect from trio WHIPSTRIKER, FARSCAPE and APOKALYPTIC RAIDS? I hope you will thrash our spirit from the body! Hahahaha
We´re very excited. I´m sure the tour will be great. You can expect savagery in the stage. And we are totaly open to talk with all the bangers in the shows. It is the best part in concerts. I mean I love to drink and celebrate with the local bangers. I almost died in Prague last lime. We had a day-off in Prague and we drunk like demons. I cannot tell you my last experience because I don´t remember.
Victor, really thank you for the interview! Wish you the whole tour will succeed, enjoy it and I´m really looking forward to at our meeting in Písek! Thanks! See you in the pit!
Thanx You, brother! Total support from my side! Let´s get drunk together. Cheers from the Wild Land.
https://www.facebook.com/

whipstriker
http://www.whipstriker.bandcamp.com
https://www.facebook.com/

pages/Farscape-Official/

183673101678786
https://myspace.com/

farscapekillers
THRASH NIGHTMARE 2 - Písek:
https://www.facebook.com/events/1468300683441782/