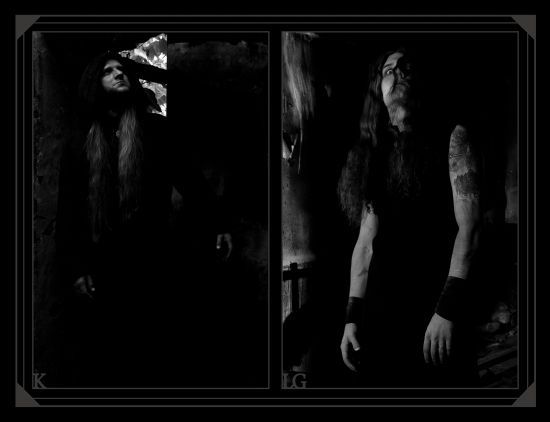 Probably for every KOZELJNIK's fan is the new EP very surprising, at least during the first listening. You have chosen very different path from previous releases, you immersed much more into the doomy mood and the material is more miscellaneous than ever before. What was the impulse to make such a drastic change? Are you going to continue this way on the upcoming releases, or is it such a small experiment and the next full-length album will be the classic black metal KOZELJNIK again?
We had a vision of lowering the tunes on the next studio offering, putting out the songs with unconventional doomy elements, combined with our recognizable sound of odd and it seems that we succeeded in that ambition. I would not dare to say that we've chosen completely different path on the latest EP,  if you listen more carefully we have already opened that dimension on our previous record "Deeper the Fall" and especially on the title track of that album so let consider it as natural progress from the last stoping point we made. Of course I am aware of the fact that people who listen the EP for the first time and are familiar with our previous materials can be overwhelmed with the feeling of a drastic change in the sound, but I am pretty much sure that after several listening they will confirm the fact of the natural step(s) forward.
The characteristic attribute of KOZELJNIK are certainly your vocals, which are unmistakable. You showed your vocal skills in a much more various way on the "Null..." EP than on the previous releases. Do you practise some specific vocal techniques, or does it go out of you itself?
Thank you for the compliments. No, I don't practise any specific vocal techniques in particular, except I have to work on my voice in physical manner and be able to perform fluidly as it's not so easy to handle all those varieties within my vocal approach, especially when we perform live. Also we don't practise so often so those time blanks of having no vocal action can harm my performance. Luckily I'm still able to regain the power of my voice quite fast.
On the song Come, Thou Abhorred and Incessant participated also Niklas Kvarforth from the Swedish band SHINING with his maniacal vocals. I must say, that his voice fits perfectly into the mood of the composition and also of the whole EP. How did this co-operation come into existence? Are we going to hear your vocals on some upcoming SHINING album (smile)?
All that came so sponteniously. At first we didn't have any plans of inviting guest musicians to our EP, but then one of my best friends told me that his long time friend Niklas will be visiting him soon here in Belgrade and that would be a great chance of having Kvarforth voice on one of our EP songs. We agreed and in few days he showed up in the studio, recording Come, Thou Abhorred and Incessant in its entire form as a main vocal. Our enjoyment with the outcome is highly positioned and yes it definitelly fits to the rest of the EP material quite naturaly. No, there are no plans of having me as guest on next SHINING album.  
All of the previous releases were recorded in the Draft Studio in Beograd. You have chosen the Dubbing Studio (as well in Beograd) for the new EP and the production was done by Karlo Testen. Why did you change the studio after many years?
We simply wanted to move on, reaching for better sound which we definitelly got working with Karlo on this EP. He managed to bring the sound exactly to the point we wanted to have for our music, fitting the atmosphere so perfectly.  
Are you interested in the response of your fans and critics? Is your new EP successful?
Yes, most of the responses and critics are positive, but one thing is crucial here, this EP needs time to be approached by the wider audience. It doesn't bring the easy tones to the listener ears. It consumes you if you let your focus be fixed on its energy. To be honest it's a common case when it comes to our music, no matter if it's KOZELJNIK or THE STONE.    
You performed at the Phantoms of Pilsen festival last year. Your performance made a great impression on me and it became one of the best performances of the whole weekend for me. The same is true for THE STONE. Why is KOZELJNIK playing live so sporadically? Do you plan some small tour or some concerts at least to promote the new EP?
I'm glad you liked our performance. Thank you once again for your compliments. I must say that Phantoms of Pilsen is a briliant indoor festival, perfectly organized in a very nice venue and interesting line up. We had a great time there which's always a case when we visit Czech Republic. It is true that we don't play live with KOZELJNIK so frequently. At the moment L.G. the drummer is in Canada so that's the main reason why we still didn't make any gig in order to promote the latest EP, but that will be changed in the future.  
The bass guitarist Inomatanas also played with you for a while, but you remained with the drummer L.G. as a duo in the end. What was the reason of his departure? Did you try to find the new bass guitarist or were you decided to take the bass?
That guy Inomatanas is a long time past for the band. L.G is with me since the very beginning and we both can be considered as the core of the band. For live activities we have a full line up consisting of Demonetras and Usud from THE STONE on guitars and we used to have several session live bassists in the past. It's hard to find proper musicians nowadays who would fulfill the majority of the grown up person and in the same time walk the path traced by the band.   
In 2010, you paused the activity of your other band MAY RESULT. Is it a permanent matter or do you take only a temporary break? What is the reason of the break? I saw MAY RESULT live in Pilsen some time ago and it was a great experience.
It's still just a temporary break, but still there are no concrete plans for the next activities. After the releasing of fourth album "Slava Smrti" we decided to slow the things down a bit and there was no  particular reason for that decision except that we wanted to concentrate more on THE STONE in that time. It passed almost 3 years since the last time we've been active with MAY RESULT, but I'm sure that in not so distant future we will reactivate the band and probably offer a new album. 
This March, despite the inactivity of MAY RESULT, was released the box-set called "Sacrilege". Could you describe, what does this box-set contain? One of the disc looks like the new release of the "Svetogrđe" album.
It's actually a re-release edition of our 3rd record "Svetogrđe" packed in nice looking digipack form. The release comes as double CD and beside mentioned album there's also a bonus CD consisting of mini album "U slavu rogova naših" from 2003 as well as few live tracks from our 10 anniversary gig from Belgrade in 2005. The artwork has been revisited and completed with some never published material so the whole package is very special. "Sacrilege" is released by Battlegod Production in April 2013.
THE STONE also released the compilation called "Crna Hronika" this year. It was released by Swiss label Miner Records, although your current label, if I'm not mistaken, is the German Folter Records. Why was this compilation released by the mentioned label and what could your fans find on it?
Actually Miner Recordings released limited digipack version and Sepulchral Production from Canada released regular jewel case edition. The idea for such record is quite simple, we wanted all limited vinyl 7" and 10" songs to be pressed on CD for the very first time. Those songs are very special to us as they bring quite different approach to our sound when you compare it to what we used to have on our albums. I think for many people those songs are rather new as the limitation of vinyl releases was strictly set back in time.  Also its availability was reduced for the wider audience so all those facts forced us to make such release which can not be consider just as ordinary compilation album, but rather a collection of rarities. Yes, Folter Records is our current label, but for "Crna Hronika" we decided to work with other labels. Also Sepulchral Production officially re-released our second and third album "Slovenska krv" and "Zakon Velesa" which were out of print on CD for many years.    
The album "Golet" was the first by THE STONE with some songs in the English language. Why did you decide to this change? Do you plan to make other songs in English? And are you working on a new record already?
No, it's not the first album with English lyrics. Our first album has it and also demo recordings so this is not the first time we use it. We don't limit our creativity so if we perceive that Englisgh written lyric is more appropriate to what we want to express then we simply use it and there's no any secret codex about that subject. We already started to work on a new record which will be out in spring/summer 2014.   
This question is hidden in my head for a very long time. Why did THE STONE have two vocalists between years 2006 and 2011? Nefas was working in the studio only and Glad was the live vocalist.
Nefas couldn't be able to perform live with band during that time so it was obvious for us to find a live vocalist so we invited Glad to join the band. He is a briliant vocalist and our ally from MAY RESULT so he was the right person to do that job back then. He was also contributing his voice as second vocalist on "Umro" album as well as on "Old Wounds Bleed Misanthropy" 10" MLP as main singer. In 2011 Nefas fully returned to the band activities and after releasing of "Golet" he was back on touring. 

In May, you (THE STONE) set out with the Swedish band NIFELHEIM and Brazilian band VULCANO on the European tour. What are your impressions few weeks after this tour? Unfortunately, I wasn't able to visit the gig in Prague. Was the concert in Czech Republic satisfying for you?
I think the tour was a successful one after all except the fact that we all expected more people to show up at the shows, but today when you have lots of gigs everywhere it's hard to get a bigger audience. Show in Prague was a very nice one. Not so many people showed up and that's sad because I know NIFELHEIM was playing Czech Republic for the very first time and also seeing VULCANO on stage is more then privilage, but it seems that new generation doesn't care too much about the real values anymore.     
You are composing the music and L.G. is responsible for the lyrics in KOZELJNIK. How about THE STONE and MAY RESULT, do you have split these roles somehow?
I am responsible for the majority of the written music in all the bands, but also others are invited to implement their ideas freely. There are no strict rules and roles, but it's obvious that I am the main creative force since the very beginning.
You participated also in the production of some of your recordings. Do you enjoy this phase of the recording process? Did you ever think about devoting more to the production, producing the recordings of the other artists?
Yes, we do participate in the production process and we simply want to have a full control when we record no matter how much skillful producer stands behind the desk. The recording phase of shaping music is a special ritual for me, but at the same time challenging and enjoyable process. At the moment I have no ambition to become a producer on regular basis, but more and more I'm thinking of taking control of the recording and production of our own sound. That means I should build my own studio, which is not so hard task nowadays as techical revolution made it more available and easy to handle, but still I have to wait and earn more experience before I fulfill that idea and start working on my own.   
Are you interested in the current black metal scene or are you strictly worshipping the old cults? Could you mention the bands or the particular recordings that influenced your view on music somehow and maybe inspired you in your production?
I'm mostly into the old stuff, listening to music and bands with their own identity and style which are less and less present in the scene as time passes by. On the other side I am not so fascinated with the recent "skulls & candles" Black Metal scene full of trendy copycat bands and hooded musicians who all look the same, trying to get attention and sharing their "ortodox spiritual" demagogy. They look like clowns who are there just to entertain the internet kids. What a fallacy! I am very sad seeing even some old bands who're abandoning their own identity for such trendy image. For what purpose I ask?                      
The Serbian metal scene is probably not so big, but surely there are some great bands. Could you recommend me some of them? Fans in the Czech Republic had the possibility to see for example BANE or INFEST at some events.
Yes it's not big at all even if there are lot of new bands popping out, but somehow they don't take too long before they decide to stop with working. BANE and INFEST are very good examples of hard working bands who believe and stand behind their music 100%. I would also recommend SPACE EATER, a great thrash metal band with amazing potential. Also Black Metal band SAMRT has a very inteesting debut album worthy to check.
Thank you for your time and answers and I wish you many successess with all of your bands. The final words are yours.
Thank you for the interview and your support. Good luck with your work.
http://www.kozeljnik.com/
http://www.mayresult.net/
http://www.thestonehorde.com/
REVIEW
Za pomoc s překladem děkuji Barťasovi.