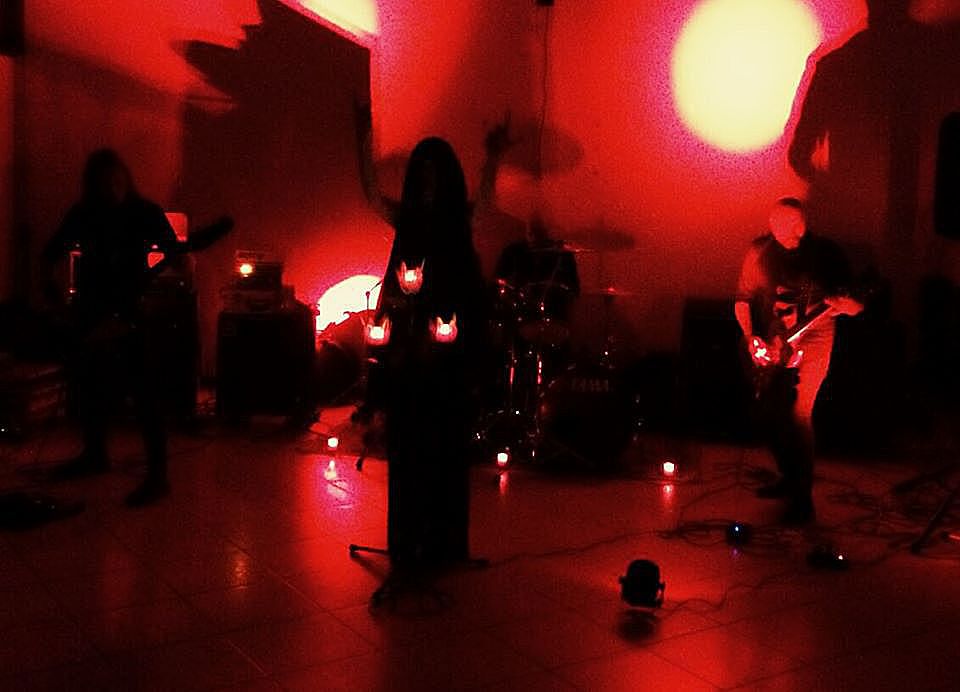 When was your group set up, why this particular name, what does it mean and what the initial reason of its creation?
† We have a deep respect for the dead , their sleep and their connection with us.
We're so fascinated by cemeteries, considering them as beautiful peaceful gardens.
We like the idea of giving an ancient and romantic sense to the death, but also sometimes forgotten, like seeing the absence of care of some graves. Is still anyone cares of them?
But Death is not the end. It changes you in a primordial way of energy.
In our lands the dead are not buried. They are sown so they can reborn elsewhere.
So we have put all this together and in 2017 we formed as a band.
Introduce the individual members - their age, whether they have played somewheres, and how long they have played their instrument?
† We have no age. We have no names.
We chose to identify with our day and month of birth of our actual existence. No year. We are soul and spirit. We have always existed.
During the last 20 years of this life we've got different musical experiences and bands involved in black metal, death metal, punk and hardcore.
Destiny brought us together to create something completely different.
So let us introduce :
†Vocals: 19.03
†Guitars: 21.10
†Bass: 13.11
†Drums: 06.10
Under what conditions have you made a recording, are you satisfied with it, how many have you produced, has it been with sales, what is the cost?
† The recordings took place in a studio near where we live (Mat Sound Studio) in a few particularly productive hours. Our first work will be printed in 100 hand-numbered limited copies. We also have a digital edition due to the collaboration with Loneravn Records, an ukrainian label.
Lyrics - why did you decide to sing in English... who wrote the words, what topics have you choosen?
† We love English language, its sounds really melodic and at the same time we want to be international.
We love our language too, maybe we'll write something in Italian.
We have already written about the moon, wandering spirits, haunted houses, the thin line between the living and the dead.
19.03 writes lyrics and the topics are all about occult, esoterism, legends and everything connected with the Laws of the Universe.
Who is the author of the logo, cover, Website – how much importace do you place on these things?
† We think our logo is amazing It really gives a sense of that loneliness you only find in old cemeteries. It has been so intuitive. We have drawn a sketch of it on paper and a friend of us did it.
The cover image was a stroke of genius from one of our friend.
At first It was a test photo.
Later we did understand how impactful it could be.
We're on bandcamp facebook and youtube and managing social media is very important for us because our goal is also to make our identity known, sharing short esoteric information and our thoughts with targed photos.
Some photos are taken from the web and adapted for sharing, others instead are ours and deal with places we've actually visited.
Which bands have inspired you?
† Too much bands and many different styles but we can say: Castle, Dool, Devil's Blood, Death SS, Ghost.
Have you sent your recordings to the labels… which ones? What was their response?
† Yes, we sent and made our first work heard to some labels that we know and value for the groups they distribute. We had some answers and proposals for collaboration for our future works. We hope to soon realize our current efforts in the next work that we are composing.
How many shows have you done, and which ones do you consider the best?
† We played a few secret and selected shows to test the songs live. We hope in the future to find other opportunities to perform and to increase our following.
Do you have ambitions to play in other countries?
† Why not?
Plans for the future?
† Which future exactly? In this life we're going to go on with this project and surely record a full album. We'll do cool gigs.
For the next existence we could not know. We have to wait for our karma and destiny.