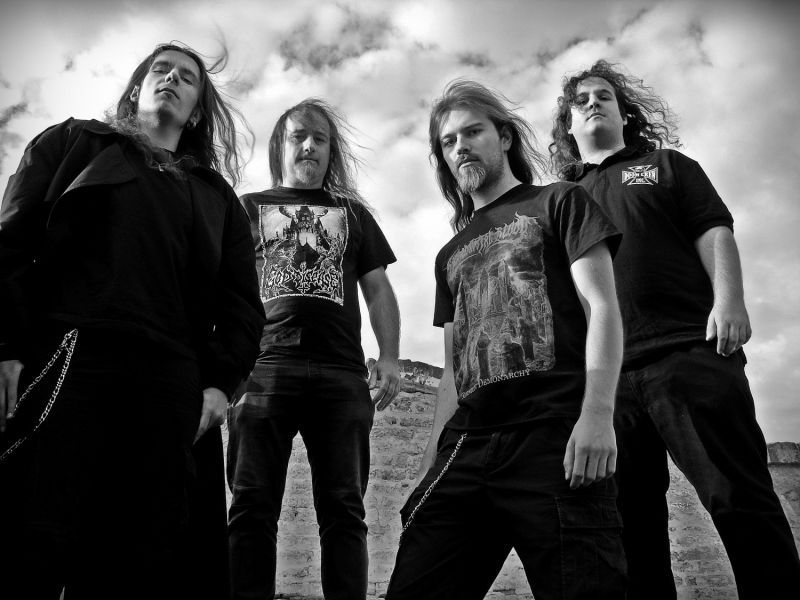 What is the date of foundation of your band? Whats the meaning of the bandname? What was the initial impulse to form a band?
Kris: I can't remember exact date but it was in a summer of 2005. I remember our 1. gig, it was in August 2005 in our hometown Požega (Croatia).
Defiant means our constant struggle against everything that tried to interfere or restrain your creativity. I formed DEFIANT because i played (in a bands) more than 20 years now and it's hard for me to quit. I simply love it. And in DEFIANT i found a lot of things to work and keep making a better music.
Introduce band members – Name, age, musical experience, anything else you wanna share?
Kris: Tomislav (vocals), Leonardo (drums), Mislav (bass) and me (guitars).
Each of them have more than 10 years of musical experience and also few bands/projects by side, except me, i'm concentrating on DEFIANT only.
What about your latest recording – Where / How it was recorded/produced? Who released it, how is it doing?
Tomislav: The recording was done in January this year in Hellsound studio, Czech Republic. So you might say when everybody was getting shitfaced for New Year's Eve we were preparing for the recording. Producer was Hozna Kapak from MASTER´S HAMMER and it was all done in four days. It was really a blittzkrieg recording you might say.
Lyrics – what language do you use (and why?) and what are the topics / importance?
Tomislav: English of course, there are some Latin just spice things up. It's always fun to play with old words. Topics for our new album "Insurrection Icon" are direct as they are thought provoking. Has a lot of history going on as well as some personal stuff. It's about the human will and rebellion after the so called normality.
Who is behind your graphic designs – how important is this to you?
Tomislav: Miss Ana Sambol did the cover for our new album and Vedrana Dobrić did the design for the booklet. A little of woman's touch didn't killed anybody.
Which bands/people/artists would you label as your source of inspiration (if there are any such)?
Tomislav: Any artist/band that has its own identity; was bands like Queen, Depeche Mode, Paradise Lost or Danzig to extreme bands like Abigor, Marduk, Inferno,… these guys have their own sound.
Kris: In the beginning it was swedish death metal, but i'm mostly inspired from 80's pop music.
What's your experience with applying for record contract(s) with record labels.... Are you happy where you are?
Tomislav: Kris would know better about DEFIANTS last contracts… We are currently under the Art Gates records banner and so far so good, they are keeping to the last word on the contract. Both parties are having a good working relationship.
Kris: There is always good and not so good things when you´re under label. There is a reason why we changed the previous labels. We don't know what future bring us but for now we're satisfied how the things work with our current label.
How many gigs have you played so far, any good ones to mention?
Kris: If i remember well, from 2005 we played more than 300 shows all around Europe. Maybe more.
Especially it's always good to play on Balkan. Romania is surely the best.
Tomislav: I remember one gig in Romania when during the last song the crowd picked me up and started lifting me up in the air. That was a cool moment.
Whats your global ambition of the band – working hard on becoming bigger? Or primaly just having fun?... or anything else?
Tomislav: In this day and age you can either go hard or go home.
Kris: First, of course i wanna have some fun, that's the main reason for doing this and if somehow we get a chance to becoming bigger, we'll follow that way!
Plans for future?
Tomislav: Promotion of the new album "Insurrection Icon", we have a few videos coming up as we speak, tours, festivals… you name it.