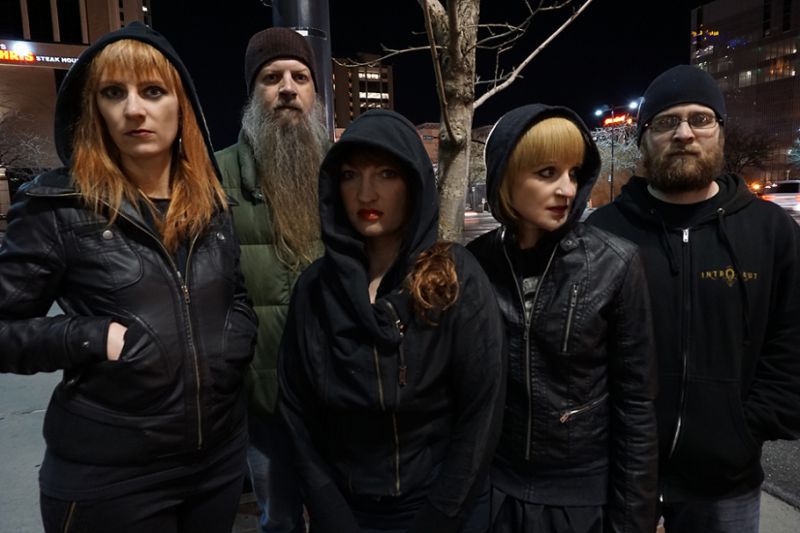 Hello Rebecca, how are you and the rest of band doing? Do you have some time off right now? You've done a lot of shows since the album release – Europe, the USA... Plus you got more attention, which means more interviews etc. Did you feel Subrosa becoming more popular and the fanbase increasing?
We are doing pretty alright. Since you wrote this, we did some stuff in the spring and summer: Roadburn, Hellfest, Graspop, Dunajam, and a show in Athens. We just played San Diego and Psycho Las Vegas with Yob. And in three weeks we are headed out on the road with Wovenhand and then Boris. So after that, we will get some time off.
I think we did experience some growth from the last album, but it was also a little more of a difficult album to get into for people in general, I think.
There were huge expectations from the new record. After all, with "More Constant Than The Gods" you pushed the envelope a bit further and people started noticing you a lot more. Personally, I still think the record is perfect. I'm sure you don't feel something like responsibility to the listeners, but when the first and mostly positive reactions for "For This We Fought The Battle Of Ages" reached you, was it some kind of satisfaction and appriciation of your work?
Thank you for the compliments on the album. It's always a nice bonus when an album is well received and people connect with it. But, if we didn't feel good about an album and knew we had not given it everything we have, then praise from magazines and people in general wouldn't mean anything to us. The most important people we have to please are ourselves.
I'm glad Subrosa does not give anything for free. The new album is full of long tracks and must be heard more times to get oriented in it. I was personally looking for another "The Usher", but this time you took a different approach and especially the first three tracks are full of things to explore. Is the music composition similar through all the albums, or was it different this time?
Haha, I guess that's true (about making listeners work)." I think the new album is more dense and complex; we pushed ourselves to try new things with song structure and riffs; new approaches. That's why I think it's more evolved than More Constant than the Gods, but also, harder to digest.
We were trying for something different with this album – we were trying to mimic the movements of a symphony or opera, trying to capture scenes and themes musically, the way symphonies do. "Despair is a Siren" is like a soundtrack interpreting the novel We, following the book's main plot points in chronological order. For example, the last section of the song (where I sing "I'm not sleeping in glass chambers …") is a depiction of the last stand and death of I-330, the main female character in We.
The violins are more important on "For This We Fought The Battle Of Ages" than on previous releases. Was it spontaneous, or intentional to give these instruments more space?
We really thought through how the violins should be placed on the album; making sure they weren't playing all the time and getting tuned out and taken for granted. We wanted them to shine and have room to breathe. So we weren't necessarily trying to make them more important than they were on other albums, just trying to make them shine the way they always should.
When it comes to the lyrics, they are inspired by the novel "We" by Yevgeni Zamyatin. What convinced you to incorporate the lyrical theme from this book to Subrosa?
When I first read We , I felt like I was reading a story expressing perfectly some strong philosophies I've held my whole life regarding free will and the superiority of the individual over the collective. At the same time, the book and our album explore the pain and sorrow that comes from free will; free will must be preceded by the death of innocence. But even though free will brings pain into this life, free will is also the only vehicle to happiness.
It's obvious you're an avid reader, what are your favourite types and genres of books? Which one caught your attention most recently, could you reccomend me some?
My biggest weakness when it comes to books is post-apocalyptic literature; I just can't get enough. I think my fascination with post-apocalyptic scenarios and the destruction of society is probably a testament to how much I hate the world.
Right now I'm reading the Dark Tower series by Stephen King. There is a reason it is so popular. It's spellbinding. It encompasses the classic journey of the hero and it resonates with me. It explores a lot of things I love, like the fluidity of time, synchronicity, the multiverse, parallel worlds. Scientists discover how these phenomena look mathematically; Stephen King imagines how they might look to a human being experiencing them through our five senses.
Another book I read last year that I liked was Oryx and Crake, by Margaret Atwood. It's the best thing I've read by her so far, and I plan to read the rest of the series.
What was more difficult this time, music composition or lyrics?
Music composition is always harder. Even though I labor over the lyrics, expressing myself through words is something that comes more easily to me than songwriting. The music-writing can feel almost like torture. It's a lot of work and discipline with not many moments of inspiration. Those usually come when we're already working very very hard on something and have hit many creative walls before we break through those obstacles.
Once again, you have a beautiful LP. For the third time, there is a similar color combination, is there some underlying pattern to it? I doubt it's a coincidence... What do those colors symbolize to you? What's the reason behind your choice of them for your covers?
Glyn Smyth does all our album artwork and he is the one who has chosen the color themes – it might be that our music inspires similar colors for him, that antique-y cream color paired with otherworldly, etheral female imagery. I have never asked him before about the similarity in the color schemes, but I should. I know he has been exploring the use of more negative space in album artwork lately.
You collaborate with the same artist – Glyn Smyth. How are the pictures for your albums created? Do you give some concept to Glyn on which he makes the final work, or is he free to do whatever he wants?
I give a concept to Glyn and explain the album to him, the overarching themes and the meaning of many of the songs, and I send him the music and the lyrics. He then goes off on a deep research journey for a month or two to read about the themes, and study symbols associated with them.
The album artwork is again very interesting, the title picture of a woman is inspired by the cover for the novel "We", which should be a woman named I-330. How are the pictures of herbs on the inside pages connected to it? Very nice by the way.
For this album, Glyn read We at least twice, read blogs about some of the botanical symbolism in the book and revisited a bunch of art from the era in which We was written (1920s Art Deco, ex biblo plates, Symbolism). That's how the botanical imagery came to be in the album art (on the inside of the CD and vinyl) – they are symbols from We. Yes, the girl on the front of the album is a representaton of I-330, done in the style of a silent film actress to also evoke that era when the book was written.
How's Levi got to his role? Was he active during composition? I'm particulary hinting at his bass line in "Woud of the warden" and his growl.
Levi, Kim, Sarah and Andy write all their parts for the albums and contribute a lot to the final composition of songs (transitions, song structure). Levi brought a special finesse to the bass lines of this album. He writes his own music in a Salt Lake City band called Huldra, and I think his experience with songwriting is evident in his bass parts to this album. I especially love the bass line for "Wound of the Warden" and the chord change underneath the verses in the first part of the song. I feel like bass lines, more than anything, steer the emotional direction of a song.
When I mentioned Levi's growl, is there still a place for harsh vocals in Subrosa music? Apparently there is, but why did you choose this approach?
Yes, I think so. Levi's growl adds power to certain parts that we felt could use more emphasis. Sarah can also growl very well, but it's difficult to dupliate Sarah's growls live, since it's hard for Kim and Sarah to play violin and sing/growl at the same time (although they do it sometimes). Their violin parts are way more intricate and offbeat than my guitar parts.
The last time we did an interview, I asked you about your voice. I told you I liked the naturalness of your voice and you said that some people have problems with it. Did you focus on improving your technique? I feel it improved, I was very surprised with your vocals in "Killing Rapture".
Thanks. (laugh) I admit that I didn't focus on improving my voice for this album, but I did take a different vocal approach in "Killing Rapture" and "Troubled Cells" – I sang in a soprano, my "falsetto" voice, that I don't consider my "real" voice. I can capture it on the album, but it is very hard for me to sing those songs live, because I yell live, and trying to switch and sing those soft parts with a raw voice is really hard.
"Troubled Cells" - this song is a bit different, the chorus is more accessible. I read somewhere it's a song composed by you for your own goals. Do you have more songs like this? Do you think about make something on your own, like a solo record?
Funny you should ask, because I am just about to begin work on a "solo record. Kind of folksy stuff, much more stripped down than SubRosa.
Yes, "Troubled Cells" was the first song I wrote for a definite purpose – to try to create some kind of change in the world, no matter how small.
The same song also has a video, the first one from your new album. What was your motivation to make it and how do you feel about it? Is the script your work as well?
We made the video for the same reason; to spread awareness and make a difference regarding the high suicide rates of LGBTQ youth in Utah. We feel very happy with the way the video turned out. The film crew dedicated 100% of their time to the creation of the video – and they are experienced film workers from L.A. who could have charged a lot for their time. That's how much they believed in the purpose of the video and what we were trying to do. Their volunteerism is the only way we were able to make this video.
Before releasing "For This We Fought The Battle Of Ages", there was a track "Key of the Eidolon" featured in the Decibel Flexi Series. I'm interested in the track, was it composed for this special release, or was it meant to be on the album and this is just an outcome of things?
We did initially intend "Key of the Eidolon" to be the last track on the album, but the album was already pretty sprawling and long, and that song wasn't coming together. So when Decibel approached us about the Flexi Series, and gave us the time limit of six minutes for the track, we reworked it so it would fit in that time frame. It was actually a cool challenge to write a song that was shorter, which we hardly ever do.
"Key of the Eidolon" is the answer to the complex and sometimes disturbing questions that are raised on the album.
Could you shortly comment on each Subrosa album? Write a first though that comes to your head?
The Worm has Turned – A full-length album that was originally supposed to be a demo for the musicians within the band to learn the songs, but came out well enough to release as an album. Limited to 75 spray-painted hard copies.

Strega – First full-length recorded with the intention of being an album. This is an album of us getting our sea legs. Released by I Hate Records.

Swans Trapped in Ice EP – Meant to be a demo to send to labels. We didn't really like the way it came out, so haven't made it generally available beyond the first 40 hard copies. We don't even have it on our Bandcamp.

No Help for the Mighty Ones – This is what I consider to be the first album containing our fully developed sound. Released by Profound Lore Records.

More Constant than the Gods – An evolution from No Help, and our most accessible album; our album of doom hits.

For This We Fought the Battle of Ages – Longest album title, longest songs. Songwriting following opera/symphony templates and based on We.
You were headlining last year's tour. After previous two short stops in Europe, you did a full tour and from your Facebook posts it's clear, you really enjoyed it. Your shows were full of positive atmosphere and people who enjoyed your music. How would you evaluate the tour?
Thank you. (laugh) Yes, the full European and US tours were a lot of fun, but both were really challenging in their own ways – the European tour was a lot of driving with very few breaks, and several overnight drives with 12 people in a 12-passenger van. Luckily, we were on tour with Sinistro and they are lovely and very fun to tour with. On our US tour, I lost my voice almost completely for five of the six shows, so that was a challenge as well. We learned a lot from both tours.
I couldn't make it to the Prague show, so I went with friends to the Munich one. Unfortunately, Sarah wasn't present in any of those two shows. What was it like to play without her? Did you have to remake the playlist, or was it less complicated? On the other hand, I have to say I didn't feel like the show was missing something and I have to praise Kim for her astonishing performance.
It's always hard to play without one of the violinists, but sometimes we have to. Kim and Sarah have many tricks up their sleeve to fill out the sound when one of them can't be there – they have octave pedals, double-stops, and other such alchemy and magic that probably only they could explain – but of course we prefer it when all five of us are on stage, visually and chemistry-wise. We do have to choose a specialized setlist when this happens.
You were in Europe for the fourth time, this year mainly because of your acoustic set at Roadburn festival. Could you tell us something about this special occasion?
It did feel like a special occasion. It was our first time playing our "Subdued" set outside Utah. We've done it opening for Scott Kelly here in Salt Lake, and I've done a couple sets by myself opening for Lycus and once for Craft Lake City (an annual craft festival here in Salt Lake City). We played seven songs for our Subdued set at Roadburtn, spanning from Strega, to No Help, to More Constant.
Your bold interview with Noisey made some commotion. I feel that all following interviews are around the some subject. And neither I will neglect it and I'll ask you one question on the same topic. You're in a scene where most of the fans and bands at least laugh at faith and religion. I know that you're a very tolerant person, but is it a problem for you, when, for example, you do a show with more bands involved and one of them is openly satanistic? Is there a band that you like musically, but due to the lyrics, image, graphics etc. cross the line?
The anti-religious sentiments don't offend me; I agree with a lot of their sentiments. The types of things that offend me in the world are things like genocide and greed, not upside-down crosses. I guess, though, I really can't stand white supremacist leanings in bands.
Thank you for your time and your answers! I'm really glad we could have a virtual talk for the second time.
I'm glad as well.