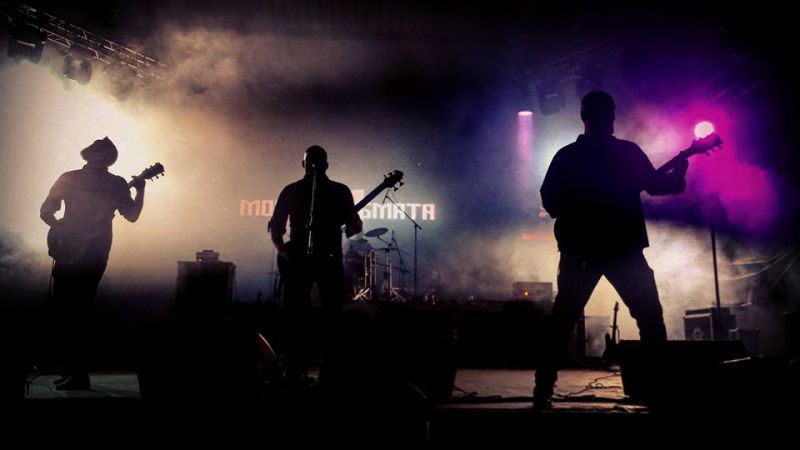 One very obligatory question in the very beginning: Your new album "Hope" is out for one month, what reactions did you receive? Every mention I saw was very positive and I must agree – "Hope" is a well-done release.
Reactions are positive mostly. We get warm response from new groups of fans and old listeners seems to love our new album also. But, as always, there are some dissapointed. They expected us to record "Ansia pt.2". Such a shame.
The title "Hope" is quite interesting for me. It sounds optimistic, but the appearance is definitely deceptive, because I know that your lyrics aren't positive at all. What did you mean with the title and can you briefly describe the lyrical concept? Do you think that humanity still has any hope?
Hope is most cruel emotion we experience. It makes our suffering longer. There is no human being that thrown into center of an ocean won't be fighting for survive. When logic and rationalism fails hope still won't let us to die with dignity. Also, hope is the last one thing you are left with, when everything around ends. I experienced that state and that is our new album about.
In what studio did you record your new album? Did you cooperate with some sound engineer or is the production your work exclusively?
We are boring as fuck in this element, cause we used the same Studio 67 and the same sound engineer Dominik Burzym as for "Ansia" and "Our Hearts Slow Down". If something works perfectly sometimes is good to make no change.
Could you describe the meaning of the artwork of your new album?
The fire of hope burning down a tangle like a parasite make it's host dead.
"Hope" is your second full-length album released by the Pagan Records label. Are you satisfied with the conditions and promotion arranged by them?
Pagan Records is great and absolutely professional label. We get a huge support in every actions we take as a band.
Did you have any offer from some big global label to release the new material? If so, why did you choose not to accept it?
No, we didn't. We knew from the beginning that "Hope" we'll be released by Pagan rec.
Is someone the main composer of the music, or do you have somehow divided the roles? Are the songs created in privacy or is it a collective work in the rehearsal room? Do you need any specific environment, mood, conditions etc. when composing?
It is different in each material. "Ansia" was prepared by our collective in rehearsal room, but the raw sketches were my work. We just developed them in way of improvisation. "Our Hearts Slow Down" was mostly improvised material. "Hope" was my work, i wrote 90% of songs in my bedroom. Also, it is very personal material for me, i put all my heart into lyrics and music to clean myself from pain I experienced.
How long did you compose the material for "Hope"? The compositions are very long. Is the work on one song divided into more phases or do you make the whole composition at one fling?
As i mentioned above, i wrote almost whole material on this album. It was the quickest songwriting in our history, it took about 3-4 months.
In few years you perceptibly changed your genre. For example "Antimatter" was I would say 'technical black metal', but with "Ansia" you came to something like '(post-)black/doom metal'. What was the reason of that very radical change? Was it for example the fact, that Silencer left the band after the "Antimatter" record?
It wasn't connected with Silencer absence really. I'd rather say, that he left because we changed a style so radically. Well, i was main composer of a band since a very beginning, so style changing was generally caused with my life problems. I experienced strong neurosis and depression that almost sucked out a life from me. I won't be able to play furious and agressive music in years 2012-2013. So i start using a music as a form of meditation which has a really calming influence for me. In that experiment "Ansia" has it's origin.
Did you "find yourself" in the genre you play currently? Or is it possible that you move somewhere else in the future?
We are always looking for something new. Music is the river so similar to life itself – we never know what future brings us.
Your concert activity has increased in the present weeks, you had minitour with ABOVE AURORA, then with TRIPTYKON, you're going to Slovakia and Romania with OBSCURE SPHINX in April. Did you enjoy the mentioned shows, was everything ok? Do you plan any other tour to support your new album? Do you plan to perform a gig in the Czech Republic?
Yes, that live activity is the reason you had to wait so long for my answers. Sorry for that. We are definitely a concert band. We enjoy every single moment on stage, those are the moments where pure emotions and magic of our music explodes. No more shows are planned till today. But we are generally open for reasonable options.
What do the concerts mean to you? Is that something special for you, do you have any specific rituals before/during the shows?
I guess I told enough earlier. We have our inner rituals, but they must stay in inner sphere.
Do you still play live songs from the first two albums, or is the setlist formed only by "Ansia", "Our Hearts Slow Down" and "Hope" songs?
Songs from first two albums are no more performed. They are not suits for the new material. As we playing live we want to take a listener to a journey through inner self. Our old songs are not best tool to do that.
The lyrics on "Ansia" for example are, I would say, mystical and esoteric in some way. Who is the author of MORD'A'STIGMATA's lyrical concepts? Are you interested in mysticism, cosmic science, esotericism?
Yes, we are into mysticism and spiritualism. I wrote lyrics for our last two albums. For the "Ansia" lyrics were performed by Voxmord – our first vocalist, who was a band member till our debut album.
I think your music has some distinctive feeling and mood, but in the past times: what bands did have the greatest influence on you, on your musical and compositional evolution?
There are so many...we are huge music fans, no matter what genre. Our biggest influences are in BURZUM, MAYHEM, DARKTHRONE, NEUROSIS, SWANS, THE CURE, PORTISHEAD, WOVENHAND, ULVER, DEPECHE MODE, FIELDS OF THE NEPHILIM...and many,many more. We try to listen sounds with open hearts, so not only a notes are important but also a human beings hide in that notes.
For me the Polish black & death metal scene is one of the most favourite. There are many original and specific projects and bands and the devotion to the genre is huge. What's your view on your scene? Is there some regular and strong cooperation among the bands, or is it more individual issue? Could you recommend some of the not so well-known bands from your country which are your favourite?
Polish extreme metal scene is absolutely amazing. I think bands are cooperating than fight each other. We have kind of unique bands in here and you should definitely check: BLAZE OF PERDITION, WEDROWCY~TULACZE~ZBIEGI, THAW, THY WORSHIPER to name some less known.
What albums did you find the most interesting in 2016? No matter what genre it is...
I'm not sure if that are 2016 year records, but i'm in love with "Sun" by SECRETS OF THE MOON and "Realms" by DARKHER.
Do you keep a close eye on the current action on the metal scene? What do you think about the new "waves" of black metal – I mean the disharmonic, avant-garde acts; or the ritualistic bands in the hoods with lots of candles on the stage? Are you fans of these bands or do you rather worship the old stuff?
I'm listening to everything is good for me. I'm not huge fan of "hood bm" cause i have an impression that hoods hide lack of talent very often. But as always, there are some exceptions.
Your new album was also released on vinyl. Is someone in the band a big fan and collector of this format? Do you have some jewels in your collection?
Unfortunately, we are all in a band a cd collectors. I used to collect a cassetes. I have some treasures like first press BEHEMOTH's "Grom" and first press "Elizium" by FIELDS OF THE NEPHILIM. By the way, vinyl wersion of "Hope" looks really amazing. It's a very satysfying feeling to have your album on big black circle.
Ion is also member of the black/death metal band PRELUDIUM. Any news about this act? Is the follow-up to "Redemption" in the process of creation?
I'm not sure but i guess PRELUDIUM is dead.
Thank you for your answers, for your time and for your music. The final words are yours...
I'm impressed by this interview. I know you had some work to make all this questions and answering them was a pleasure for me. Keep up the good work and take care.