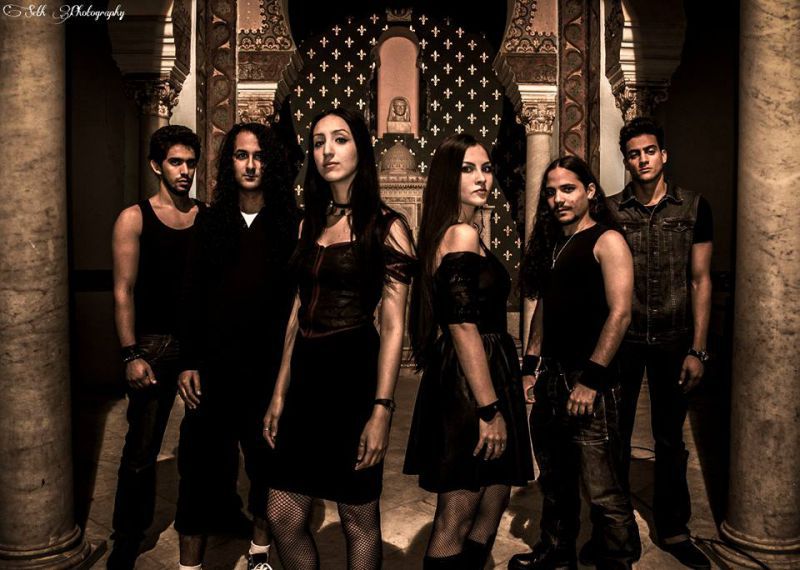 When was your group set up, why this particular name, what does it mean and what the initial reason of its creation?
Jelena: First of all, thank you for taking the time to interview us!  "PERSONA" was set up in 2012 and it first started as a project between Melik (the lead guitarist) and me, but very soon after that the actual band was formed. The meaning behind the word itself is based on psychological concept of Swiss psychiatrist Carl Jung. According to him, Persona is kind of "mask" that one wears in everyday life, which helps in interaction with other people and conceals one's true thoughts and feelings. We chose it because we can really relate to it when we compose and perform on stage. Each song must be given its particular identity and therefore we must go through different emotions and states of mind, that sometimes don't really represent how we feel in that particular moment. And the initial reason for forming the band is a desire to compose and perform music, and to create in general. 
Introduce the individual members - their age, whether they have played somewhere, and how long they have played their instrument?
Jelena:  Let's start with our guitarists. Melik (lead guitar) had played in several bands before, Blackhole, Yram, Necrosis; Yosri (guitars) and Youssef (drums) had played together in Tunisian Melodic Death metal band Apostol; Nesrine (bass) was a member of a Tunisian Grindcore band called Gorebath and since Walid (keyboard) is our youngest member, we're proud to say that Persona is his first band ;). As for me (Jelena Dobric, vocals), before I moved to Tunisia, I had a progressive metal band in Serbia called Inumbro. We've been all playing our instruments  for quite some time, between 5-25 years, depending on a band member ;).
Under what conditions have you made a recording, are you satisfied with it, how many have you produced, has it been with sales, what is the cost?
Jelena: I must say it was quite difficult, because there aren't any recording studios in Tunisia that specialize in rock or metal. That's why we decided to record everything at home, and we had to deal with numerous setbacks. But you don't hear any of that in the final production. In the end we managed to produce physical copies as well (beside the digital ones) and we're happy to see that many people are interested in ordering it. You can find all the information concerning prices on our Bandcamp page:
https://personaband.bandcamp.com/album/elusive-reflections  
Lyrics - why did you decide to sing in English... who wrote the words, what topics have you chosen?
Jelena: It is me who writes lyrics and composes vocal melodies. I guess English language was a spontaneous and natural choice, since all of my favorite bands' singers sing in it. My inspiration for lyrics are usually situations that trigger a particular emotional process. In this album, they mostly describe different states of mind and different moods, some of them have a certain message and some of them describe actual events.
Who is the author of the logo, cover, Website – how much importance do you place on these things?
Jelena: The author of our logo, cover and complete artwork is a Tunisian artist Bader Klidi. We all brainstormed together about the theme and later adjustments, and he managed to capture it perfectly. Visual identity of a band is certainly quite important, and without it being clear and interesting enough, even band's music might not get enough exposure. We don't have our own Website yet, only a Facebook page and profiles on other social networks, but we plan to set one in the near future.
Which bands have inspired you?
Jelena: Our tastes in music are sometimes quite different, but they happen to meet just in the right places and in the right way. It's a diverse gallery of bands that inspire us; there are classical rock bands like Queen, Led Zeppelin, The Doors; then there's  full range metal spectrum going from bands like Metallica and Megadeth, to Dream Theater, Dimmu Borgir and Opeth. There are some classical music composers that inspire us too, like Chopin, Debussy, Satie and more.
Have you sent your recordings to the labels… which ones? What was their response?
Jelena: We have contacted a certain number of labels and received some propostions, but after weighing all pros and cons, we decided to release this first album independently and see how it goes. 
How many shows have you done, and which ones do you consider the best?
Jelena:  We haven't performed outside of Tunisia yet. Metal scene here is not very big and there aren't many venues for bands like us. Concerts are usually organized only by enthusiasts who like this kind of music or by the bands themselves, so it's neither obvious nor easy to gather some serious stage experience here. Despite that, we rarely missed a chance to play in a concert and now we're ready to hit some of the stages abroad. Our dearest concert experience was in August 2013,when we won the "Metal Asylum Battle" competition and played on stage with Ron "Bumblefoot" Thal (Guns'N'Roses, Art of Anarchy).

Do you have ambitions to play in other countries?
Jelena: Of course! I think that's the ambition and a dream of every band and musician – to play all over the world, on as many stages as possible.
 
Plans for the future...
Jelena: First thing would be exactly that: to find opportunities to play on some stages abroad! But that's not the only thing, we have some new music videos coming, new merch, and we have already started working on our second album.
Facebook
Youtube