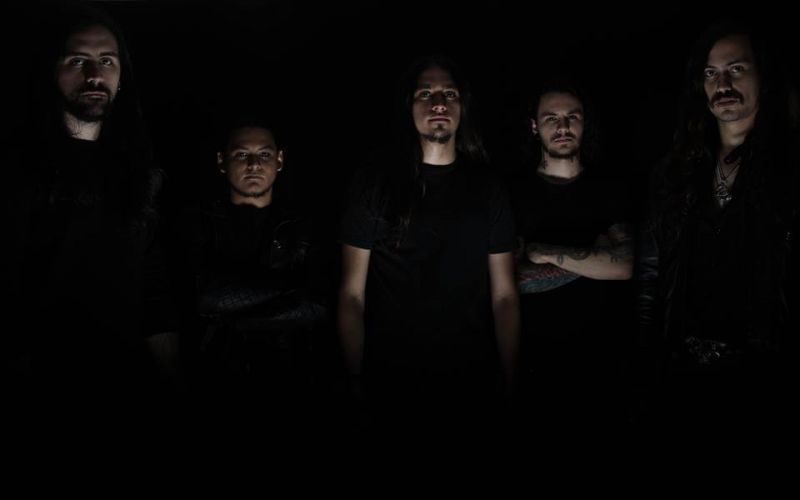 Hello, to all the readers of Fobiazine who are quite unfamiliar with this band, I beg you to introduce your band. How did you get together and what role does your members hold?
A/ Hi! Thanks for having a space for us in you webzine! There is Felipe Tencio on vocals, Carlos Venegas on Bass, Erick Mejia on Drums, Esteban Sancho and Federico Gutierrez on Guitars. The band have had several lineup changes so there is no 'how did you guys got together' since there was always someone leaving and someone coming in.
How did you come across the name CORPSE GARDEN? This links me to a one-sided feel with a little funny, but then really poetic  in a way...
A/ Yes, there is a symbolic meaning to it, isn't it? The member who came up with the name is no longer in the band, he used to say it had to do with something about we all being only corpses or vessels in this garden called life.
Three years ago, you played at the legendary Wacken Open Air festival. Did this performance have any kind of impact on the further actions of this band? I mean, did your presentation at the fest somehow open the door further into the music business?
A/ No, not really. It was something to remember and a great experience, no doubt about that. But it didn't open any doors to the industry nor it boosted the band to another level of exposure or 'fame' and we never expected that to happen at all. What it did was get us to realize that we needed to be different, way more different because there are many bands doing the same thing and even better. This triggered our objective on this new album.
How hard is it for a band with only one full-fledged record to get into this prestigious festival?
A/ If you did not entered in any competition is hard, near impossible. We entered the WOA metal battle and got through several stages in Costa Rica and Central America against great bands and we were fortunate enough to be picked as the band to represent the region. That was our ticket. But without this competition, that would never happen.
You come from Costa Rica, which is not exactly the promised metal region and the current hack you released on the Russian Satanath Records and The Rebirth Metal Productions, was it difficult for the band from these parts to find a European publisher? And why not fallen choice for example such as an American company?
A/ I honestly don't know. It was hard, we spend over a year trying to get somebody to publish the music and we never knew what the labels our manager by that time supposedly talked to said about us or what their feedback was but it seemed everybody turned us down but then Satanath Records and Aleksey contacted us. I think it has nothing to do with the label being European or American, it's more about trusting a band and believing in their work and that is what Satanath did for us, it's what Third Eye Temple and Godz of War are doing as well. What's important here is working hard on the music and delivering an honest album, the rest will fall into place.
On your profile, you mentioned that you come from the province of Heredia. This is an area of 2 656.98 km². So how do you do your composing activities? Do you send your ideas via network or regularly come together in the rehearsal room?
A/ Do not be fooled by this facts, Costa Rica is very, very small. First of, the band was conceived in Heredia but the majority of it's members are from other parts of the country (San Jose and Cartago) and we believe there is no point stating that the band is from Heredia, we like to say the band is from Central America. Like I said before, Costa Rica is very small so we just get together to rehearse and compose new ideas because the distances are small, traveling is quick.
Is it difficult in this country to find sufficient skilled and enthusiastic musicians who would not pack up and immediately leave after the first failure?

A/ Yes it is hard to find musicians that would share the same goals for music and be also skilled, but I think its the same in every county. Metal is not the most popular music genre so problems getting proper musicians for a metal band area always going to exist.
How is the metal scene in Costa Rica? We can talk about a certain consistency when bands support each other, or are they into ruled rivalry? And what are the amount of fans that follow such music?
A/ The metal scene in Costa Rica is very small, there is a great deal of people who listen to metal but there are very few people that like local bands and support their music. Also there are no rivalry between bands, at least not that I can recall. I think in the past there used to be some of that but whatever it was, it passed.

The previous album "Burnt By The Light" which you recorded in Sweden under the baton of Jens Bogren and where you recorded this new album which I could not find. That's why I'm interested to know where the recording of Entheogen was held and how long have you been working on this record?
A/ We never recorded in Jens studio, we sent him the tracks via Internet and he mastered the final product. The previous and the new record were both recorded here in Costa Rica by Juan Pablo Calvo and Entheogen was mastered also in Costa Rica by Eri Roman.We lasted almost 2 years writing and recording Entheogen, so we worked really hard on this new album and for a long time.
Let me stop at the overall sound. The one I really like. Mainly because it is extremely dynamic and distinct. Were you really at the beginning of the recording sure how the resulting output would sound like or did it come to you as a surprise at the end of the process? If so, why?
A/ You always come into the studio with an idea of how you want the drums to sound, how the guitars should be and so on and so forth, but when you hear all the elements working together, the sound that it develops, it always surprises you, because you never know how its going to come up, you know?
For this record we had an idea of how the elements should be like, you listen to the demo of the songs and you get a first view of the songs but by the time you get to listen to the whole thing finished it's something else and for me it sounded amazing.
Who is the main brain behind the band?  And who brings in the musical ideas and who writes down the lyrics?
A/ We have no main brain in the band, we all move the ship together, in the same direction. We all contribute to lyrics or music at some point, whether it's feedback or a brand new idea. For this record, all the lyrics were made by Felipe Tencio, the concept behind the lyrics was made by Erick and the music was made by all of us.
Because I do not have the lyrics, so obviously the next question is directed to the content. What does the lyrics deal with? Is it a concept or is each song a separate piece as a whole?
A/ There is a concept behind the lyrics, yes. We talk about the Magna Opus of the Occult science of Alchemy and we try to mix it with the theories of individuation of Carl Jung.
You can find the lyrics to our music on our bandcamp!

The Entheogen Cd was released in a limited edition of 1,000 units. It  is not much. What led you in producing so few copies? Do you think that the physical medium is completely dead?
A/ It was not up to us to release 1000 copies, but you need to keep in mind that our label is a very small and independent , so you can't expect to have a lot of copies and honestly we really could not care less, we are very grateful with the work made by Satanath Records in releasing the album, whether they released 1000 or a million, this is not important.
No, I believe that the physical copy of music is very important to support labels and artist but we still need to adapt to the digital era.

You're playing death metal with a modern concept. What is your relation with the classic death metal roots? Which bands do you like? Are you following the current scene?
A/ It's in us. You cannot avoid them, that is for sure. Bands like Morbid Angel, Death, Suffocation, Incantation and Immolation to name a few are always among our influences.
Yes to some extent we do, we try to keep up. Bands like Morbus Chron, Ulcerate, Dead Congregation and Artificial Brain.
Thank you very much for the interview and if you have something to tell our reader, this is your unique chance.

A/ Thank you for providing this space for the band, we hope you go and listen to our latest album and support your local bands!
Translate: Duzl
www.bandcamp.com/corpsegarden