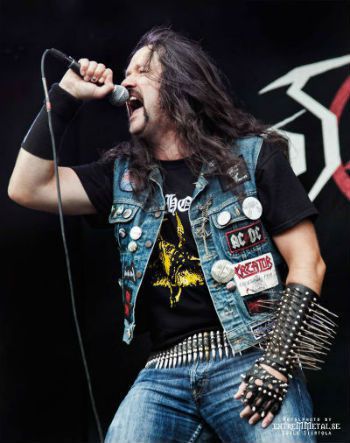 Hi Martin! How are you? PROTECTOR had a relatively long break with concerts, what did you do during that time?
We usually don't play that many gigs each year, only maybe around 5-7, because all bandmembers are playing in other bands as well (with the exception of our drummer Carl-Gustav), have jobs and (in my case) a familly. In the time between the concerts we usually rehearse the setlist, maybe start rehearsing one of the old songs we haven't played live yet, and are writing new material.
I must mention that the last album of PROTECTOR - "Reanimated Homunculus", became thealbum of the year 2013 for me! What's your opinion about this album after one year? I think all the responses were excellent  and many people were probably surprised, that the new staff of PROTECTOR recorded such a  great album.
Thank you! I'm happy to hear that you liked it. And yes: Most of the responses were good, or at least "ok". Fortunately there were not so many negative responses. I still like the songs we wrote for that record. The songs even have "grown in my ears", after every time I listened to the record. My bandmates (who wrote most of the music on Reanimated Homunculus) really managed to capture the Thrash/Death Metal-spirit of the (late) 80's and (early) 90's.
While listening to "Reanimated Homunculus" it seems to me as if PROTECTOR did not have break at all. PROTECTOR with its new sound still sounds great like the older albums from the era of 80s and 90s. Was it your intention to record an album, which will be as much as possible "old school" which would remind us of the albums such as "Golem" or "Urm the Mad" or did you let it run its course?
Of course we wanted to write songs that our fans would like. If we would have started to write New Metal, or Glam Metal (for example) we could have disbanded Protector and started a new band instead. We wanted the songs to sound like Protectors songs did in the 80s and 90s. But on the other hand it also "came naturally" because we all love old-school Metal.
Currently, you are the only original member of PROTECTOR. How was the process of composing? Did you have the final word orwas it a concerted effort amongst all the members?
My bandcollegues wrote the songs and sent them to me by e-mail. The plan was that I should say what I didn't like and / or if we would have to change something. But that never happened, because the songs were great as they were. The songs you hear on the record are more or less the songs my bandfellows Carl-Gustav, Micke and Matte wrote in the first place.
About lyrics - on the album "Reanimated Homunculus" we can find interesting lyrics on various topics.  What is your impulse and motivation for writing the text? Do You have to be in some particular state of mind? Which topics do you personally enjoy the most and how much are the lyrics important to you?
The lyrics on Reanimated Homunculus have pretty much the same topics as they have had on the first three Protector-recordings: Real life (Road Rage), Science Fiction (Antiman), Fun (Calle Brutal), Mysticism (Reanimated Homunculus), -inspiration by- Movies (Holiday in Hell) and Politics / History (Birth of a Nation). But yeah, there also were some new topics like Sexual Perversion (Dreanged Nymphomania) and praising our fans and our love to Metal (Sons of Kain). Personally I like the topics "History", "Science Fiction" and "Real Life" most.
I saw you a few years ago at a festival "Way Of Darkness" in Germany – (which was a killer show by the way)! It was still under the name MARTIN MISSY AND THE PROTECTORS. Therefore I am tempted to ask you, how long did it take to get the rights of using the name PROTECTOR? Had the  former members  have any problems with it? Did they not want to go to a reunion with you as well?
It was actually during our gig on the Way of Darkness-festival in October 2011 that we changed our name from "Martin Missy and the Protectors" to "Protector", and by that went from a cover band to "a real band". I had talked to Hansi Müller (who had formed the band in 1986 together with Michael Hasse, who passed away in 1994) about this before we changed the name. Fortunately he liked the idea, because if he would have said "no", we wouldn't have done the change of the name. We had discussions about a reunion with original bandmembers a couple of years ago, but that didn't work out.
And what are the reactions of former members (eg. Hansi Müller, Ede Belichmeier or others) on the LP "Reanimated Homunculus"? Do you have any specific feedback?
We sent the new album to all former Protector-members (from Hansi to Marco Pape and his bandmates from the Protector-lineup 1996-2003). All of them liked the record, and I'm really happy about this. We also did a cover of the demo-song "The End" (from the Protector-demo "Resurrected" from 2000), and Jacek, Matthias, Hendrik and Marco liked our version of the song as well.

Let me come back to a little bit into the history (laughs). You sang with PROTECTOR on 2 great albums and one EP. Which of these recordings do you consider the best? Who came up with the lyrics in Golem and also the name of the entire album? I ask because  this mystical character have been shot for several films in Germany and in the Czech Republic  and probably the most famous reputation is about the Prague Golem.

My favourite Protector-recording with me on vocals is still Misanthropy. I still like the roughness of the songs and the sound. And probably there are some sentimental feelings involved as well, because it was my first attempt as a "professional singer". If I remember it right I read a book about the Golem (years later I also bought an old silent movie on DVD about the mystical figure) and I was almost immediately fascinated about the legend. The song, and the lyrics, are still one of my Protector-favourites and we still play it live at every gig we play.
At a time when PROTECTOR played together with bands like KREATOR, SODOM and DESTRUCTION, the world was still divided by the Iron Curtain. What was that time in your opinion about the Eastern Bloc - East Germany and Czechoslovakia? In Bohemia there were many metalheads and only thanks to the black market they could access the albums of western bands, they could see your photos and possibly never even dreamt that they could have ever seen those bands live.
With the band we didn't have that much contact with fans from the Eastern Bloc, except by all the fanmail we got from there (especially Poland). The first Protector-gig in the Eastern Bloc was in 1989 in Katowice / Poland. A short time later Protector also played in Prague. I wasn't a part of the band anymore at that time, but my former bandmates told me a lot about the enthusiasm of the fans in Poland and Czeckoslovakia. Personally I had already some contact with metalheads from East Germany since 1986. I had a penfriend there, who I visited 3 times before the wall fell. We always had great parties with lots of alcohol, and the guys also always had all the (western) Metalbands on magnetic tapes, which they had recorded from each other.
Let's go to a traditional question - do you like some Czech bands? (smile)
I have to be honest: I don't know that many Czech bands. I've heard some Masters Hammer, they are cool, and we played together with ZLO at one time, they are nice guys as well. Our bassplayer, who has a big record collection, probably knows a lot of more czech bands that I do.
In 1989, after you left PROTECTOR, they continued to operate and  released two albums "A Shedding of Skin" and "The Heritage". How did you like their creation with Olly Wiebel as a vocalist? Were you interested about PROTECTOR even after you left this band?

I liked all the recordings they did with Olly Wiebel on vocals. But my interest in the band was not as big anymore as it had been while I still was a member of the band myself. I always bought their new releases when they were released (with the exception of The Heritage, which I bought a couple of years later), but that was all.
The Nineties had not been generally very good for thrash metal. Martin Missy was not too exposed then. Have you given preference to your professional career in all those years? When did you decide to leave Germany and move to the north of Sweden?
The nineties weren't good to me either, when it comes to playing in a band. I still couldn't live totally without being in a band though. I played in a "project-band" called R.A.U. in the beginning of the 90s, a Metal coverband in Wolfsburg in the middle of the decade and a Metal-coverband in Sweden around 1996/1997. I moved to my mothers homecountry Sweden in 1995 because I wanted to try out something new.
After years of living in Sweden you certainly perceive differences in living condition  in both the countries. What is the difference between a normal life (work, mentality, politics ...) in Germany and in Sweden? Would you change from Stockholm? (smile)
I would say that living in Sweden is quite similar to living in Germany. The biggest difference is that the people in Sweden are more difficult to get in contact with, which is much easier in Germany. In Sweden you often need a big amount of alcohol to get to know people a little closer.
But I suppose that the underground metal scene works similar everywhere. Are you often attending concerts in Stockholm? Is there any particular concert you attended that would be worth a special  mention?
I try to go to concerts (both underground and big ones) as often as I can, but it only happens maybe every second month, because I have two 3-year old sons, which takes a lot of time. There are no concerts that were better or worse than the others. Most of the gigs are great, regardless if its underground- or "overground"-gigs. We have a couple of cool Thrash-Death-underground-bands here in Stockholm, which I can recommend: Obscyria, Conflagrator, Phidion and Talion, to name a few.

I know you're a fan of the football team VFL WOLFSBURG. This year you have had a great season and is the only Catching up team behind leading Bayern. What do you think about the performances this year? Does  it not take place any kind of incitement with Tom Angelripper ( who is a big fan of Schalke 04) or Schmier (Borussia Mönchengladbach)? (Laugh) And what about the football culture in Sweden? Do you  even have any hockey playing country as your favorite team?
Yes, VfL Wolfsburg are playing really good this season. They will not be able to catch up with the "giants" from München, but probably they will be able to catch a Champions League-spot for the next season. They are also still playing in the german Cup and in the Europa-League. I've not talked to Tom about my preferences regarding football. Probably I am too scared that he would hit me real hard  if I did, hehehe. And icehockey...No, I'm not so much into that. Of course I sometimes watch some games of the World-Championships or the Olympic tournament, but I'm not a fanatic follower of any team in the swedish icehockeyleague. I like football much more.
Back to music. You have been a member of several bands and besides PROTECTOR 're still active in the other two formations. Tell us something more about them, please. The first band is stoner / doom OBRERO and you have just released a new album.
That's correct. I've been singing in Obrero for a couple of years now. It is a nice variation from the musical style that the bands I sing in usually play. We released our debut LP "Mortui Vivos Docent" in 2011, and in february this year we released our second album "The Infinite Corridors of Time".

The other band is thrash metal titled - ZOMBIE LAKE...

This is a project-band, that I have together with two american Metalheads. We released our debut-LP "Plague of the Undead" in 2013.
Which bands do you listen to these days? Which new band got your attention the last time you heard that you would like to recommend  or the band that  you could have imagined to tour with alongside PROTECTOR? Are you going back to the old classic bands from the eighties which you have in your collection?

Yeah, I'm listening to my old favourites from the 80s most of the time (AC/DC, Motörhead, Exodus, Venom and so on). But I've also discovered a couple of "new" bands. Hellish Crossfire from Germany is such a band. We haven't played live with them yet, but maybe it will work out in the future? I also would like to play live with Nifelheim. Tyrant and Hellbutcher are really cool Metalheads.
And what is your opinion on the current new retro wave of thrash and death metal? What is in your opinion the reason for such a  "boom"?  Bands are returning to their metal roots and back are also jeans jackets with patches.
I like it a lot. When I go to a gig or a festival, I feel (almost) like I'm back in the "good old days" again. I hope this "boom" will keep on for a while.
Slowly we are approaching the to the conclusion.  What were your earliest musical plans either with PROTECTOR or with other projects? You have played only a few concerts every year - Is this due to lack of time because of job or do you not want to be "platitudinous" for your fans?
The main reason for not playing live so often is the lack of time. My three bandmates have regular jobs (I work from time to time), I have my twin sons to take care of, we all have wifes / girlfriends, and with the exception of our drummer we all are playing in other bands as well.
Vinyl Maniacs are definitely interested if you are planning to reissue the old albums?
Original Pressings are increasingly becoming difficult to find and are constantly becoming more and more expensive...
There is a re-issue of old Protector-albums in the making. Keep your eyes open (for example on our official Facebook-page Facebook)...
Great news for all Czech thrashers  - You accepted an invitation from Čurby and in July you will playing on OBSCENE EXTREME Festival in Trutnov.  How do you like this unique festival?  I hope you serve to us a huge portion of the honest old school thrash metal!
I have never been to the Obscene Extreme festival before. It will be really interesting to see what it's like. And we will mostly be playing old songs at the OEF, like we usually do.

Martin, thank you very much for this interview and for your time dedicated to Fobiazine. See you in July!
Thank you for doing this interview with me. See you in July and Stay Metal!
Facebook
www.obsceneextreme.cz