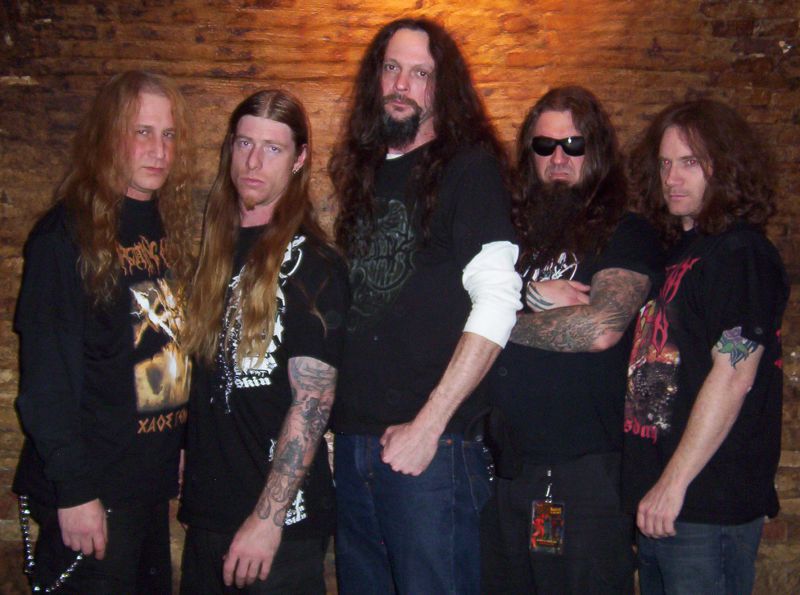 Ave MALEVOLENT CREATION! The first question is about the new album. Sometime in January the media reported that the new album is being recorded. When and by whom will it be released?
The new 12th album is just about complete, but since we are not working with Nuclear Blast for this album release anymore there has been quite a few delays. We have a new label, management and booking agents and everything is being sorted out now and we will be releasing a huge newsletter very soon with all the gory details.
 
From the upcoming album the track that was released titled "Face Your Face" which suggests that you will play true "old school death metal" again. Will the other songs be on the same line? Can we look forward to a great death /thrashing madness? You've already heard all that. What are your feelings about the new record?
The track many people have heard was an unmastered version of one of the more basic M.C. songs title "Face Your Fear". The song is a great track but the rest of the music for the new album is just so much stronger and heavier then that track that we couldn't possibly release it or any other songs to the public just yet. I can honestly say the new material is extremely heavy and will suprise a lot of people who think M.C. is just a band that plays really fast. We still play really fast but have found a balance between speed and slower/heavier sections in our songs that will make this album really stand out amongst all our previous albums. We have really took out time on writing and arranging these new songs to have a very strong impact on the listener. It is a bit epic at times but remains to keep the intensity that M.C is known for. I'm very excited to get this album out to the world to hear because it is the happiest I have been over a MALEVOLENT CREATION in a long time. The music and vocals are really something else. I couldn't be happier with the way the songs have come together.
 
Can you tell us how the new songs were created? Do you guys as a band Compose new songs together in the rehearsal room or is one of you the main "creative brain" behind the works? Some bands approach new songs "democratically" while on the other hand some bands have one member making all the decisions. How is it with MALEVOLENT CREATION?
I wrote the first 5 songs for this album and we were all so happy with the way the songs came out that we have all contributed to rest of the new song's because we needed a new direction and the first 5 songs really set the pace for what was next to come. Our other guitarist Gio has written quite a bit and I also have written quite a few more songs and we are putting the finishing touches on everything now. All 5 members have really stepped up and put together something special for this new album and since we have had the extra time to examine everything and try different arrangements we are really proud of the outcome. It is a very intense album and has no weak songs what so ever.
 
Have you chosen a new art cover for the new album? The last art cover of "Invidious Dominion" that was done by Para Olofsson was really good. Will Para Olofsson again be the creator? On "Invidious Dominion" I was excited about the sound. The Author of the sound was Erik Rutan. Can you tell us where the new (upcoming) album was recorded and who took charge of the mix, mastering, etc.?
The artwork has been done by a famous artist. Tatoo ist that goes by the name of German Lordess who is based out of South America among other places and has done some great artwork for our new album. As far as the recording goes, it has been recorded, mixed and mastered in 3 different studios because we all live in different states here in America but we wanted to record like this and have more input on the production of our music. Listening to the finished and mastered songs that are done now I can proudly say this is the heaviest production we have ever had and will continue to work like this unless something else sparks something exciting for the band. At this point we know what we want our music to sound like and we really just need help with the engineering and actual recording of the music. We have some great help with production, recording and mixing and mastering on this new album and I'm sure nobody will complain. It's still very organic sounding and does not sound like a computer like most new albums. We simply cannot record music digitally like everything else out there. It don't sound right to us.
 
Nowadays a lot of bands are releasing in CDs or they release new songs only on vinyl or limited edition for the fans. How it will be with you?
We will be releasing our new music in all different versions. Our new record label will make sure that the new album is released and promoted the best possible for fans and for the band. I personally would like to see this new music released in as many ways possible and let people have the option of how they would like to purchase the new music.
 
In recent years, the times have changed tremendously. People have been downloading mp3 recordings and prefer being at home viewing "Youtube" videos of the bands rather than attending their concerts. If you compare the attendance in clubs today and years ago, do you feel any changes? Do you think that now the fans are quieter, more restrained,..etc.?
I think the best way for bands to stay relevant is to constantly play live and prove to fans that you are as good live as you are on your recorded albums. We will be touring a lot in the next 2 years and keep releasing music while touring and I believe by staying on the road and playing live is still the best way to keep people talking about your band. The internet has it's good and bad thing's for bands and labels, but playing live is the only way to prove how good your band really is and that's what we will be doing to promote our new album and previous albums.
 
As a band you've played gigs in many countries. Where did you like the most and where did you have the most dreadful experience and which country would you  like to play more?
We really enjoy playing in all countries, but South America has always been a personal fav for me because they are just so into they're metal down there and I can't wait to go back there at the end of this year. The shows are always huge and the people are great. Europe is always a blast and we will be there in August playing some great festivals and shows. So look for our tour dates in Europe at www.facebook.com/malevolentcreation
 
In the Internet, there was information that your drummer Gus Rios left /was kicked out from the band. These details about it were a little confusing What happened in reality? Why did Gus leave? If I remember correctly, he was replaced by Justin DiPinto and this guy played with you sometime in 2002-2003.
Let's just say that thing's were not working out with Gus and we were wasting to much time having him in the band. There are to many issues to go into right now, but we are very happy to have the crushing drumming of Justin DiPinto back in Malevolent Creation and looking forward to playing material that we could not play when Gus was drumming again. Justin has really lit a fire under our asses and made the band more alive then ever and it's great to have 5 guys all on the same page and have the same goal for MALEVOLENT CREATION.
 
Speaking of personnel changes. I looked up your band profile on Metal - Archives and I've counted an impressive 29 musicians who have played since 1987 for MALEVOLENT CREATION. How do you explain such frequent changes? Some of them have returned several times back (Jason, Brett). I believe that it is not easy to keep the band together for so long but I know some bands where there were not so many lineup changes (laughs).
Metal Archives is not a good source for real information for any band!!!! People that have toured as a session member are listed as members and even people that tried out for the band are listed as previous members. So that's not a good way to look at things. Our line up features myself, Bret Hoffman, Jason Blachowicz (who are all original members) and Gio Geraca and Justin Dipinto and it will be like that probably until we decide to end the band.
 
You've worked with a lot of labels. The last regular album, it under the thumb of Nuclear Blast. The subsequent live album "Australian Onslaught" was released by Arctic Music Group ". This means that you had changed the label? How many albums were agreed under the contract with Nuclear Blast?
Nuclear Blast was our label for studio albums but we are allowed to release live material and some other things on smaller labels if we like. So that is what we did with Arctic Music which was a label that was formed by myself and my former attorney. The label is now owned by Xaphan from the band KULT OV AZAZEL and is releasing new music as we speak!!!!!
 
Nowadays, a lot of younger audiences here in the Czech Republic rediscover great old albums and bands. It seems to me that a lot of people are returning to the "metal roots." Is it the same "trend" in the USA? When you're playing in a club in the U.S., who comes to these concerts? Are there more "old-timers" or young people?
A bit of both like Europe, but I believe in the US it is a bit more trendy and the younger fans just like the younger new bands and only very few really understand where this music all started and search for the bands that started all this heavy thrash/death metal so many years ago in the 80's.
 
Let's stay in the past. Which bands/albums had the greatest influence on you? Each musician is taught by someone. Who was your idol?
As a guitarist my fav guitarist has always been Randy Rhoads!!! He is my idol!!! As for music, I was a huge fan of IRON MAIDEN, JUDAS PRIEST, SAXON and then in the mid 80's I was blown away by bands like SLAYER, KREATOR, DESTRUCTION, SODOM etc... But my all time fav band without a doubt is DARK ANGEL!!! And you will hear some of that influence on the new MALEVOLENT CREATION album. They are just the best in my opinion and Gene Hoglan is a massive inspiration on me and my band members.
 
Do you still remember how   MALEVOLENT CREATION came into existence? When and how did the idea of playing death metal come into light? You're one of the first bands who started with this style, so I was wondering how it was back then (laughs)?
We formed in 1986 in Buffalo, NY and recorded our first 3 song demo tape in 1987. I can just remember we were so obsessed with bands like SLAYER, KREATOR and DARK ANGEL that we had to form a band and try to be even heavier then they were. We are still doing this now and having more fun then ever!!!!!
 
Personally, I was at a concert of MALEVOLENT CREATION in 1999 in Pilsen. You were playing with MASTER and SKULL CRUSHER. I really enjoyed it. Such a great combination of death metal and alcohol that I would remember for a long time.(laugh) Since that time you've had a few concerts in our country in various clubs. Can you remember where you liked playing the most? Were you satisfied after playing here?
Czech is always a great country to play and I have so many great friends in that country and am friends with so many great bands that it is always a pleasure visiting your country and Brutal Assault Festival is one of the best festivals in Europe and hope to be playing that again next year!!!!!
 
Still about the live shows. Do you prefer small clubs or bigger festivals?
A good club show is always best in terms of sound and playing a long set, but festivals can also be a great experience when they are organized correctly like Brutal Assault. They both are cool for us to play!!!!
 
There were some death metal album releases last year, which were the ones that attracted you amongst them?

I don't listen to much new death metal because I really don't listen to a lot of death metal besides my own music. I'm a bit lazy when it comes to that. But, I do like the new DEICIDE album and think that sounds great and i prefer the death metal bands that have been around since the beginning because most of them are still around and releasing amazing music still.
 
Do you have plans to visit Europe this year again? And if yes, will you play a show in the Czech Republic?
We will be in Europe for the month of August playing festivals and club shows but I do not think we are playing in Czech that month. We will be back later in the year hopefully for a full European Tour and of course we will be playing Czech.
 
Do you know any Czech metal band and also have their album at home?
Well, my good friend Paul Speckman from MASTER lives there now and has for quite some time and he is like a brother to me. Also, Bruno from HYPNOS is also a great friend of mine and like a brother to me. I have known both those guys for many years and like the music of both they're bands and look forward to seeing them in Europe somewhere this year again!!!!
 
What does MALEVOLENT CREATION have planned for 2014? Enlighten us with a teaser/idea especially for your fans and listeners.
New album coming out, a lot of touring in Europe hopefully and a lot of touring all over the world. We have big plans for 2014 and 2015 and have some brutal new music coming out over the course of the next 2 years. So I can't wait to get out of the Florida heat and start traveling around the world and playing MALEVOLENT CREATION music again!!!
 
Thank you for the interview and wish you a good CD sales and a lot of crazy fans!
Thank you very much for the interview my friend and I look forward to playing your country this year and meeting you and having a few drinks!!!!!
www.facebook.com/philipfasciana
www.facebook.com/malevolentcreation

For booking in Europe contact The Flaming Arts Agency at info@theflamingarts.eu
And for everything else please contact Watkins Management at Xecutioner13@gmail.com
Translate by Duzl.
www.facebook.com/malevolentcreation
http://www.reverbnation.com/malevolentcreation
https://www.youtube.com/user/malevolentcreation
http://twitter.com/malevolentcreat
http://www.myspace.com/malevolentcreation
http://www.last.fm/music/Malevolent+Creation