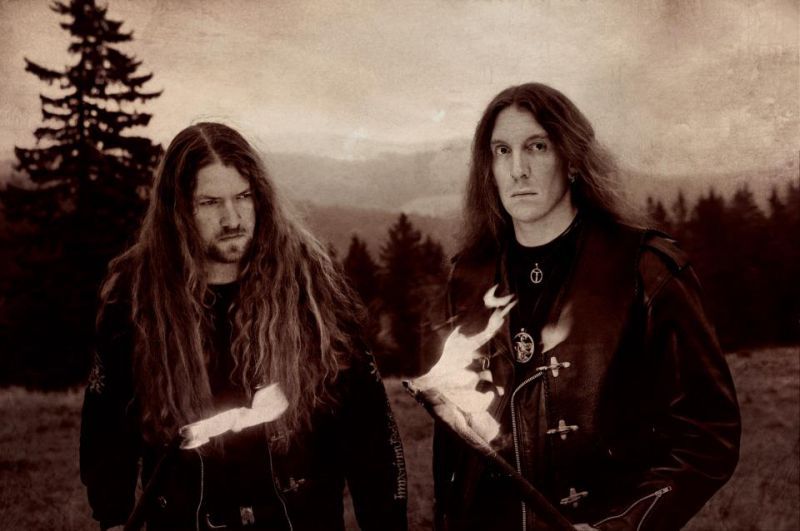 It's been almost a year since the release of your last album "Meadows of Nostalgia." How far are you satisfied with the response? Do you have some information about the CD sales? What are your feelings about this records now, as it's almost a year since the release date? Are you absolutely satisfied with the results or do you have any ideas of doing it differently the next time?
We are still absolutely satisfied with the result. We still love the production, the concept and the energy of that record. The responses were overwhelming. We received so many positive reviews and also many mails from fans all over the world. Our label seems to be very happy with the CD sales, but I don t know about the actual sales numbers. To be honest: It's the first album where I don't want to change anything.
Where was the album "Meadows of Nostalgia" recorded and which producer participated in it?
We recorded the drums at the Iguana Studios near Freiburg with our friend and topproducer Christoph Brandes. Guitars, bass and synths were recorded by ourselves. Mixing and mastering was done by Christoph Brandes.
"Meadows of Nostalgia" is your second album under the auspicious label Season of Mist. How would you assess the cooperation with the French label? Do you consider the change of label to Season of Mist as a big "milestone" in the history of IMPERIUM DEKADENZ?
We are satisfied with Season of Mist. It is a professional surrounding for us. Season of Mist have a good distribution, so when they signed us lots of people noticed our name in the scene. So, yes, it was a kind of a milestone.
Are you taking a small break from composing after this last released record or are you already preparing material for a new album?
In January 2014 we started to collect new ideas. Right now we are in a creative mood, so songwriting is going well. But as always, we take all the time that is needed to create an high-class album.
How have you divided the role in composing with Horaz? Do you work together on everything or one of you is the main composer of the music and lyrics?
Everyone of us has a little recording studio at home. So, Horaz and me, we can always work on songs at home. When we meet in our practice room we mostly work on final arrangements. There are no divided roles in songwriting. Horaz writes music, I write music, and we both write lyrics. Horaz writes the German ones, I am focused on the English lyrics.
What is the main theme of your lyrics? Do you have a period when you write most of the lyrics? What inspires you when you are writing?
We are inspired by history, films, books, nature and the daily life. We are both very nostalgic persons, we love to create our own "fortress" with IMPERIUM DEKADENZ. There is no specific period for writing lyrics. When something comes in mind we write it down. There is no master plan when it's about to write lyrics.
In the studio you are working as a "duo". Since 2009 on live shows, you perform with three other members - Naavl, Kaelt and Harvst. Have you ever considered about an extended studio roster? How did you find this trio? Through their common band VARGSHEIM?
It was in 2008 when Horaz and me where drinking in Munich. We went into a Metal-club where we met a guy who asked us if we are still searching for live-members. He told us that he knew the members of VARGSHEIM and that he got the impression that those VARGSHEIM-guys are interested in playing with IMPERIUM DEKADENZ. So, a few weeks later we met them in our practice room for a first rehearsal. The rest is history, hehe.
The studio roster will never change. Horaz, Vespasian. No one else is needed, hehe.
Your first visit to Czech Republic was by the end of December 2013. What was the impression from your debut concert in the Czech Republic? Let me just state my brief opinion - it was a perfect show and you guys deserved a much more audience!
We had a good time in Prague. It was our very first show there, so we didn't expect thousands of people, hehe. We definitely want to return!
You had a few props and almost no lighting on stage during a show in Prague. It is so important for you to evoke an even more melancholic atmosphere?
It's always important to underline the atmosphere with good light (we prefer less light, and not that much colours) , but to be honest: In Prague we didn´t have any influence on the light show.
You play in clubs as well as the bigger festivals. In August, you are going to play at Party San Open Air. I personally have the impression that your music is more directed to clubs where you can create the right grim atmosphere. What do you think about it?
Hard to say. I think a big indoor stage with a good sound- and lightsystem is the best setting for us. But you are right: It's kinda strange to perform our songs while the sun is shining. That definitely kills a lot of atmosphere.
By the way: We now have our own sound engineer for the gigs who also takes care of the light. Besides, we are now working with a sampling pad for ambient parts between the songs. We now have the possibility to play songs like "Ave Danuvi" that has a choral sample in the chorus.
Do you have any other band / project apart from IMPERIUM DEKADENZ or are you completely committed to IMPERIUM DEKADENZ as of now?
I have a Doom Metal project called SAIWALA with Karin Andreev, a well known female singer. Check it out here.
www.saiwala.com
!
https://www.youtube.com/watch?v=6x7LxFrv9B0
I hope you like it!
We wanna release an album in the near future, but I don't hurry because, there are always things to do for IMPERIUM DEKADENZ and, unfortunately, the day only has 24 hours...
You're a drummer, guitarist, bassist and keyboardist. Which amongst these instruments was your first and when did you start playing the same? Do you have some hard-relation shift with any of these instruments and is any one of these instruments a priority for you?
I started as a drummer a looooong time ago :) I always was the drummer in the first bands I have played in. Playing in those bands I realised that I have to learn playing guitar. That was the only possibility to reach my creative goals. Unfortunately I had to spend lots of time with unmotivated and sometimes bad musicians. So I came to the conclusion that I have to learn several instruments and also some basic about recording music. Now I am in a comfortable situation, because I own a little studio and I am able to pre-produce complete tracks on my own.
Horaz also plays several instruments and he also has a little studio at home.
Which bands influenced you when you started playing? Was there any particular performer/band which provided the impulse for you to start playing and composing too?
No, I would say the whole metal-scene that was going on in the early nineties gave me the impulse to start making music. I always had the dream to start my own band and to enter the stage. Playing metal gave and gives me the possibility of expressing my character, my emotions, my fears and hopes.
The year 2013 is behind us and it was a year of many good album releases – are there any albums which you are really interested in? Are you interested about current happenings on stage or do you prefer old school bands? Do you listen to bands which don´t play metal music as well?
To be honest I prefer old school stuff. Nowadays productions and bands often sound far to clean. I cannot feel the rock n roll spirit when I listen to so called modern metal bands. I want to hear real instruments and real musicians, you know? I don t want to listen to drumcomputers and audiotuned vocals. I want to feel the sound of real guitar amps!
So, I often listen to music from the past.
Thank you for your time and your answers. I wish you much success and the last words are yours.
Thank you for contacting me! See you soon!
http://www.imperium-dekadenz.de/