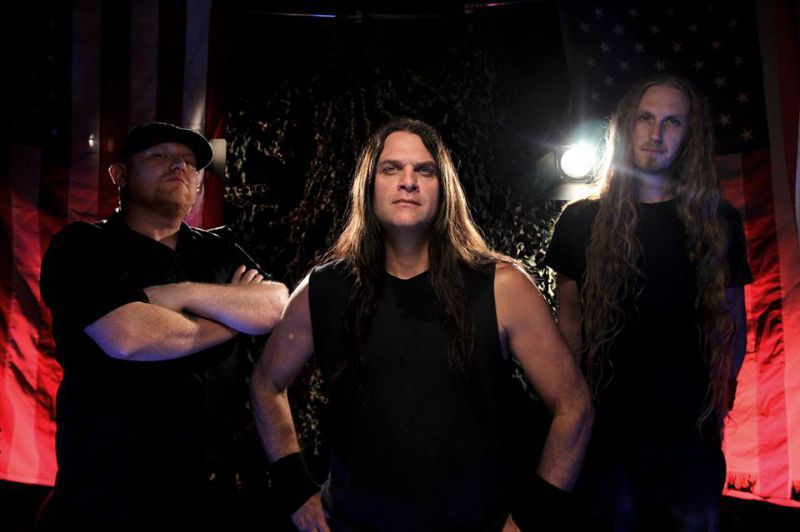 Ave JUNGLE ROT! This year you are 20 years on the metal scene. Will there be some celebration? Can fans look forward to a compilation, DVD, merchandise, special concerts, etc.?
Dave: Yes, I joined the band in '95,  Next year that will make it 20yrs for me and Jrot. We will have a special layout and a cool package on this achievement for our next release. We may even do some kind of special set list as well for our 20 years of being around.
Do you still remember how you founded your band? Who came up with the idea to play death metal and how did you get together? From the beginning you were singing about the war. Was BOLT THROWER, SODOM your inspiration or was it someone else?
Dave: I started up with Jrot when I was in-between bands and I was just looking for a good drummer to play with. I knew these guys from playing around our area  while in other bands.  They talked about a side band that they had going on, and they were looking for another guitar player to help out with this idea. With a name like Jrot it was a done deal that we had sing about war/gore because that's what comes with the name.  I was very much into SODOM/BOLT THROWER at the time and I still am. My uncle was in the Vietnam War and always would tell me his stories on how he survived the war and what things he had to do.
Please try to look back and compare what development you see on the metal scene. Are the fans different today than before? What about promoters, labels, etc.? After those twenty years there are completely new technical possibilities, we have the internet, people can hear your music immediately around the world. JUNGLE ROT surely had to adapt to this too.
James: Things have definitely changed for bands these days. The internet is definitely to blame. It does make it easier to get your music and your brand, but so can everyone else, which floods everything. It's hard to stand out in the huge sea of information. I notice kids these days are looking like I did when I was 13-14 which is kinda cool. They are into the patched up vest and big sneakers, old thrasher look haha.
Twenty years is a long time. There have been a lot of different musicians in JUNGLE ROT during the time. According to Metal Archives I even counted 24! Dave is the only founding member. How would you explain these frequent changes?
James: You have to realize that out of those 24 people you counted, not all of them were actually "in" the band. Maybe they just filled in on a tour. Or even played a couple shows. There have definitely been a lot of people but the only thing to have changed in the last ten years was the drummer. Me, Dave, and Geoff have been a force, and the foundation of the band for 10 years now.
I always liked the logo of your band. Do you remember who created it?
Dave: Yes, Scott Jackson, he has done a lot of underground covers and comic's. I liked the logo the first time I saw it. He really nailed it! Scott also did our first 2 Covers "Skin the Living" and "Slaughter the Weak" they were both a stepping stone for our career. 
The drums on the latest album "Terror Regime" were recorded by Jesse Beahler. But on your Facebook profile the place for drummer is filled with a few question marks. This means that Jesse isn't a member of JUNGLE ROT anymore? I am a little confused about it (laughs). And who is drumming on concerts?
James: Jesse was in the band for the last two albums, but he left in May of last year to pursue other avenues. We wish him the best and who knows, maybe we'll jam with him again.  We've had a few friends fill in on the drum throne for live events: Garry Naples from NOVEMBERS DOOM / KASTASYDE has done a couple runs with us. Scott Fuller from ABYSMAL DAWN took a run to Europe with us. We've also worked with Joey Muha from the band THREAT SIGNAL. Lately we've been trying to find someone to join permanently in the area. We've been working with a new guy the past few weeks and we'll see how that goes.
When listening to your discography, the previous album "Kill On Command" seems to me as a smaller step aside. I even heard a metal core elements on this album.
James: I don't quite understand what you mean by a "smaller step aside" but I can assure you the album is just a natural progression for us, and, if you listen to most critics, we haven't changed much. We aren't trying to change. We don't listen to "metal core" or whatever this new crap is called. We are influenced by real old school brutal hardcore and death metal. There is no denying that. We had hardcore influences in the band since the beginning, before it was "cool".
Personally, this is probably the only album of yours that I don't like so much. Did you want to record something different? On the last album, "Terror Regime" you play again the "true" old school death metal. I'm asking because I am interested in what can we look forward to in the future. In what direction JUNGLE ROT want to develop their upcoming records?
James: Again, I find this extremely odd, as the two albums are such a natural pair. Most of the songs for both these albums we're all written around the same time. There was no conscious effort to make them different because they aren't much different. We just continue to write music in the old school vein, the old school way. We don't sit around trying to see what is new or try and top the next band. We just do what we do.
Quite often you wear Swedish death metal bands T-shirts on your promo pictures. I dare to say that I in some parts of JUNGLE ROT records I can hear links to Swedish death metal and German thrash metal bands. What is your attitude towards European metal scene? You come from the USA but If I didn't know you, I would guess you're from Europe. Do you feel it on your live shows? Is it different to play in America and in Europe?
James: We are definitely influenced by many European bands. It is pretty obvious I suppose. The German thrash wave was the big influence for Dave I know that. I'm sure he'll tell you his favorite bands and they are all German thrash from the 80s haha. I feel these bands write actual songs. ENTOMBED, DISMEMBER.. these weren't just random noodling over blast beats for the sake of awe. These bands wrote well crafted, brutal and catchy "songs".
Where do you get an inspiration for new songs? I'm interested in the actual composing process. Please describe us how do you create new material. How long did it take to create material for the last album "Terror Regime"?
James: Inspiration isn't the problem anymore. Its time. We get this question a lot and there seems to be some huge mystique about a bands composing process. I guarantee we write our music just like 99% of every other band in the world. We get together, sit around and throw out our individual ideas and create songs. Its not rocket science. I just wish we had a little more time. We don't live super close to each other, and cant get together as much as we'd like. But we get it done.
I always liked your lyrics. It's not a secret that you are singing about war. When you write lyrics, what inspires you? Are you inspired by actual news or you rather look into the past (the war in Vietnam, Korea, etc.)? Are you interested about the wars as such somehow deeper, do you study history, etc.?
James: I get inspired by both. I have written about past events and historical battles. I also get a lot of my fuel from the news and what I read and see everyday. I've also written lyrics about fictional stories and use those stories to get my own points across. Lately I suppose I've been writing pretty political stuff, but its really what's pissing me off right now. There is a lot of inspiration out there if you're a hateful prick like myself.
Since the album "What Horrors Await", Gyula Havancsak (http://hjules.com/) has been creating your cover design. He comes from Hungary. How did you get together with him and what was so interesting for you at his work? Does he listen to your records for inspiration before he creates the cover art, or do you choose from already prepared designs?
James: Gyula was referred to us by our former label, and we started the relationship  with him before "What Horrors Await", he nailed that cover and the whole booklet and layout was amazing, we told ourselves we were sticking with him for quite some time. He hasn't let us down yet. We do send Gyula the lyrics and album titles and our own ideas. If we have music we will send that too. We practically let him do what he wants, since he hasn't fumbled yet!
If I'm not mistaken, all albums of JUNGLE ROT were recorded in the Belle City Sound studio in Racine, WI by Chris Wisco. Sound is one of the main trademarks of your band. It is "classic, rolling, rumbling". I like death metal like this. It almost seems that Chris is also "member" of  your band (laughs). Why did you choose this studio and how does your cooperation work out? Does Chris speak into what and how you have to play?
James: Chris is definitely the 5th member of the band. He knows exactly what the band should sound like and he nails it every time.
Throughout the history of your band you have been often changing publishing labels. The last two albums were released by VICTORY RECORDS. This means that the next album will also be released by them? Are you satisfied with their work, promotion, etc.?
James: Victory has been great to us. The next album will definitely be on Victory.
Last year you played in the Czech Republic on BRUTAL ASSAULT festival. Do you remember how did the concert go? Did you like it here and what do you say about your fans?
James: That was an amazing time. I cannot wait to play the fest again!
I saw your record from last year's festival "Live at Meh Suff" in Switzerland. It looked like it really was a massacre (laughs). This brings me to the idea....do you prefer larger festivals or you feel better in smaller clubs?
James: They are both fun! I like doing both! They both have their charms. I like the intimacy of the small club, but who doesn't like that big open air feel of a festival either? Haha!
Album "Terror Regime" was released last year. Are you already working on material for an upcoming album? Tell your fans a little about it, so they can be looking forward. Will it be a great portion of old school death metal again?
James: We are tinkering around with riffs and ideas now. A few ideas that were written for the last album that didn't make it in due to time or what not.
As far as I know, none of your albums was released on vinyl. Don't you plan it? This medium has been experiencing a boom recently and a lot of bands return to it again. How is with your older records? Some of them aren't available anymore (at least here in the Czech Republic). Are you thinking about reeditions?
James: Victory has re-released our first album "Skin The Living" on vinyl! So far that is the only one, but yes I definitely plan to have them all on vinyl because I am the vinyl NERD of the band haha! I will release them myself! Haha!
Do you have plans to visit Europe this year again? And if yes, will you have some show in the Czech Republic?
James: We are in talks to come to Europe in the fall on 2014. I certainly hope we can play your beautiful country again!!!!!
Do you know any Czech metal band, having their album at home?
James: Our good friend from Chicago, Paul Speckmann from legendary band MASTER is living in Czech Republic now for a few years! I know KRABATHOR, HYPNOS, PANDEMIA, CEREBRAL TURBULENCY, FLESHLESS, GODLESS TRUTH, INGROWING, MALIGNANT TUMOUR, and of course fucking MASTERS HAMMER!
What do JUNGLE ROT have planned for 2014? Tell some teaser for your fans and listeners.
James: We have plans to tour this year. In June, we are scheduling a USA tour. We are in talks to tour in Europe in September, and then again another tour in the US in October. Then we will record the new album, which we hope will be released at the very beginning of the new year. Thank you for the interview and your support!! Cheers to you and your readers! Na zdraví Czech Republic! We love your country!
Thank you for the interview and wish you good CD sales and a lot of crazy fans!
http://www.jungle-rot.com/
http://www.facebook.com/igotjunglerot
http://www.last.fm/music/Jungle+Rot
http://www.victoryrecords.com/
Translate by Duzl.