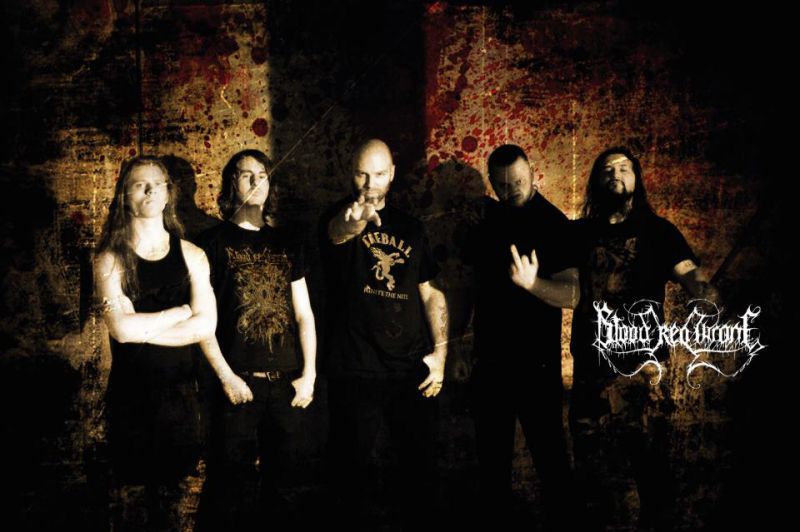 Ave BLOOD RED THRONE! You`ve just finished touring with the Polish DECAPITATED. How do you feel about this? I`m asking because here in the Czech Republic, perception-wise, when we think of Norwegian metal, the image that comes to mind is solely black metal.
It's 2014. People still think that Norwegians only play black metal??? Anyway, I've been playing death for 16 years now with BLOOD RED THRONE. People shouldn't be surprised. They should be grateful!
Your latest album featured a new vocalist Yngve "Bolt" Christiansen. How did the fans react to this change? Having a new vocalist may not be to every fan's liking and in fact, lots of them tend to be rather sensitive when it comes to suddenly hearing different voice than the one they are used to. Personally I like his singing style and truth be told, I keep listening to the "Blood Red Throne" album in my car over again but I also heard different opinions on this matter. Additionally, there does not appear to be a lot of information about Bolt available, so can you tell us more about him? Where did he sing before joining BLOOD RED THRONE?
Overall,pretty good. There are always fans preferring the other vocalists, but the band had to continue and we had 7 or 8 singers on audition. Bolt's vocals are much more varied and also deeper growls and he opens up the vocal parts in BRT for sure. He never played any big bands, but we knew him from the metal community and today he's also the singer in GRIMFIST as well as the head in charge for the up and coming Blastfest in Norway.
Furthermore, you also have a new bassist in the band - Ole Bent Madsen. Can you please tell us more about him too? Also, I cannot help but ask how do you explain so frequent changes in BLOOD RED THRONE line-up? True, 15 years is 15 years, but in that time indeed a lot of people came and went.
A young and talented local dude I've known about for some years. He plays in one of the few local death metal bands around and was an obvious choice for us when Erlend(bass) left. I could explain each case of members quitting, but basically it's because they don't have what it takes to run a band. There's absolutely no bad blood between old members, except one certain retarded drummer, and we even brought back a couple of the old members to do some shows here and there. Anyway, I've always made most of the music in BRT throughout the years and the band will only live as long as I'm there…
What is the feedback to last year's album from fans or reviews? And what is the reaction to new songs on live gigs? Is there anything what you would change or rework?
Great feedback. As it should be. This is our best album since "Altered Genesis". Some writers are still complaining about the originality, but to be honest, I don't know any bands sounding like BRT. If you want the crazy and weird stuff, listen to newer GORGUTS or whatever. People are headmoshing as much to the new songs as the old ones, so, hell yeah!
 "Blood Red Throne" is overall your seventh album. In those 15 years, has there been any change in the way you compose music? Also, if I am not mistaken, so only Daniel "Dod" Olaissen remains from the original band line-up and surely with new members come new ideas and new ways of doing things. What, in fact, is the process when it comes to creating new songs? 
I write songs pretty much the same as I did 10-15 years ago. I don't like 20 different riffs in a row. I appreciate a certain structure in the song and it has to float well. There's only been one change regarding guitarist and naturally Ivan(the new guitarist for the last 4 years) has a different way of writing songs than both I and Tchort(former guitarist). I make demos of all my songs in my home studio. It's pretty much how the song will turn out except some different drumming here and there and vocals of course.
I truly enjoyed the cover from Rafael Tavares. It is indeed impressive. I have been following him for some time now, thinking all that while who is entitled to that throne. Since, Rafael comes from Brazil, how did you meet and why him?
We announced of facebook. I had this idea of this bloody and mighty throne and Rafael understood my idea right from the start. I'm very pleased with how the cover and lay-out worked out. I'll definitely work with him again!
Who wrote the lyrics on the "Blood Red Throne" album? When I read them, it seems to me that you place great emphasis on those lyrics which is something death metal bands generally may not tend to do. What the lyrics about and what inspired them? 
Bolt. Our singer. The lyrics are very important to him and they are not just some gore and blood shit written down in 10 minutes
Bolt: The lyrics are inspired by different elements of darkness. Everything evil gives an inspiration when it comes to putting words to the brutal riffs and I try to go deep into the situation. The mentality of those who murder and those who are so unfortunate to be killed. What are they all thinking, what does it give, and what does it take? Is there a God? Should we trust in anything but ourselves? Will there be another chance for anything? I think, no. And this album is about all my philosophies, my meaning of life, my intentions, and also the opposite of everything I am. If we recognize the evil in the world, it will be easier to stop it from entering your surroundings. If we keep our eyes shut and have faith in what we wish the world should or could be, the darkness will take over everything. You cannot change for the better without acknowledging the worse. With my lyrics I try to bring all the elements of enslavement to the devil into my head and I spread the words of the killer and the pray to make my world a better place. There's no life without death, and this beautiful and brutal genre is how I deal with the fact.
The Album was recorded in the Mayhem Music studio. If I am not mistaken, this is also a change compared to previous albums. Personally, I find the sound more perceptible while simultaneously harsher. Was that the desired outcome and did you want any change in the way you sound? Additionally, can we expect any further shifts in this regard or is this the direction to go with, meaning that you will stay faithful to this studio?
 The drums and vocals were recorded in Mayhem Music Studios. Same as last the album. Guitars and bass were recorded in my home studio. Everything was mixed in a third studio. I'm happy with the production on all our previous albums, so it's just a matter of coincidences. I will definitely continue to record guitars and bass and maybe even the drums in my home studio.
Besides "classic" death metal, your music also contains black metal elements which in my opinion makes your band original and clearly identifiable. I have just been wondering where does the black metal comes from, since according to Metal Archives, Daniel's favorite bands are DEATH, MESHUGGAH, CHIMAIRA, GORGUTS and JOE SATRIANI.
Thanks. Finally, someone who gets that we're not a "CANNIBAL CORPSE" rip-off band. My all time fave band is death and my fave guitarist is Joe Satriani. I listen to everything from 80's glam metal to the most extreme music. Black metal is just natural for me since I started listening to that in 1992, made my own black metal band in 1993 and also joined SATYRICON in 1997. The original singer of BRT and I also started COBOLT 60 in 2000, which is blackthrash metal and released two albums so far. I still like black metal, so why not incorporate some riffs here and there in BRT…
For the occasion of the 15th anniversary of your band, it is possible to order a limited vinyl box. What is in general your relationship towards vinyls? These days, vinyls are becoming "in" once again. Are you a collector yourself? Do you like to search for and discover new bands? And was there recently a vinyl that caught your attention so much so that you bought it?
I'm not a fanatic, but have quite some vinyls myself of course. I hardly buy any vinyls these days, but if there's something extremely cool, I'll buy it. Anyway, vinyls are cool and they will never die!
One question for Daniel. You are also active in black/thrash COBOLT 60, progressive SCARIOT and thrash ZEROZONIC. I can`t imagine at all, how do you manage all that? Every one of those bands plays a different style of metal and has a different sound. Do you compose music for all of them? How do you differentiate for whom you are creating a new riff, melody? And should those bands of yours have a gig in the same day, which of the bands gets precedence?
SCARIOT is history ages ago, but ZEROZONIC is my other main band besides BRT. COBOLT 60 is very underground and we hardly play live and only released two albums in 10 years. I actually have a 80's band as well, but we're only recording albums so far. I write all the music for all bands and this only proves my taste for different kinds of metal music. There's never a problem telling what riff is going where. The bands are very different and they will definitely not gig the same day, hehe.
Going back to the past. What prompted you to start playing death metal with Tchort? Can you remember when and how did the initial idea to find BLOOD RED THRONE come about?
I've enjoyed death metal since 1991. I always wanted to start my own death metal band. Finding a decent drummer is the only reason for me not starting BRT even before 1998. When I met Tchort and became friends, he had the same death metal passion as I. We both started playing together in Satyricon, but we always knew we would start a death metal band someday!
Why did Tchort leave the band? I guess it must have been hard, since you recorded many albums together and played lot of gigs…
Family and work related reasons. He didn't have the time and space to give 100% and it was a tough decision for him to make. We've been friends for more than 20 years and we still are. I'm glad he's back playing live with CARPATHIAN FOREST again!
I was wondering about one more thing. I always liked your band logo, yet I could not find the name of its author. Who created it?
Christophe Szpajdel. Same guy doing EMPEROR and many other bands.
Last two albums were released by the American Sevared Records. Why this label? Were you somehow dissatisfied with the work of Earache Records? I am asking because Sevared Records is known to release mostly really brutal death metal.
The only label being interested. It's just ridiculous. BRT has been around for 16 years, released killer albums every second year, toured in many parts of the world, kicking ass on stage, got many worldwide fans. Not a bad word about Sevared, but we deserve bigger and better. I still don't get it. Earache decided to let us go, which is ok, cause they are not what they used to be…
Last year your band celebrated 15 years anniversary. When you look back do you see any difference between 1998 and 2014 in terms of for instance. How you are approached by labels, fans or promoters? 
Indeed. Believe it or not, but labels were much more interested in us years ago than today. Of course the industry has something to do with this, but I'm still shocked that no label will pick up the biggest death metal band in Norway. Luckily, our fanbase is growing every day and we get a lot of offers playing live. That's what keeps us alive!
As I mentioned before, we tend to perceive Norway as a black metal stronghold. But what about death metal? Beside you I know only AETERNUS, DISKORD and OBLITERATION, when it comes to newcomers. Are there any other Norwegian death metal acts that you would recommend?
THE SICKENING, Featuring one of the former drummers of BRT; BEIST. Also HORIZON ABLAZE, being the other band of the BRT bass player. To name some.
What are the plans of BLOOD RED THRONE in near future? Can we look forward to a gig in the Czech Republic?
We have some festivals coming up. I thought we were playing Obscene Extreme in your country, but the festival chief didn't like BRT…
I always ask this – do you know or have a favorite band from the Czech Republic?
I don't know many bands, but I've always liked ROOT!
In short while it will be a year since you released the last album. Are you preparing a new one already?
Most certainly. BRT has released a new album every second year since the beginning. 2015 will be no exception. I have two songs and Ivan is also working on some new riffs!
If you want to say something to Czech fans, now is your chance…
Thanks for all support. It's always been great when we've played in your country. We'd love to come back! We still have some left of the limited edition vinyl box, so feel free to check out; http://bloodredthrone.bandcamp.com/
Thank you for the interview. I would like to wish you many successful gigs, plenty of sold records and a lot of loyal fans!
Cheers to that and never surrender!
http://bloodredthrone.bandcamp.com/
http://www.reverbnation.com/bloodredthrone
http://www.sevared.com/
REVIEW (in Czech) "Blood Red Throne"
Translate by Tal and Duzl.