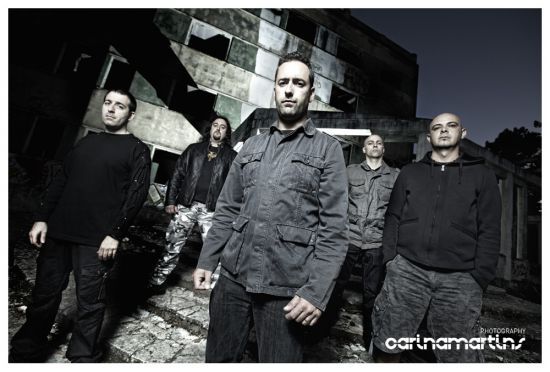 Ave Scent of Death! Your band isn't too much known in the Czech republic. Can you introduce the band and its members?
Hail Asphyx!!! Bernardo here, for answering your questions and making Scent of Death's name more well known in the Czech Republic a little bit. For us it's a pleasure to be in the Fobia Zine, and hope this interview will awake the interest of the Fobia readers to listen our new album.
Scent of Death is a Spanish five members band, that plays fast, dark, raw and Brutal Death Metal in the vein of Morbid Angel, Deicide, Immolation, Hate Eternal, Behemoth, to name some. As a resume, I could say its technical Death Metal in the brutal way, with feeling, devastating drums, and riffs that make your brain explode. As a proof of what I say, all the readers should check the great review of the new album, which is rated 9/10, done by Asphyx in these pages of Fobia Zine. That means that album is not perfect but at least deserves a listening by the audience, hahaha.....
The actual line-up is: Sergio M. Afonso (vocals), Carlos F. Caballo (bass), Jorge F. Taboada (lead guitar), Bernardo Estévez (rhythm guitar), Rolando Barros (drums).
Your new cd "Of Martyrs´s Agony and Hate" is on the market some time. What are responses and reviews, what do the fans tell about the cd?

Yes, "Of Martyrs's Agony an Hate" CD was finally released in the last days of 2012, about December 26, when the copies arrived from the factory, after some delay of what was announced in November 2012. So we really consider that the release data is January 1rst 2013 because we had no time to distribute any copies in 2012, neither our label. And the 12"LP version was released at the end of January 2013. For us this album is from 2013 for all purposes, so it's only 3 months old (smile).
The responses of the press in this short period of time are fantastic. We have received about 30-40 reviews and the overall rate is 8-8,5 points over 10. You rated our album 9/10 points (smile). Only one zine rated it with 6 points. So we think it's a great result in only 3 months of the album's life, for an underground band like Scent of Death. And consider the fact that the album was released by two small labels from Spain, that works correctly but they don't have the power of a big company, ok?
And about the fans who bought our cd, the coments are really great, and the most of them are impressed with the new songs, for the variety of the composition of the songs, for the arragements, for the powerfull and dark sound. All of them says that "Of Martyrs's..."is better, faster and more powerfull than "Woven in the book of hate". And that is a great for us, because that's the proof that our closest fans were waiting for our new stuff for seven long years.
Where did you record the album? It has an excellent sound. Did you have clear conception about the sound? Or did it make the sound engineer? What kind of instruments and equipment do you use?

The album was recorded by parts in several studios. For example drums were recorded in Lisbon, Portugal at Brugosound Studios, bass sessions at Bird Of Hermes Studios in our city, and vocals and guitars in another studio I do not want to mention because some professional reasons. But the most important fact is that it was mixed and mastered by André Tavares in Lisbon again. And that's the reason why the album sounds as brutal as you can hear.
This kind of sound is purely Scent Of Death conception. André is a great engineer and very patient man, so we explain him how it should sounds like, and he did it. It was a hard work, because we were 700km far away, but he puts all his technical knowledge and we put our ears... (smile). And between the two we got the sound.
We had a clear conception about the sound we wanted for the album, and this conception is about the sound you can hear on the album. I think we got it. Of course musicians always want for their album the most powerful sound in the world and we are not an exception (smile). Perhaps we could get more output, but perhaps the album begins to sound more distorted and dirty. But we wanted all the instruments to be heard clearly in the album, with a sound in your face and each instrument on its frequency, separately one from another, but at the same time a brutal, dense and dark sound. We sacrifice a bit the output power for getting the sound you can listen, but on the other hand you can set your hi-fi equipment to the maximum volume, and you'll continue to hear the music with no distortion, and even more powerful and mixed. I think we got a really good sound for Scent Of Death's musical concept.
About our gear, I think it's too long to mention. We have no endorsements, so we buy our own stuff. You can see a note on the album about this… But I can say that on guitars we both use a 7-string guitars, our bassist use a handmade bass done by a luthier, and on drums Rolando use a lot of variety cymbals, pedals and so on, that's is hard to mention all here.
The cover to the new album was made by Jumali Katani. How did you meet him? Are there any connections with texts on the album? The booklet is made very precisely. Who made graphics? It is really nice work….

We discover Jumali on the net and see his blog with all his artwork, and we were really impressed. He has a lot of covers for all styles of extreme metal, thrash, black, death, gore… The most of them were already sold, but we find one that we like a lot. I think it was conceived for a Black Metal band because it had a lot of satanic elements, but we like the main figure of it for the concept of our album, exactly the same you see on our cover, because it expressed the idea we wanted. So we got in touch with him and tell to modify all the rest of the image to compose the scene we wanted, not as explicitly satanic. So we put off the satanic elements and introduce the chained angels, the crying Mary and the angels on their knees in a submission way, as fallen martyrs for their dethroned god.
I think the idea of the cover is the perfect one to express all the lyrical concepts in the most of the songs, which talks about the lies, the excesses and the abuse against mankind in the name of religions (all of them). People live all their lives as a slaves and martyrs because their faith, following the rules of the men who represent god on Earth, and when notice that they have been abused and corrupted, their faith becomes in hate for dethroning their gods. That's the idea of the cover, according with the lyrics.
And about the booklet, thanks a lot for your words. Nice you like it… The entire layout was a Scent of Death idea, and was done by Carlos. Personally I think we obtain a great result, with a page for each song (even the instrumental one), and with images in relationship with the lyrics. It would be easier to put a small part of the cover under the text, as a lot of bands do, but we like to work hard for a good final result (smile).
 
The album was published by the spain label Pathologically Explicit Recordings. Do you know how many CD's did you sell till today? Are you satisfied with the label? Why did you choose this label?
Yes we are satisfied a lot with his work, because Pathologically Explicit Recordings is one of the most known underground label here in Spain and out of Spain. Fernando cooperates with a lot of underground labels all around the world in order to distribute his releases, and that's good for us. For now, our CD is distributed in a lot of countries of Europe, Canada, USA, Japan and more. He has almost 50 releases on his back and that's the proof he works hard for distributing his releases and for selling all of them. Otherwise, he could not be able to release such a quantity of albums and bands if he does not sell previous releases, isn't he? We know that, so we decided to release the album with him, among other deals we got. But now, I could not ask exactly about the number of copies sold so far. As I told you before, it's only three months old, and it's soon to do balance.
Who is the main music writer in Scent of Death? Do you create together or one man only?

The composer in Scent of Death is Jorge. He is a professional musician with a long career of 13 years studying music. He works as a teacher at the conservatory of our city and he plays and teaches piano. The rest of the members of the band are self taught, so Jorge is the most capable member to compose the songs. Anyway all the music we should like all members of the band, if not this part will be refused… Rolando is the one who can adapt the drum parts according with his likeness, but the main base is yet composed by Jorge when he listen the new song for the first time.
"Of Martyrs´s Agony and Hate" is published by Bloody Productions in January this year. But I found your previous album "Woven in the Book of Hate" nowhere. Do you prepare the reedition on vinyl too?
Yes, our new album "Of martyrs's agony and hate" is released by Bloody Productions in 12"LP version only, limited to 500 copies, and it was released at the end of January 2013, only two moths ago. Bloody Productions is the same label which published our first full length CD back in 2005, and it's completely sold out on his catalogue. We still have a few number of copies, so if someone wants to get a copy of "Woven in the Book of Hate" can order directly from us, and we'll send a copy. Please, check our Bandcamp for merchandise at http://scentofdeath.bandcamp.com/
Here you can order your copy. But I suppose that this album still can be found some back catalogue, because Bloody Productions trade a lot of copies with the underground distributors elsewhere. The best way to get it is contacting us, instead of searching the web (smile).
For now there are no options to re-release it on vinyl, because Bloody Productions is hardly working in the distribution of the new album so they have no time and money to release an old album again. But we are looking for the possibility of the reedition of our demo called "Entangled in Hate" of 2002, with a new mixing and mastering and of course a new artwork, because it was not a professional release, and only 500 copies were printed. Nowadays it is completely sold out. Those old songs and sound are not representative of what our music is actually, but we still love that recording, and we are very proud of it. If some label is interested, please contact us now!!
This band Scent of Death was estabilished in 1998. You have recorded two albums only and there was a long interval between them. Did you have no time? Did the money miss?
No, we are fuckin lazy guys!!! Hahaha.... No... Now seriously.... Don't forget to mention our first demo or EP, call it as you want, in 2002. So we have three releases till date. The first full length was released in 2005, and with a change of drummer and vocalist. And it's true that between "Woven..."  and "Of martyrs's..." has been a long period of time, seven years is very much for a band in silence.
But in those seven years the band has again line up changes on drums and vocals. After Alfred went another local drummer to substitute him, called Jorge, and was with us for a four years (2006-2009), learning the new and the old songs to play live. We did with him a mini tour with Dementor and Killchain from Slovakia... And many shows with Spanish bands... But finally he decided to leave the band and was replaced by Rolando. But it means that we had to start again with the songs. But with him on drums it was very easy to play and he learned the songs very quickly. The same happens with Lois on vocals who suddenly disappeared with no explanation... So Sergio has to hurry up to learn the lyrics and record the album.
Notice that the drum parts were recorded in September 2010 and the album saw the light in January 2013!!! Two long years to give birth to the new album!! It was a painful and bloody birth!!! Hahaha…
The composition of the songs was finished approximately till the end of 2009… To summarize, let's say that we had a bad luck, and on the other hand, we suffered the incompetence of several people evolved in the recording process…. So all the process took us with no stopping… seven fuckin years!!!
If I understand well, your unchanged group works for 14 years. Do you have any recipe for longevity of the band?
 Do you mean with any line up changes?? No, no.... Along the years there was a lot of members in the band that have passed, played and finally go out of the band. But thess line-up changes have been only at two positions: drums and vocals (smile). But the core of the band is the same since the beginning back in 1998. I mean the two guitarrist Jorge and myself, and the bassist Carlos are the founders of the band in September 1998, and there wasn't any changes in these positions.
For example on drums we had 4 drummers in the line up. The same happens with vocalists. Each of our 3 releases was recorded by different drummer.  "Entangled in hate" was recorded with Nuno on drums and myself as a vocalist. "Woven in the book..." with Alfred Berengena on drums and Lois on vocals. And finally "Of Martyrs's..." with Rolando Barros on drums and Sergio on vocals. And there were some other members as Jorge and David who do not participate in any recording... But our eternal gratitude goes to them for what they have done for the band... And those changes meant a lot of work for us, to prepare the songs with all of them. But on the other hand, they gave a lot of variety to our music, and no one sound exactly same than the next or the previous one. Let's see the positive point of view...(smile).
The longevity of the band is caused only by one reason: perseverance, effort and love for Extreme Music of us three (Carlos, Jorge and myself). And the recipe is our friendship all along the years, far beyond the band itself!!!
Your style can be marked as "technical death metal". Your music is technically very difficult. Do you have any musically education? Or are you self taught?

Yes, Scent of Death is a technical Death Metal band, because we play fast, precise and intense Death Metal. But we are not technical in the vein of Origin, Viraemia, Archspire and bands like that, which plays hyper technical Death Metal. I think our technique is based on the well done composition and a lot of breaks, changing tempos and mainly in the feeling of the song by itself. We do not want to masturbate the fretboard of the guitar for free (smile). Just enough to scum in your face a few Brutal Death Metal songs and remove the brain from your head, hahaha...
Scent of Death's music is in the vein of the old Death Metal masters like Immolation or Morbid Angel. We do not want a song to be a collection of meaningless rhythms one after another. A riff must guide you to the next one and that's the way a song is really a good song. And to achieve this, in a precise way, technical skills are completely necessary, I think.
About the musically education, I think I've answered in the question above.
Spain is much bigger than the Czech Republic. The Czech underground scene is linked. What are relationships in Spain? Do the bands help each other or do they make out of spite?

I think the bands here in Spain are not really united. I think the most of them look only for their asses and not for the underground.
Some of them act like if they were rock stars, and do not participate more than in their own concerts, and all the rest of the bands are a piece of shit. There are members of some bands that you will never see in other concerts that not are their cocksucker's friends. And then match that this ones are who the most speak about being "true" in the underground… They do not deserve this lines I'm writing now…
But fortunately they are the less, and still there are bands that are constantly moving their ass for doing something, a new festival and bring foreign bands, wasting their money on it, doing cd trades with other bands… And these are the bands that really are worth to support. I think we have a good relationship with the bands we know. And those who don't know is because they don't let us know them. Do they belong to the first group perhaps?
I couldn't find lots of information about your shows on the Internet.  You have few concerts. What are the reasons? Are there any problems with money or conditions from its organizers? Will you come to our country anytime?

I can assure you that it would be a dream for us to be touring in the Czech Republic!!!! But I think it would most likely know as tourists visiting your country (smile). I have much desire to drink one of those good beers in your country… (smile)… As you say in the first question, Scent of Death isn't too much known in the Czech Republic. Of course we are willing to go if the promoters and managers call us. I hope this interview help to reach that success (smile).
Our last show was in December 4th 2010, yet with Rolando on drums and still Lois on vocals. Since then, we were completely involved in the recording, mixing and mastering of the new album, with all the problems we had, and of course with our personal work. You know that actually the Spanish economic situation is not in a good health state. So is important to maintain our current work to survive. We do it all for our own: cover, designs, layout, mixes, photography… all!! So we are eager to destroy the stage again, and that's we are working on now.
But before that we were touring with Dementor and Killchain for Spain and Portugal, with Vermis Antecessor and Sorgerth in the Basque Country, we were openers for Dismember in Vigo, Galicia, and we played in some great festival as "Move your fucking brain" in Barcelona, "Steel Warriors Rebellion" in Portugal with bands like Enthroned and Internal Suffering, "Caos Emergente" in Portugal too with Cock and Ball Torture and more, "Butchery at Cristmas Time Fest", in two editions of the "Brutal as Hell Fest", in a four days festival called "Brutality in your face" with 20 bands, in the "Brutologos Fest" in Valladolid, plus al the gigs we organize in pubs and so on…
The spain death metal isn't too much known in the Czech republic. Can you recommend us any of your bands? I was impressed by Ataraxy and Mass Burial last year…..

In addition to those you mentioned, I think the most famous Spanish bands outside Spain are perhaps Avulsed, Machetazo, Wormed, Human Mincer, Impure, Cerebral Efussion, Numen,... But there is a new batch of brutal bands nowadays that are really good. To mention some of them: Legacy of Brutality, Nebulah, Carrioned, Caustic, The Murder Industry, Human Ashtray....  And only in our area, Galicia, there are a few real good bands like Unreal Overflows, Vermis Antecessor, Upcoming of Devastation, Ephemeral, Barbarian Prophecies, Strangled with Guts, Hellgate, Brainwash...
But a lot of good bands have dissapear after releasing one or two albums only like Imbrue, Dyspraxia, Baalphegor (they will come back soon and that's a good new, bacause they are really technical and brutal band), Uncreation, Chanber of Shred, Eczema, Unnatural, Absorbed, Dismal....
What music do you listen to in the band? What albums were you interested in last year? At your beginnings did you have any musical patterns?

Maninly we all listen Brutal Death Metal in all its forms!! Death Metal is the law!!!! (smile). From the classic bands as Carcass, Immolation, Morbid Angel, Cannibal Corpse, Suffocation, Malevolent Creation, Cryptopsy, Obituary, Gorguts, Bolt Thrower, Death..... passing through the most brutal ones as Deeds OF Flesh, Dying Fetus, Gorgasm, Lust of Decay, Goratory, Hour of Penance, Guttural Secrete, Embryonic Devourment, Dead Congregation, Nile, Behemoth... till the more actual and progressive bands as Beneath the Massacre, Archspire, Ulcerate, Viraemia, Anomalous, Decrepit Birth, Illogicist, Psycroptic, Necrophagist, Obscura...
As far as may remember now, I was really surprised last year with the new albums of some unknown bands for me, as Chaos Inception, Nebulous, Trifixion... All of them are great Death Metal albums!!!
Musical patterns?? The most important pattern is brutality!!! In all the way you can express it: technique, darkness, feeling, .... For example Immolation represents the darkness, Morbid Angel the feeling and Beneath the Massacre the technique. For being a good band you have to choose one or more ingredient and do it well. All of them are brutal!!
How many fans do visit your shows in Ourense and Galicia? Do people come to death metal concerts in Spain?

In our last show here in Ourense in a small pub, came about 80 people. In the last concert I got this month in Coruña, Galicia, with four great bands as Wormed, Legacy of Brutality and Holocausto Canibal from Portugal, came about 100 people…. Judge by yourself... I think it's not enough!!! I don't know how many metalheads go to Extreme Metal concerts in the Czech Republic with local bands, but I suppose the audience is bigger than here…
In the last great tour that passed through Galicia with Kreator, Morbid Angel, Nile and Fueled by Fire, I think it could be about 500- 600 people. What the hell people want to come to the shows?? These are one of the biggest bands in the world….
And in Spain there were some tours of the great bands like Malevolent Creation that in Madrid only came 50 people. I can't believe it for a 3 million people city!!! Arghhh!
Tell us the meaning of Scent of Death about downloading? There is a small sale ability of CDs on one side, on the other side people get more music.

I think the problem is not downloading music on the net. I think the real problem is people's mentality. I'll try to explain myself….
I am in favour of downloading music from internet because I check a lot of bands otherwise I'll never know. But my mentality is:  Wow, what a great band!! I HAVE TO GET THEIR CD NOW!!!!! I like to get a physical copy in my hands, to see the artwork, the whole booklet, the lyrics, and for being part of my personal collection. Otherwise I only have some archives in my computer with any meaning for me. And if the band is not my cup of tea I'll not buy their music but neither need the songs in my computer, don't you think?
But downloading that album let me know if I like the band or not. And this way I'm sure that I'm going to spend my money in a good album. You asked me above about the nice artwork of our album, didn't you? If you have downloaded it from the net, you'll never do this question… Think on it! And what you tell me about the vinyl version of an album? I think it's a pleasure to get one in your hands. But digital songs do not give me that pleasure as a metal fan.
So people should be aware of what they are doing. I don't mean people buy our CD if they don't like it. First download it and listen, but if you like, BUY IT!!! And go to live shows!!
Do you know and listen to any Czech bands?

Yes, of course. The Czech scene is very well known all around Europe at least... I know it sounds perhaps a bit exaggerated, but it's true. I really think in the Eastern and Northern Europe the culture of the underground is more established between people than in the West and South. People here are more in the mediterranean way of life (smile). I mean people here have another easier things to spend time with like for example passing all the day on the beach, so they don't put special attention to go to concerts, to buy music and listen the CD's in their house...I'd even say that they don't make any effort to discover some new music and bands unless those band were played on radio stations. I mean that usually there is a general apathy…They lose it!
So, I don't know the reason, but my impression is that what I told above doesn't happen with fans of extreme metal in Czech Republic, they are really fanatic, and that's why the underground there is very alive, with bands as Godless Truth (for me they are gods, and their album "Self-realization" really blow up my head!!), Cerebral Turbulency, Fleshless (great band that we were in touch in the past), Suffer Age, Disfigured Corpse, Gutted, Hypnos, Impaled (I see them live here with Vile), Ingrowing, Krabathor (I think they are RIP since a long time ago, am I right?), Pandemia (I see them live a lot of years ago in Portugal), Laniena Mentis (I got their album "Turn into a man" and I think it is pretty technical and brutal), Malignant Tumour, Melancholy Pessimism, Pessimist....... And even more known is the Grind scene, with festivals like Obscene Extreme Festival.
What are you preparing for upcoming months?

Now we are involved in promotion of the new album, sending promo copies to all the media that ask for it, and to those we contact with and are so kind to do a review of the "Of Martyrs's Agony and Hate", or even a interview as your case in Fobia Zine. We want the underground knows the Scent of Death's name and music, and the fact that we are alive as a band after a long time in silence.
So we are promoting our music in the social webs as facebook, and websites like soundcloud, bandcamp, reverbnation, my space... We want to reach all Death Metal fans, and give them the facilities to listen our music for free, and if they like it, then for buying our CD's and merchandise. In this sense, we are working with two promoters one from Potugal, Viral Propaganda, and from Italy with Tito Vespassiani, and hope their work will result effective (smile).
Also we are preparing some live shows to start in May in our city, and doing some festivals. This is the most important, but as I told you above the most difficult here in Spain for us. We are too evolved in the design for new merchandise as t-shirts in three models, stickers, posters, and so on.
Do you have any message for fans, publishers, promoters etc.?

The only message for all of them is: GET IN TOUCH WITH US!!! No matter what you want, please, don't hestiate to get in touch.
To the fans for checking our music, buy our cd's or merchandise or only to tell us that you buy it in other distro and it's great or simply a fucking shit, whatever you want.
To publishers for getting a physical promo copy, promotional pics, digital promo copy, for reviews, for interviews. To labels and distributors, for trades and wholesale. To promoters for live gigs and tours....
Ask for what you want and we'll do the impossible for helping you. All of you SUPPORT THE UNDERGROUND!!!
Thanks for the interview and I wish you as many as possible crazy fans and lots of sold CDs.

First of all a very special thanks to you, Asphyx, for your interest and support with Scent Of Death and giving us the chance to appear in the Fobia Zine, perhaps the most important one in Czech Republic. It's always a pleasure to answer some interesting questions as these, and for people in other countries.
And secondly, thanks a lot for your best wishes for our band. All the crazy Death Metal fans, no matter where they are, can listen to our music and buy our CD's and merchandise by contacting directly us at scentdeath@yahoo.es, or checking our Bandcamp: http://scentofdeath.bandcamp.com/
And of course should check our other pages:
www.reverbnation.com/scentofdeathmetal
www.myspace.com/scentofdeathmetal
www.facebook.com/scentofdeathmetal
www.scentofdeath.bigcartel.com
www.soundcloud.com/scent-of-death
www.youtube.com/user/deathfromourense2
Thank you again and keep this madness alive!!!
Translation by Barťas and Susan