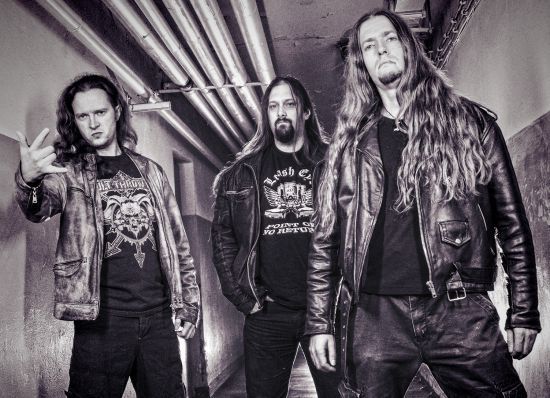 HELLo Gortal! Your band is quite unknown in the Czech Republic. Can you introduce the band?
Ch: Hell-o! We started about 1996 in Warsaw. Nobody can play his istruments those days, so our music was really shitty. We played rather for fun. During year's lineup changed many times. We stabilized in 2003 when Desecrate started his job in Gortal. This year we finally got official bassist Nekrofilip from God Said No. During all these years we recorded 3 demos, and 2 LPs. We got contract with Pagan Records after recording of "Blastphemous Sindecade" in 2008. Now we have just released "Deamonolith".
You have recently celebrated 15 years of band existence, congratulations! When you look back and try to remember, how did you get together? Who was your musical ideal and why you chose to play death metal?
Ch: The very beginning was before 1996, maybe even around 1993. As I mentioned, nobody of us could play anything. I played some soft music on accoustic guitar. My colleague from school bought some scrappy drum set, and he started to persuade me and others to establish a band. We decided to play metal because it was the time of fascination by early Deicide, Morbid Angel, Sepultura and Slayer. As you see, the reasons were very simple (smile). It was great fun to play anything, to learn to play instruments and drink a lot of booze during it.
You haven't managed to release your first full-length album until 2008 (album "Blastphemous Sindecade"). That's 12 years after setup the band. What took so long? Was it because of lack of money, time or you just weren't ready yet?  
Ch: We always treat our band as a hobby. It was funny to play gigs and compose the music. Nobody of us thought seriously about a contract. As you supposed, we didn't have money to record our music in really good studio. I think that we didn't have enough skills too. We played rehs when we had time for it. So there was no pressure to be a star (smile).
Last year you have released album "Deamonolith". How satisfied are you with reviews and fan's reactions.
Ch: Our goal was to record much more interesting album than previous one. We wanted to have better production and music. During the session we had moments of doubts but the closer to finish the better it seemed to be. When we finally finished we were really satisfied by production and music. We managed to have album which is clear but not plastic, modern but with oldschool shadow. Both reviews and fan's reactions are outstanding. After some time we are sure that this album really kicks ass!!!
Album was released by Polish label Pagan Records. Do you know how many pieces were sold till now? Are you satisfied with label? Pagan Records are usually dealing with pagan and black metal. Why did you choose them?
M: To be honest, we don't care about numbers. As far as I know Tomasz, the owner of Pagan Records, has quite good distribution channels and he is able to sell full edition out. We are satisfied with the label because they respect all conditions of the contract we settled. Pagan Records deals with all extreme metal subgenres including death metal. The brand they choose about 20 years ago is connected much more with heretic heathenism than paganism in classic musical aspect.
Where did you record the album? It has a really great sound. Did you go to studio with concrete idea about its sound? Or you just let the sound engineer to do his best? What kind of instruments and equipment do you use?
Ch: We recorded our album in Progresja Studio with Paweł "Janos" Grabowski as the sound engineer. You know what the idea about sound was because you listened to "Deamonolith". As I told before, we wanted to record album, which will be clear, but not plastic. Our listener can hear each guitar pick. That was our aim. Of course our sound engineer did great job to help us to do it. He is really good guy. Cooperation between us was problem-free. We use Kramer and Jackson guitars, Desecrete is using Devil's Hoof pedals and Alchemy Cymbals. The drums were recorded with Drum Craft custom set borrowed from Paul from Decapitated.
Your style could be described as a combination of old school death metal with technical elements. It can be heard that you are very skilled musicians. Do you have some musical education or you are self learning musicians?
Ch: You have to believe that there are not many technical elements in our music. Maybe it is not very simple now, but it is really far from technical death metal. In our music we rather emphasize feeling, than difficulty of material. We decided also not to speed too much. Compositions are more complex. There are some slow, doomy riffs, very epic and there are classic death metal speeds too. Each track is different. I think that every death metal maniac will find something interesting in "Deamonolith".
Concerning our skills, in my opinion we have in Poland a lot of skilled musicians much better than we are. But skills are not enough to record good stuff. It is like a movie. You have a lot of high quality FX, but the movie is half-assed. On the other side you have great pleasure to watch low budget movie which has good storyline and action.
We are all self learning musicians. All we can play, it is our work for us, and our fans.
Who is the author of the cover? What does it represents? Is it somehow related to lyrics of album?
Ch: Author of cover is Xaay, which is recognized artist in this field. He cooperated with many excellent bands. It should be enough to mention that he works with Nile. Cover is strictly related to title of album, and lyrics. There is appeared ancient evil, called by us Deamonolith. This evil is shown as distressing conical shape hidden over years in the ocean. Now it is awaken. I suggest to start beg for mercy!!!
I was unable to found what "Gortal" means. Why have you choose this particular name and what it actually means?
Ch: It is old and funny story. When we didn't have any idea how to call our band, we found something like war helmet or other shit in Tolkien's Silmarillion. Its name was Gortol but in our language it sounds very funny so we changed one letter and we got Gortal. Some people also found Gortal as a combination of "gore" and "mortal", but the first version is real story.

Sometimes the death metal lyrics are downplayed. What are the lyrics at Deamonolith about?
Ch:  For me personally most important is music, but music with funny, infantile lyrics loses its power and quality. So it is natural that we prefer to have as good lyrics as we can. This time it appeared that our guitarist – Major – can write quite good lyrics so he wrote almost all of them. Then we needed some professional assistance in translation. I think that result is very good. Main subject of lyrics on Deamonolith is evil. Evil in every form. We always were anti-catholic, so lyrics are also like that. We tell about obsession of the Church to infect with their stupid faith as many people as possible, while priests like to fuck young boys and girls... We also try to realize people that death is the very end. No salvation!!! Don't waste your time for prayers!!! Listen to "Deamonolith" (smile)!!! Those are main points. Let's leave something to listeners (smile)
Some bands are no releasing CDs today, but vinyl only. You have chosen CDs. What is your meaning about vinyl? Can we expect Gortal albums on vinyl?
Ch: These days CD is a kind of standard. If anybody wants to place himself higher he has to give people more than just CD. There are some ways to do it. For example DVD, video clip, vinyl edition... Vinyl edition is some cult and it is connected with hi-end, audiophile and fully analog sound. I think that's why bands choose this solution. We also plan to release vinyl edition of "Deamonolith" with one additional track – Vital Remain's cover "I am God". It should be ready within next months. Stay tuned (smile)!!!
It looks that there is some kind of death metal boom in Poland. I found a lot of new groups (Sphere, Emrional, Hellspawn etc.) Should we expect new wave of polish death metal?
M: I do not consider them as new groups. The bands you mentioned above have close to ten years experience. Recently all they released new CD's and got very well feedback. They deserved it for sure. I think there are a lot of underground metal monsters worth listening. I also suggest checking out Azarath, Armagedon, Conquest Icon, Pyorrhoea, Centurion, Saltus, Ulcer, Deivos, Hell United, Deus Mortem, Voidhanger, Neolith...All they play different kind of extreme metal with straight appropriate underground attitude.
 
Poland is much bigger than Czech Republic. The Czech underground bands are connected quite a lot. What are relationships of your underground bands, do they help each other or do they make some troubles?
M: We don't follow any relationships of polish bands and really don't care about the whole scene. We focus on our connections with bands we play and drink with.
When you play in your hometown Warsaw how many people are usually coming? Are the people coming to the death metal concerts in Poland?
Ch: It depends. There are many good death metal formations in Poland but audience on gigs differs. Concerning the number of people who comes to quite small death metal concerts - standard is around 100. The real crowd is on concerts of death metal stars like Behemoth, Vader, Decapitaded. When on stage is band like Morbid Angel, Nile, Vital Remains 500 persons is a good result. Gortal is satisfied if there are around 150, But 50 moshers do better job than 100 standing (smile).
I couldn't find much information about your shows. You are not playing often. What's the reason? It's the matter of money or conditions given by organizers? Will you come also to Czech Republic?
Ch: You are right. We do not play often. You are right also concerning main reasons. We cannot travel 600km, and play gig because somebody want to refund gasoline cost. It is our time, our work, hours of rehearsals, a lot of money for recording sessions. As I can see, money for bands is a problem for organizers. On the other side they have no problem with money for themselves (smile). We would come to Czech Republic with pleasure in case of serious proposal!
What kind of music do you listen in the band? What albums from last year interested you most?
M: Everyone has different taste. I definitely prefer death/black metal underground acts. Last time I listen to new Ulcer's album "Grant Us Death", great old school stuff. They have released it via Pulverized Records. Last year I often listened to Incantation, Aura Noir, Resurgency, Embrional, Pandemonium, Hell United, Ataraxy, Voidhanger, Neolith, Feral and some more.
Tell us the opinion of Gortal about downloading? There is less sold CDs, on the other hand the music is coming to more people.
Ch: Nowadays a web presentation is an indicator of existence. It is good to have all stuff on youtube or other social website 'cause it allows you to gather larger audience. People have a chance to test the material and to familiarize themselves with music, before they decide to buy it. The CD is more than just the music itself. It is something physical, the disc with booklet, cover art and lyrics. It is complete product. If it's well made, it's nice to have it on the shelf. The problem is in mentality and pockets of consumers. It will take a lot of time to change the mentality of the torrents visitors, but it is not enough. They must also have sufficient funds available to purchase favourite CD's.
Do you collect original CDs or vinyl? What album did you buy last?
Ch: I'm not a collector. Unfortunately I don't have time to go to the store or looking for new bands or releases. If I really like something, I buy CD. Recently I got new Led Zeppelin live album. I don't buy vinyls, because I don't have record player.
Do you know and listen to any Czech bands?
M: My first association goes to Krabathor. We shared the stage with them in the beginning of Gortal's existence. I also know Master's Hammer, Hypnos, Godless Truth and Pandemia.
In email you wrote me that you have studied Czech language. How did you get to that and why the Czech?
M: The good friend of mine recommended me to do it. But unfortunately nowadays my Czech is as poor as it's possible. When you don't practice language regularly you forget it very fast.
What kind of plans has Gortal for the next months? Do you work on new songs already?
Ch: Gortal's plan for the next few months is to play some gigs and release a vinyl version of "Deamonolith". In the meantime, we will start to compose new material. We still have a lot of unused riffs which are good enough to be presented on our next album.
Thank you for the interview and I wish you many crazy fans and sold CD's.
Ch: Thanks a lot. Stay brutal!!!
http://gortal.com.pl/
http://www.facebook.com/GORTAL666
http://www.myspace.com/gortal
http://www.reverbnation.com/gortal
http://www.paganrecords.com.pl/
translate: Barťas