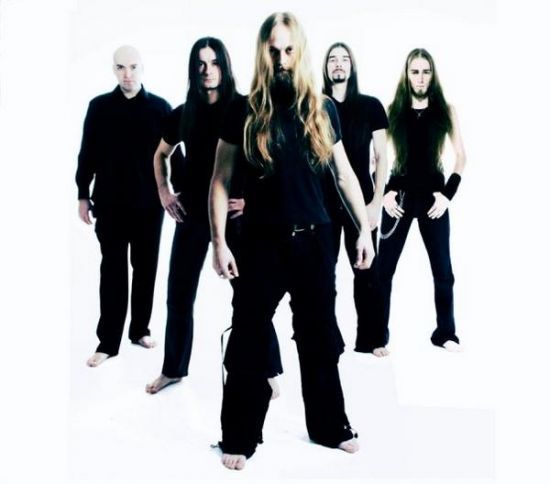 Hi Simon! At first thank you for interest to make interview. How are you today?
Fine thanks, it's a pleasure for me to talk to you and to all fans of extreme music out there, especially in Czech Republic!
Without needless words I will start with your history. If I am true you were in band already at the beginning of IN SLUMBER and the main idea was by Wolfgang. How did you found the band, were you all friends? Why did you start just with death metal style?
I actually joined IN SLUMBER after the release of "Stillborn Rebirth" and - as you say – we were all friends and still we are. Wolfgang is much longer in Death Metal since I know him. I can imagine he early had a kind of vision to create his own definition of Melodic Death Metal. He put it into practice with IN SLUMBER.
Did you play in some other bands before IN SLUMBER? And how is it with you band friends?
I have several projects and bands of different directions, on one side there is OLEMUS which is a dark metal band found in 1993 - we played on AFOD Fest already, and on the other side I have "non metal projects" which reach from meditative tunes (7on's Rastgarden) over filmmusic (Valentine's Kiss) to alpine worldmusic (Leinoel). But I'm principally concerned with IN SLUMBER!
How it is with my band mates? With two people it's called "love triangle", with four people it's a "love pentagram", haha. No, seriously: It's like a family in which you have to respect each other, sometimes you have to argue, and when we are on tour there is a great feeling between us, even we don't have sex with each other!
You attacked metal world with first CD Stillborn Rebirth very soon afterwards you founded band. There were no promo, no demo… Did you were skilled musicians or you have only a lot of good material?
Both, I think. Our skills are based on what we learned in bands like THIRDMOON, LEGACY OF HATE and OLEMUS and we practice a lot to sharpen the sound of IN SLUMBER. All members attach great importance to our live-condition. We were always searching for labels, which will do a good job in promoting us. Every musician knows that it's not easy at all to find the right persons for your music. But we have luck; it's getting better and better!
Stillborn Rebirth was very good perceived by reviewers and fans also, how you assess this album from distance of time? What would you like to change and what do you still like?
I wouldn't change anything, I like this album because it's poured in one piece, and Wolfgang wrote great songs with a concept behind them. Stillborn Rebirth was the perfect start for IN SLUMBER.
After this first album there came a lot of concerts and shows. Do you remember the best and the worst concert or situation?
Hmm, for me the best and the worst show in one was Metalcamp 2007: We played on mainstage in the afternoon, the sun was glowing into our faces, after the first song I thought I have to die of a heat collapse. I wondered how long you can keep standing if you enjoy something very much!
You are for 8 years together and there were only one band member chancing when Manuel decided leave the band and Kay joined. Do you have some special recipe for stable and satisfied line-up?
In the very beginning the line-up changed too, Alex Hornung and Matias Larrede were the first two guitarists, but generally I think: Every member has to look after himself and after his mates to stay stable and satisfied!
With second record you changed the label and in my opinion also the philosophy of your music. You use slower temp but your style became deeper and heavier. Is this change connected with new label and people you worked with or it was only natural progress?
There was quite a long time between the first two albums and so the change came naturally I guess. Between 2003 and 2007 we have found our new stable live-setup and our perfect sound engineers for the next records in Franz Pöhn from Sunprojects in cooperation of Ziggy Siegfriedsen and Tue Madsen.
I still remember the amazing feeling when "Scars: Incomplete" came out! We all knew this was a start into a new level.
I was captured by song´s names. You are interesting in human mind´s deep soul corners and the lyrics are full of destroyed and blighted man souls. What can you tell about your lyrics writing and inspiration from which they are growing?
Wolfgang has a concept behind all lyrics of IN SLUMBER. He writes about people with borderline-syndrome and about social mistakes like child abuse. This theme crawls through all albums of IN SLUMBER.
Back to your music. The year of 2009 was important in two main points. Kay Brem (still in ELUVEITIE) joined the band and you released other record Arcane Divine Subspecies. How you started cooperation with Kay and how he influenced your music?
Kay came into the band because of his big interest for death metal bands. This was after the recording of "Arcane Divine Subspecies", so his musical influence was not such big yet. For now he offered us to join IN SLUMBER as live bass-player.
New album Arcane Divine Subspecies is again a little bit different than the preceding two.  You still stayed in death metal style but you use also some thrash and metalcore elements. There is possible to feel that you like the old school death metal but you are using the modern style of expressing.  How was this record created?
With "Arcane Divine Subspecies" we wanted to make an even better and more extreme death metal record than the previous one. The speed is very high on most tracks and in some songs you hear that they grew through our different influences to what they are now. You can call these songs "elegant bastards". That's it.
Reactions are different, some people liked it some not so much. What do you feel? Are you proud or your last record or you can see some feeble things at it?
I am very proud of this record because it wasn't easy to create a worthy follower of "Scars: Incomplete". We all are more than satisfied with the result and that's essential for us. This album sparks maybe later than "Scars" but than it burns like hell! If there really are one or two persons who don't like our new album, it doesn't make us sad. We did our best!
Festival time is coming, what are you planning for this year? Can we expect some special show? Do you want to invite Czech fans to some show?
Of course I can recommend you AFOD Fest in Trhové Sviny, and we play an European tour with SIX FEET UNDER and ILLDISPOSED where we stop in Plzen at Serikovka on may 2nd. If you want to come to "Rakousko" we perform at Metalfest Austria in May and on Kaltenbach Open Air in July.
You were a part also of other bands, f.e. UNDERGROUND GROOVE FRONT, THIRDMOON in past and you are actually in OLEMUS band. Which band is or was the most famous and successful and what is the main band for you?
In UGF and THIRDMOON I played bass, which is another passion of mine. It was a great time but I didn't have the resource to play in all bands in the same time. In OLEMUS we have this problem as well. A day has only 24 hours – too bad.
All the bands are close to the death metal style or there is some combination of death and other kind of metal. Which kind of metal or music do you prefer personally? Is there some style you will never join and some style you thing about to try?
I try to keep my musical horizon wide. All music which moves me is good, it doesn't matter if it's metal, classic or worldmusic, I don't care, even it is meditative music. That may sound weird for some people, but I can find good music almost everywhere… ok, except in Schlager and folk music…
How do you perceive the Czech metal scene? Do you like some our bands? Do you know some festivals?
Czech Republic has a big and high quality grind-scene! But there is a good potential in the whole Czech metal-scene. For example I have seen KRABATHOR in Linz playing an amazing gig! They blew my head! Bands from Czech republic are always welcome in Austria!
I just thing we are at the end. I want to thank you for your time and my last question is about the favourite drink of you and band members… if you want to say some other important words, here is your time and space.
Ha, my favourite drink is water, closely followed by a Mohito at Krumlov's "pirate boat bar", and we all love to drink beer!
To all metalheads, come to our concerts, have a great time, and then we can have a drink together!
Thank you for this interview!