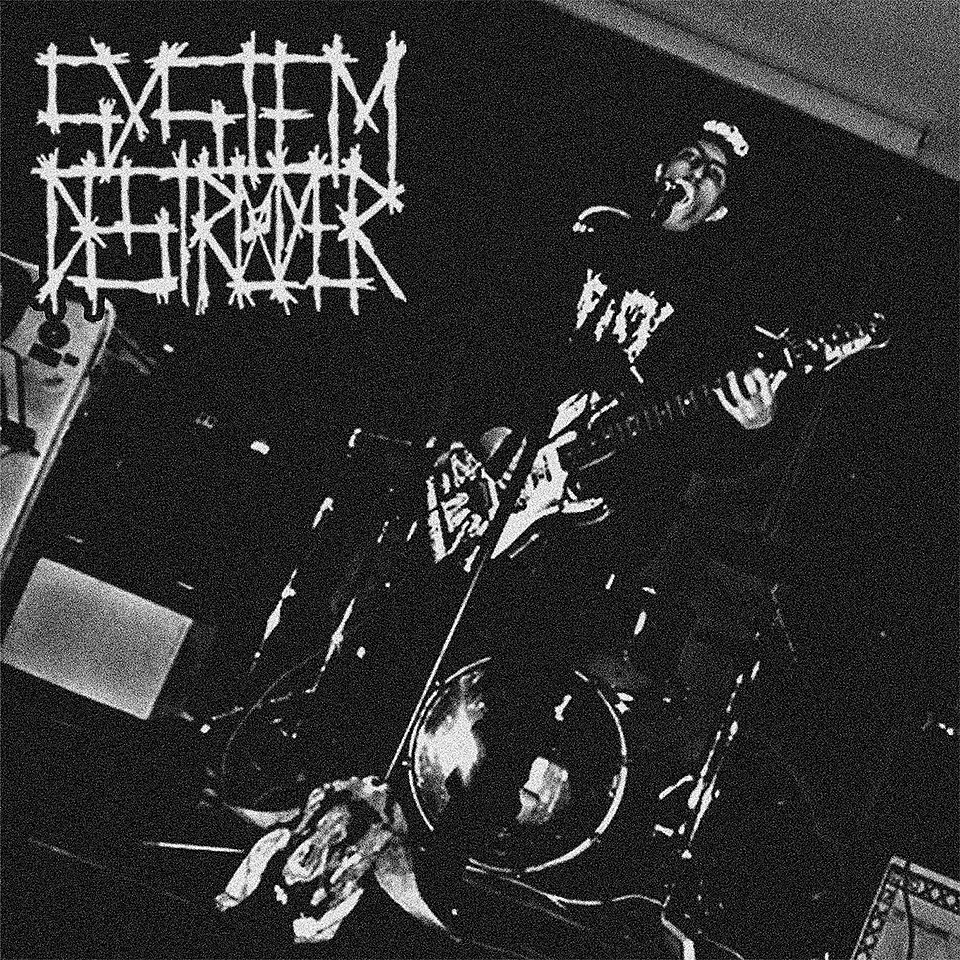 Could you introduce us to the band SYSTEM DESTROYER? Just the classic history to begin with. Why did you start as a one-piece band? Were there no suitable teammates in the area? Now that has changed, and instead of programming the drums, the band has a live drummer, right?
SYSTEM DESTROYER begins in late 2011 in Salta, Argentina driven by my strong desire to play old school grindcore. I decided to approach the project as a one-man band since there were no drummers available in my city to play grindcore. In the quarantine, I was collaborating with a drummer, but today SYSTEM DESTROYER has returned to be a one-man band.
What can you tell us about your recordings? How many are out there and how satisfied are you with them?
All the recordings are made in my nasty room using the few resources I have. SYSTEM DESTROYER's discography consists of "Dying" (EP, 2019), "The Virus Of Lies Manipulating All Life's" (split with ALIAGA and PANCREATITE NOISE, 2020), "Business Of Massive Death" (split with NEID, 2020), "Immersed In The Worst" (split with BERATED and IMPULSEALER, 2021), plus some noisy compilations in which I have participated. I'm quite satisfied with these recordings and consider each one an achievement.
One of them is "1, 2, 3, 4, Blast! – Grindcore Tribute To RAMONES ". What can you tell us about it? Of the bands that participated, I know TOTAL FUCKING DESTRUCTION and COLLISION only. Which bands that are in it, do you like? And what is your relationship to punk?
The tribute was created by the Portuguese label The Hills Are Dead, which also made other grinder tributes to other punk bands. I liked all the bands that participated in it, I think each one of them have reverted THE RAMONES classics in a dignified way. I've always liked punk, don't forget that's where grindcore comes from. Grindcore is the bastard child of hardcore punk and extreme metal. I also play bass in a d-beat band called DISTÜRBIØ.
Your last recording is a 3 way split CD with IMPULSEALER and BERATED. How did it come about? What can you tell us about your part of the recording? And how do you like the other two bands?
This 3-ways split was planned with the drummer with whom I was collaborating. He was in charge of contacting the bands and luckily they both accepted. Our contribution was two new songs "Age of Lies" and "Mediocrity" as well as a new version of a previously recorded song called "Unity Is Strength". We wanted to give a more violent approach to the compositions according to this Split. IMPULSEALER and BERATED are two devastating bands that break my mind, so sharing a Split with them was an honor.
What music shaped you and which bands inspired you to found SYSTEM DESTROYER? And do you know any bands from the Czech Republic?
The first time I was interested in music was when I listened to metal. I started out listening to classic bands like MOTORHEAD, METALLICA, HERMETICA, SEPULTURA, CANNIBAL CORPSE. The bands that inspired SYSTEM DESTROYER were REPULSION, NAPALM DEATH, ROT, ANAL CUNT, TERRORIZER, SIEGE, DISRUPT, EXTREME NOISE TERROR, MORTICIAN, NECROPHAGIA, CREMATORIO. I know Czech bands like PATHOLOGIST, EPICARDIECTOMY, SPASM, GUTALAX, IMPULSEALER (obviously), SKIPLIFE. A very good extreme scene!
What the lyrics are about? They are in English, why didn't you choose your native Spanish?
In the lyrics I express my outrage at various problems of the corrupted reality in which we live, such as consumerism, misinformation, indoctrination, authoritarianism, ignorance and discrimination. I chose English as it is a universal language. I also have some songs in Spanish, and even for the split with the NEID band I recorded one in Italian.
Could you recommend any other noisy bands from your country? I just know the stenchcore band RUINAS from Buenos Aires, which played in Czech a few years ago. Could you write to us something like scene report?
I'm not very aware of how the scene is currently in Argentina. I recommend you some bands that I like: INHUMATION, CREMATORIO, N.H.G, FATAL DEATH, AGORAPHOBIA.
You're from Salta. So what can you tell us about this city? After all, for us from Central Europe, Argentina is quite an exotic country. Will you to us (as potential tourists) recommend some places and cities that we should definitely visit and see?
Salta is a province in the north of Argentina and it has a diversity of environments and landscapes, as well as a cultural wealth, not in vain its nickname is "la linda" (the beautiful one). I´m sure that if at any time they have the opportunity to visit it they won´t be disappointed.
But we know Argentine football and the divine Diego! I guess you're definitely a big football fan like any good Argentine. Am I right?
I'm sorry to disappoint you, but I don´t match the typical Argentinian stereotype haha. I´m not a very fan of football. I only watch football matches when it is the World Cup.
Thanks for the interview and I will ask for a conclusion on your plans for the future.
Thank you very much for the interview, I really enjoyed answering your questions. I am currently composing new songs for an upcoming full length album. Noisy greetings to all readers from the extreme north of Argentina.
REVIEW in Czech