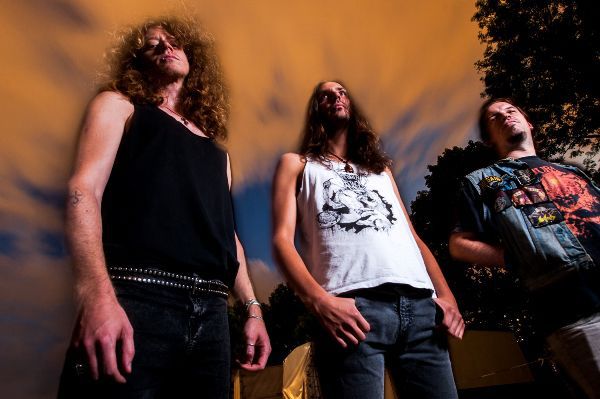 Hi Tim! Your band SPEEDWHORE is bit of unknown for fans in Czech Republic. Can you introduce yourself?
Hi Petr! First of all thanks for the interview, we are really looking forward to our gig at your festival! I guess Speedwhore is pretty unknown all around the world, so briefly we are a 4 piece Metal band from Munich which was founded back in 2006. We released our first album called The Future is Nowin 2015 by Witches Brew Records on CD and Weed Hunter Records on MC. One can say that this album was more or less the real starting point for our band. We did quite a few gigs and smaller releases like rehearsal tapes before that, but that album was some kind of a second birth for us, as it proved that despite of all the chaos and throwbacks we surely had, the songs we wrote were somehow quite good. In the end the album sounded like I had it somewhere in my mind for quite a long time. It was hard work but now we can be really proud about that achievement and that gave us a new impulsion. The bands current line-up is the onewho recorded the album: Nils on drums (2013-2015; then again since 2016), Basti on guitars (since 2011), Johannes on Bass (since 2006) and me on guitars and vocals (also since 2006).
You played for ten years now. Can you describe your beginnings? You and bass player Johannes are in band from the start.Were there any line-up problems? Was there any post in line-up, which you were not able to fill in long-term?
Back when we started we weren't experienced at all and the founding was more or less spontaneous during a festival 10 years ago. When we first met to rehearse one can describe it with one word: chaotic. Or another word: horrible! We then agreed on doing a cover first as we all had no idea of songwriting. So we tried to cover Outbreak of Evil by Sodom and from this point we started slowly to write our first own song, which was Alcoholic Force with very simple but fast riffings and silly lyrics (Alcoholic Force will be by the way on our next record ON THE VERGE OF DYSFUNCTION, so be prepared for an intellectual masterpiece) and after we had written five or six songs, we played our first gig in a shabby garage. But the first years were indeed pretty chaotic and yes, our biggest problem was the drumming position and yes we also weren't able to fill this position in our band for quite a few times (we had 4 or 5 drummers in our history, whereas all other positions are pretty stable).
When I looked in your discography, I see two demos from early years, but which divides five years. What was the reason, that SPEEDWHORE did not rush in to the studio?
As I said it did take some time for us to even hold our guitars in the right direction…and above all we were lazy as fuck, but we also haven't felt ready yet to go into a studio. Even until now we weren't in a studio. All recordings for the album and also for the new E.P. were done in our rehearsal room. And I hadn't a clue about recording before I started a small project besides Speedwhore (called Lord Muck) where I did some Doom Metal and where I recorded everything by myself and surprisingly it did work out quite well. From then on I knew that we could record the album by ourselves without the pressure of being in a studio and to have a tight time schedule. The Future is Now does sound the way it does, because we took the time we needed.
Nowadays, I have feeling, that young bands, record first albums very soon after formation and they want quick break through. This is not the case of SPEEDWHORE, because you release your first regular album last year, after nine years of existence. Did you choose step by step plan - demos, practicing,stable line-up, satisfaction with material and after all that: full-time record?
We haven't planned too much at all. As I said above it just happened that way it did and the album sounds as it does because of our history and our approach. We would have had enough songs for a full lengths album already back in 2009 or so, but after I knew that I was able to manage the recordings there just came one day when we said "okay, time for an album!"
You got new album called "On The Verge of Dysfunction". Can you tell us, what is meaning of this title, what did you wanna say with this? And while we are at lyrics – what are lyrics topics which SPEEDWHORE covers?
The meaning behind that is that our band had its rough times and there were times when this band was actually on the verge of dysfunction. We managed to keep on doing our thing and in the end it worked out (at least 'til now hehe), but as this record is celebrating our 10 years anniversary it was in an ironical way a somehow fitting title. The lyrics differ to the first album (which werepure science fiction stuff) to that effect that it has no overarching concept and that there are lyrics with no science fiction connection at all (like Alcoholic Force and Dead City which is a Violent Force Cover we play since 2009). On the other hand one song called Born to Speed is inspired by William Gibsons Neuromancer from '84, which is again total science fiction stuff. We'll see what the future will bring. One song we already wrote for the record which will come after the new one, is for example about Michael Moorcocks Elric Saga.
So, because we started about new album. What can you tell us about it? What label/which formats/ how was recording/ who created cover etc. etc. Can you compare it with your previous one "The Future is Now"?
The record will be released on CD and also vinyl this time by our partners in crime from Witches Brew. We recorded it again in our rehearsal room, but the mixing (and also the mastering) was this time done by Patrick W. Engel from Temple of Disharmony, who did a great job. The album has a slightly more live approach – a bit less spacey but more in your face I would say. So it definitely differs from The Future is Now, but this one already exists, right? The artwork for On the verge of Dysfunction (which you already can see on our Facebook page) was done by Obsessed by Cruelty with the drawing of the alien lady boy (the Speedwhore) in the center, which was done by my girlfriend Isi, who already did the drawings for the first album and the Inferno Rehearsal tape.
Your records got me immediately after the first listening. You play oldschool mix of thrash/speed/black metal. Is it exactly what you wanted to play with SPEEDWHORE from the start or there was some development?
There was of course some development. We never said we want to play this kind of style. It just happened that way.Funnily enough I mostly listen to Hard Rock and Classic Heavy Metal, but when I write songs they tend to be pretty fast. It just happens intuitively for whatever reason. And besides that when we began to rehearse we were very bad on our instruments and of course we knew that we can't play 2112 from Rush, so we did Outbreak of Evil from Sodom. It just naturally happened that way.
"The Future Is Now" was released as CD (Witches Brew) and also as MC (Weed Hunter Records). Which of that formats do you prefer and why did you choose them? Is there a chance that this album will be released later on vinyl?
I like all 3 relevant physical formats and all have their advantages. It's of course cool to have your album in all 3 formats, but that's also a question of cost for the label (vinyl is sadly pretty expensive to do), but I'm pretty sure that the Future is Now will somewhen be released as vinyl.
How difficult was to find label? Didyou got some offer from a start or you finished material first, than asked around and picked best offer?
Honestly we didn't think that there's a possibility for us tofind a label, we didn't even try. I was already on the brink to get in contact with a pressing plant. But then Basti met Cheryl from Witches Brew on some festival and she seemed to like the album a lot and in the end put us on her labels roster. I never thought that this would happen so that was an awesome turn of events.
We ofcourse talk in underground scale, but how much number of copies of "On The Verge of Dysfunction" and "The Future Is Now" were released? Did you sold most of "The Future is now"? Germany is generally known, that fans still buys records. I prefer physical copy of record, but I can not avoid digital files neither. What is your opinion about music streaming on internet? It is more important for you number of sold copies or fact that your music will reach more people, even when you don't get paid for it?
There were 700 CD copies and 166 MC copies overall including band and label stocks. I guess the new record will have roundabout the same amount of copies. There are still about 50 – 75 CDs and 10 Tapes left from the bands stock. I'm thankful to everybody who buys our record. It's important for us as this band is mostly a loss-making business and this helps us a lot to at least partly finance the next recordings, artworks, shirts etc.. So I myself of course prefer a sold physical copy to youtube or bandcamp clicks, but I myself stream on the internet too and it would bestupid of me to say that not buying a physical record of a band you like is a bad thing to do.
I noticed, that you are not the band, which plays every weekend. What is the reason of this lower frequency? Do you carefully pick where you will play? Do you plan to make some longer tour?
There's no particular reason. We try to play every concert where we get the chance to, we just didn't make a longer tour, yet. Maybe somewhen, we'll see, but it's not our biggest priority at the moment, but that can change of course.
There is huge metal scene in Germany. Do you regularly visit concerts and festivals? I like smaller ones like Raging Death Date Fest or Stormcrusher Fest. Can you recommend me some of your favorite shows/festaivals/bands?
I went to festivals since my teenager years, but since some years it's a bit less than before. I always preferred the smaller festivals, but also liked some bigger ones like Bang your Head. But in the last years I tried to safe that money I normally spent for festivals the years before to make vacations. So nowadays I prefer local shows, big and small bands alike. The band I saw the most is Saxon. They are one of my favorite live bands!
With which bands did you grow up? Is there their legacy in SPEEDWHORE? For example, I personally would be able to compare you to Norwegian DEATHHAMMER, which play for ten years and their black/thrash draw inspiration from classics of their genres.
I mostly listen to Hard Rock and Heavy Metal. Since my teenager years my favorite band is Blue Öyster Cult. Besides them I grew up with bands like Black Sabbath, Rush, Motörhead, Thin Lizzy, Iron Maiden and so on. Over the years I also came across extremer bands. My favorite ones on that sector are Razor, Bathory, Venom, Voivod and some more. And surely Speedwhore is also in one way or another influenced by all those bands. I never heard an album by Deathhammer, but we played with them in Munich once, and yes, they have a similar approach to the music I guess. A little bit punkish without trying to be tough guys or rockstars on stage. I like that.
Your record has authentic "old school" dirty sound. I like it, because if I would not read any info about SPEEDWHORE, I would thought, that you are the band from 1985. Do you like that modern bands, which all have perfect sound and they often sound as well?
To be honest I prefer rawer and individual productions over "perfect" sounding albums anytime. One important thing from the heyday of Heavy Metal was that nearly every album had somehow an individual or distinguishable sound of its own.
You also play in heavy/thrash band Discröyd. Can your also describe your other band? Did you split your time for both bands equally or SPEEDWHORE is the band number one?
Discröyd plays another kind of Thrash Metal. It has some more 80s Crossover influences I would say. I split my time equally but Speedwhore will always be my band number one as this was my first band and I also wrote the songs here, whereas in Discröyd I came to the band after it was founded and only wrote one or two songs per album. As I moved to Berlin now and I'm not too often in Munich anymore it's not easy to say if I can still handle to be in two Munich based bands. But we'll see.
You will play in Czech Republic for the first time. In Písek, on Thrash Nightmare it will be with Delirium Tremens and other bands. What we should expect from SPEEDWHORE's live show?What is your vision of ideal concert? (smile)
From Speedwhore you can expect honest, fast and loud Metal music with quite a punkish live attitude, so don't expect a studied show, stage outfits etc.. Those things are working with some bands (King Diamond would be one of the best examples), but you won't get that with Speedwhore. It's pretty easy to describe my ideal concert: Just give me 2 or 3 beers before the concert, then a good sound on and off the stage and of course a crowd which enjoys the noise we are making! Pretty simple isn't it?
Tim, thank you for your time for Fobiazine. We are looking forward to SPEEDWHORE in Písek!!!
Thanksfor the interview and of course thanks for inviting us to your festival. We're really looking forward to play at Thrash Nightmare 4!!! Cheers, Tim & Speedwhore
Translated by Fredy
THRASH NIGHTMARE PÍSEK vol. 4: Facebook událost