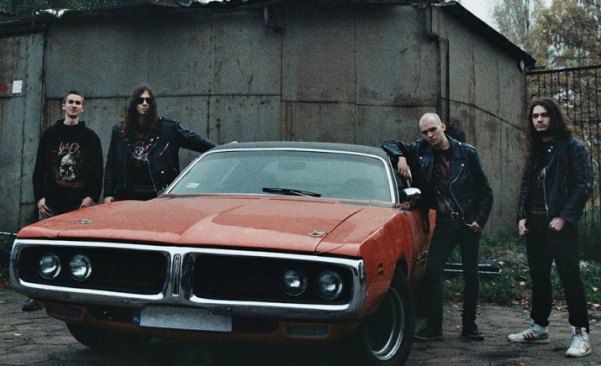 Hi Filip and Michal! In October you will play in Czech republic for the first time. Can you please introduce your band REPULSOR to the fans of Thrash Metal?
Filip: Hello Petr! Yes, that's right. It's our first abroad gig ever, and we're very excited. Material that can be heard on our Trapped in a Nightmare EP is classic, new wave of thrash sound, fans of bands like Violator, Warbringer or Havok should like it. Our new material for LP that we wil record this year, which also will be performed on the gigs is rather more complexed, with some experiments and other genre's influences, as we don't want to stand still in what we do.
You are playing for six years now. In the very beginning, what was the impulse to play thrash metal? Was it the New Wave of thrash or your admiration of old bands? Was REPULSOR your first experience with band or someone from bandmembers already played in some other band?
Filip: We didn't like the thrash scene in our country back in that day. There was a lot of band playing modern stuff, but no one picked the trend to go towards classic sound and back to the roots of the genre. We wanted to bring this vibe with some freshness. We were a bit shocked how the music evolved, as we were fans of the bands like old Slayer, Kreator or Dark Angel.
In your Discography, you have so far one EP "Trapped in a Nightmare", which is three years old. Did any pause or changes in line-uphappend? Or there were other reasons, why you have only one record yet?
Michal: During the six years of our existence there were a lot of lineup changes, and just simple breaks related to the band's members personal life. That's the reason why we have only one EP released as our, let's say, debut album on the Thrashing Damnation label pressing . During these years of experience we learned how we should organize our time, and resources, and it seems that our band lineup problems disappeared. We've got certain plans on the next years, this autumn we're playing a lot of gigs, and then we hit the studio to record the LP. If everything will go as planned – we've got a very intensive time ahead.
Filip: We've got a lot of material and ideas, but the other reason that we didn't released anything during the time you're talking about is that we rather do not get cash from the gigs we play here. And our funds can't let us to record something that is professional more often than in this amount of time. Recording an album in the studio is an expensive process. Still, we formed the band when we were 16-17 years old, and we're still pretty young people, there are a lot of bands that started even in the older age that we are now. The truth is that things are getting more serious just now. And these three years before recording the Ep were like garage days, not even the underground, you know, performing in small, local lounges etc.
When I reviewed "Trapped in a Nightmare" last year, your thrash metal approached me in every way. I think, that these six songs were high standard for the first record and real massacre. Whatwas your goals during recordings?
Michal: While recording that album we were fascinated mostly by impressive energy that this music gives. Writing the material we tried to take the influences from the best, combine the aggression and fast tempos with melodies, and tried to not be basic and common. It was our first serious studio experience, looking on it after some time very precious one. For this day, we would modify some things, but still we think that our plan was executed, as can be seen that this album found it's acceptance among the audience.
I own edition, which contains three additional songs. When recording of this material took the place? REPULSOR sounds here much more developed and sound aspect is record by step in advance.
Filip: We recorded it in summer in 2014. They are kind of a demo tracks, we wanted to show the direction that we're gonna go with our next full record. Some of them will be modified, and re-recorded for the LP.
I would like to stop by song "Repulsive Oppressor", which is quite different from others. You used there more melodies and slower tempo.Can we expect more songs like this in future, which diversify otherwise typical thrash album?
Filip: Yes. As I've mentioned above, it is the direction that we're going. We want to use the thrash metal convention for some sound experiments, and mix it with some other genres. What Voivod did back in the days may be the clue somehow, but we've got our own, different concept based on all the musical genres that we like. We're open minded guys. We don't want to stand still, and we want to be original, even though some die-hard thrashers may don't like it. Still for sure they can find some fast tempo's, and a lot of Slayer, Sadus or Repulsion influences on our next material.
In Poland I see concerts (within European tours) mostly in towns like Warsaw, Wroclaw or Krakow, but You are from northern Poland - from Gdansk. How does it look like in your city with concerts, attendance and living underground scene?
Michal: When we started our journey in 2010 we were, I bet, the only one band in our Pomeranian region that performs this kind of music (in the oldschool vein). Through this 6 years it happened a lot, we were the witnesses of forming and disbanding many projects, we had even some lineup problems ourself. We played a lot of gigs, and to be honest, the underground stage here was more active in the past, now it's vanishing here. More people are loosing the even about the metal in general here, not to mention the oldschool thrash. But, according to the sinusoidal theory of the trends, we hope that again we will witness the better times for the metal music.
I saw some concert videos of REPULSOR on Youtube. How often you play? What playing live for other people mean for you and do you have live experience, which you will never forgot? (smile)
Filip: Even though this 6 years we played more than 50 concerts, each another is related with a big hit of adrenaline, jitters, each another is another experience, which we try to use somehow, and make something better in the future. Talking about how often we play… it differs – we do not treat what we do like a constant, monotonous work, but we would wish to play gigs not just from time to time. Each one of us got his duties – school, work, in addition the management cases are not the easiest part. But in normal conditions we try to perform once in a month (minimum). Talking about some breakthrough moments: supporting Kat band in 2014, the Overkill and Sanctuary support in 2015, and in 2016…se you there in october!
Which band had biggest influence on you and on REPULSOR? What do you listen lately.
Filip: Talking about metal bands: Slayer, Motorhead, Black Sabbath, Mercyful Fate, Repulsion, Sadus. Besides the metal bands, we really like Pink Floyd, Blue Oyster Cult, Ulver, Boards of Canada, many more!
I personally likes old polish thrash bands like KAT, TURBO, DRAGON, DESTROYERS or HAMMER. What is your relationship to these legends of formal easternblock? There were without questions better bands on "the West", but "Eastern" bands had their spell, do you agree?
Michal: We really respect the heritage of the band's you've mentioned here. Each one of us has some personal experience related with the music of some of this bands…especially while the most of this bands is big piece of metal history, 80's metal deserves the great acceptance. In 2014 we've supported Kat (& Roman Kostrzewski), this year, beforce the gigs in Czech Republic we will also support Turbo. It will be great experience, and great to speak with the band members personally.
And what about new wave of thrash in Poland. Besides of You, I like bands like RAGING DEATH, TERRORDOME or RAGEHAMMER. You know your scene much better, what can you recommend to us?
Filip: The bands that will fit to these three that you've mentioned will be also Rusted Brain, Fortress and Bloodthirst. If some of your readers would like to know more bands from the polish stage, I highly recommend the Thrashing Damnation Thru Compilation vol. 1 and 2, I think that it compares all the good bands from our country.
Filip, you play the bass and sing. Did you choose English language because its more simple or because it is world language? Are you not tempt to make some song in Polish?
Filip: I've decided to write songs in English because in my opinion this language fits perfect for this genre. Besides, you can get to the bigger number of fans by singing in English. We had an idea to write the song in Polish to present how the thrash sounds with polish lyrics in our adaptation, but we hadn't make it yet. Still it's opened case, maybe we will make a cover song with the polish lyrics, some adaptation of the classic rock song in metal way.
Names of songs "Toxic Tomorrow", "Faces of Death" or "Killing Instinct" clearly indicate what kind of lyrics you like. What is your motivation for lyrics writing? What is your favorite topic?
Filip: As the lyrics writer I would say that life is the case that inspires me most to write the lyrics, even though I know that it's a very general statement. Basically I try to pick the typical thrash themes, as violence, death, toxicity etc., and use them in a different context, to speak about human nature and it's imperfection – the thing that never stops to shock me, day by day. And to speak about our personal beliefs about the modern world, ruled by lies, manipulation, oppression and exploitation – everything in disguise of course. I also base my lyrics on my life experiences. But that doesn't mean that If I write, for example, about serial killer, that I'm a serial killer, or I have to deal with some in the past. It's all about the context. But as we all know, words can be manipulated easily though.
Poland is huge country with 38 millions of inhabitants. There is wide fan base of metal music, including the old school. Why is it, that there is visible increased interest in metal genre in Poland? In compare to the other countries (maybe except of Germany) are polish metalheads really numerous...that is why I donot understand, that there is no metal festival of European dimensions...
Michal: Situation is a little weird, indeed. The festivals and big concerts here are ruled by their own rights. It also depends on the region of our country. For sure it is a lot of small and medium concerts which we find to appear more often than the big festivals. But lack of big festivals isn't a big problem though, there are a lot of big and interesting events near our country border, for example in Germany, Czech Republic, so I think that more attractive for polish metalheads is to go abroad to listen to good music, and get the occasion to visit interesting country at the same time.
Filip: This situation have it's effect on our metal stage, and the bands existence here, but it's a case to speak of under the different topic. Even if we had big festivals, it would depend on if you're drinking vodka with the organizer to appear on stage. That's the way how things are going here, not only in the big events case.
I firmly believe, that fans will check your band before your show in our country, but when you should characterize your music and your live shows and on what you would tempt thrashers? What should we expect from REPULSOR on Thrash Nightmare in Písek?
Michal: It will be our first abroad gig, so we hope it will be great fun! We are very curious how are the metalheads in Czech Republic. It will be great to feel the vibe of your scene. We can promise that we will give all the power we've got, and the set that we want to perform will be liked by the crowd. For sure it will be fast and uncompromised, as the thrash should be
I firmly believe that we see your new album soon. What are your plans for the near and far future of REPULSOR?
Michal: We've got the whole concept related with the new album. To be honest, we cant wait to enter the studio. We've got recording session booked for November. But for now we still got a lot of hard work to do – besides the recording we've got in mind the rest of releasing the album process: promotion, booking gigs etc. For now we can tell that the new material is way more deliberated, more mature and more orderly than the previous one. For the release we'll have to wait till next year probably, but we can assure you that you won't be disappointed.
Filip: If some labels representatives, managers, promotors, bookers are reading this – we're opened for the co-operation, so do not hesitate and write to us.
Thank you very much for this interview for Fobiazine. I wish to you and to Repulsor best luck! We are looking forward to you!( this space is for your expression).
Filip: Thanks for the opportunity to share some thought with You and your readers Petr! We are always happy to do that. Wish you that also. We can't wait to play in Czech Republic, as we know that there's a great crowd there. See you!
Translated by Fredy
REPULSOR: Facebook
THRASH NIGHTMARE PÍSEK vol. 4: Facebook událost