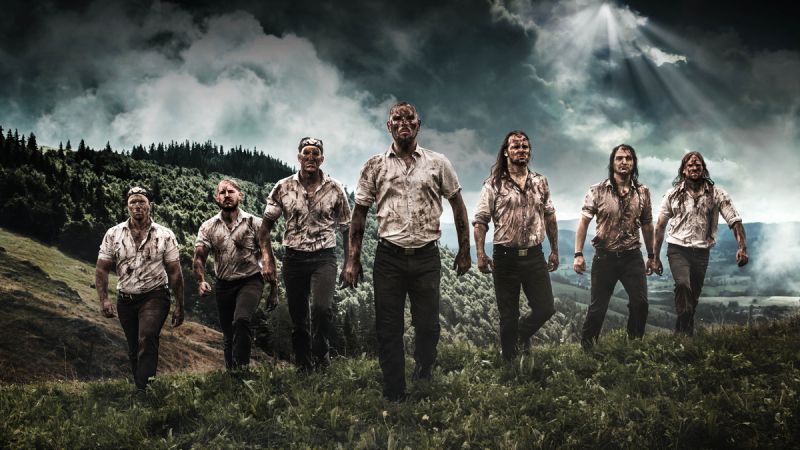 Hi! How is the weather in the dark forest of Schwarzwald? Actually, as the names Schwarzwald and Finsterforst mean the same thing, why did you choosethe second one for the band's name? What does it mean for you?
Wombo: Yes, indeed. Finsterforst is a synonym for Black Forest, the area in Germany where we are from. The Black Forest with its beautiful valleys and its cryptic forests has always been an inspiration for us. There is so much to explore here. Unfortunately, we don't have any snow right now.
What music inspires you? From the first steps of your band you've been often compared with such pioneers of folk/pagan metal as Moonsorrow, Equilibrium, Finntroll and Ensiferum. Did they somehow influence your music? What kind of music do you usually listen to?
Wombo: Simon, who composes all of our songs, is inspired by all kinds of music. He has always listened to a broad variety of styles since his father used to have a huge vinyl collection. So besides some 70s Rock, 90s House and stuff like that he also listens to Moonsorrow and Finntroll.
When Finsterforst is on the road we listen to a lot of non-metal music since it is far more relaxing while driving. So the bands would be Knorkator or Rummelsnuff. You've been signed to Napalm Records in 2012 – how did it affect the band's life and music? Does label strictly control what you are composing, or you have enough freedom for your art?
Wombo: Napalm Records provides a great background when it comes to promotion. Other than that nothing has changed. We still can make whatever music we want to. They don't interact in any way with our artistic integrity.
"Size does matter after all" © Rammstein – how do you control the length of your songs? Do you plan to make certain song 15 minutes long or you just compose it and then think: "well ok, erkonnteetwasgrößer sein"?
Wombo: Simon has a blueprint of an album before he writes the first note of it. In it he has already estimated the duration of each song. So then when he starts composing he knows how the song should sound and how long it should be. We don't add extra stuff to a song just for the sake of having lengthy songs.
As we've already mentioned German language – is singing in your native language a part of your conception? Do you plan to make some future songs in English? What could you recommend to your non-German-speaking fans to understand what are you singing about?
Wombo: We have been singing in German so far because it is our native language and we think that you can express your opinion with way more nuances than you could in any other language. But I guess we will also probably have some "lighter" songs in the future where we will experiment with English. For all the non-German-speakers out there: Just listen to the music and it will tell you the emotional side of the lyrics. When it comes to texting we always listen to the music and then try to come up with a topic that fits to the music on an emotional level.
You have about 8 people in your band – isn't it a bit difficult to go on tour with all of them? I mean you have to find the time for concerts which will be suitable for all of them; you have to watch over their health, equipment, self-development and many other things… After all, you always have to count them before departure, because somebody couldbe stolen by the fans or be forgotten on the gas station!
Wombo: We have always been a seven-piece – until last year when Hannes left the band. So now we are only a sextet --- still too many people on stage if you ask me ;) Being so many people can be quite annoying when it comes to rehearsing or video shooting. For concert we have some stand-ins who help us out sometimes so we are more flexible. Fingers crossed… so far we didn't forget anyone at any gas station but we have lost and forgotten a lot of our equipment.
How does Finsterforst look like in common life? Do you apply your band's worldview in non-musical areas? I mean do you usually meditate in the dark forests, making some ancient and forgotten pagan rituals? Do you spend much time together with band aside the concerts, studio and rehearsals?
Wombo: We all enjoy the little spare time we have apart from each other hahaha. We are not pagan but we like to go out to the wonderful woods and lakes in the Black Forest once in a while.
What are your future musical plans?
Wombo: We are going to release a new EP this year via Napalm Records. It will be something completely different from the long and epic songs our fans got used to over the last couple of albums. We wanted to free ourselves from that corset of expectations and just record some fun interlude CD before it will get serious again in two or three years when we will release the next full-length album. Further on we are working on some sideproject. But that's top-secret :D
You are going to participate in Hell Hammer Festival in three Czech cities: Prague, Brno and Ostrava. Czech Republic is well-known for its famous beers – have you already made your beer-drinking schedule or you'll just improvise? Who drinks the most in your band?
Wombo: Hahaha yes we are really looking forward to those shows! As always we will improvise and just take what is offered to us!
And the last question: what would you like to say to your Czech listeners?
Wombo: Meet us at one of those three shows and show us your favorite beer!
Author: Alexej
Praha - https://www.facebook.com/events/1013839248675751/
Brno - https://www.facebook.com/events/1657148057862298/
Ostrava - https://www.facebook.com/events/578546658976597/