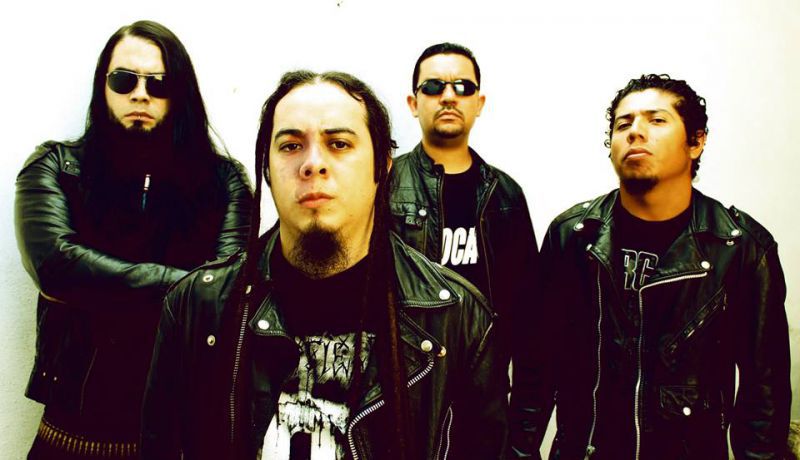 When was your group set up, why this particaler name, what does it mean and what the initial reason of its creation?
Demonic Manifestation is an extreme music band in the vein of Death Metal old school. Originally from Colima, Mexico; born early 2012 in order to create original songs that give diversification and new atmospheres to various side projects of the band members and as well as passion of the Swedish sound of early 90's. The name is just part of the genre paraphernalia. 
Introduce the individual members - their age, whether they have played somewheres, and how long they have played  their instrument?
We are running through de 30 to 37 years old, the band is conformed by Enrique Martinez on the guitar, César García as the bass player, Felipe González the drummer and me (Victor Mercado) on vocals and guitar, most of the members have been playing metal since the year 1999
Under what conditions have you made a recording, are you satisfied with it, how many have you produced, has it been with sales, what is the cost?
"World of horror"  album was recorded at MAT studios in Méxic city,It´s our first full lenght in Demonic Manifestation.  We have been working with them to times above with another death metal project (A dying season) so the recording process was very pleasant and uncomplicated, Mat has always been our home, they have made us feel such thing. We are completly satisfied with the final product and now you can get a copy by Dan´s Crypt Recs
Lyrics - why did you decide to sing in English... who wrote the lyrics, what topics have you choosen?
the main reason to do songs in English is the global openness that can offer, It´s the most studied language worldwide,  it is the language used in business, international trade and the Internet. I´m the principal  songwriter and topics are inspired by the classic death metal scene make up with the contemporary chaos, loss of values and self destruction of society
Who is the author of the logo, cover, Website – how much importace do you place on these things?
The logo was made by Carlos Aguilar from Idiot flesh band, the cover by the talented Spanish artist Juanjo Castellano one of my favorites illustrators. I have a collaboration in the album, I draw the inlay but you have to buy the CD to watch it.  The rest stuff  is band teamwork
Which bands have inspired you?

We love metal, we like most of sub genres but we particularly get engage with death Swedish sound of early 90's... Entombed, Dismember, Unleashed, Grave, Crematory...

Have you sent your recordings to the labels… which ones? What was their response?
No we haven´t, we signed with Dan´s Crypt Recs before short arrangements via web, the communication was nice and we reach an excellent agreement, Dan Is the ´dude´ man! 
How many shows have you done, and which ones do you consider the best?
We have been playing a lot in our country, we believe that the best are not those ones with greater production we consider the best when people enjoy your music and delivered to you on stage
Do you have ambitions to play in other countries?
Yes we do have ambitions, It´s the idea, more support is needed by developers and we are fully prepared to reach an agreement for a possible date. Is very difficult coming from a short underground band but It´s already seen that is possible, we trust that the material produced has the momentum to display around the world. We are open to any proposal.
Plans for the future...
Our plans are to keep the impulse and consistency, keep working on new songs. There is Demonic manifestation for a while ...
www.bandpage.com/Demonicmanifestation666
danscrypt.bandcamp.com/album/demonic-manifestation
www.facebook.com/Demonicmanifestation666
www.danscrypt.es/

REVIEW