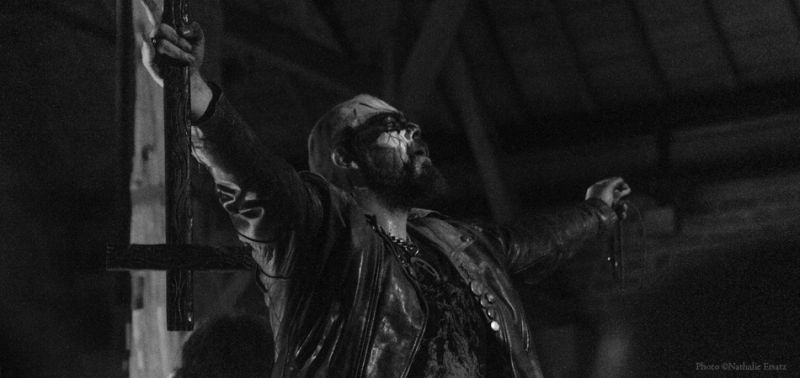 I apologize so much. Nornagest was very fast with answering my meddlesome questions and that was me, who slowed down releasing of this interview. The translation took me more time, than I expected (the interview was made in August). Despite the fact I hope and believe, that you'll enjoy the reading of this large interview with ENTHRONED.
Hello Nornagest! You performed at Brutal Assault festival in Czech Republic few days ago. Were you looking forward to this famous festival? You were one of the best bands of this fest, great show with great sound, it was absolutely amazing. What impression did you have? Did you see some other bands there, which captivated you, or did you travel back immediately after the show?
Greetings. Well, we stayed for the show of our brothers of MGŁA, as we were helping each other regarding gear and support, but went back an hour or two after they finished their set.
It was a pretty good experience, the festival is faithful to its reputation, great organization, amazing location and the crowd was absolutely grand.
You're going on tour across the South America this month. What responses on your music have you from these regions? South-American fans are known for that they fully enjoy every gig. Do you personally have this opinion based on your experience from this continent, for example on your shows in Brazil, where you played with GORGOROTH?
Going to South America is a bit like going home for ENTHRONED, I enjoy every second of it, the welcoming of the fans is always tremendous, their dedication is exemplary and the intensity is omnipresent. There is no need to say that we have our largest audience over there, it already happens that we fill a 2500 capacity venue when we are performing there headlining.
The reputation of the South American crowd lives up to its reputation and the further South you go, the hotter it gets!
Do you plan some club tour across the Europe?
Touring Europe these last years is becoming a real challenge as most promoters cannot afford to take many tours anymore. Also when you play during the week not many people are showing up due to their job and the fact that you can still feel the financial crisis a bit everywhere.
We could do it, but it would mean touring almost without getting paid, and therefore how could we pay our bills, food for our families and all the logical things that goes a-side of the band?
So for now we prefer to just perform independent shows in Europe. We will see how the future turns out and if we can afford to tour once again like we use to.
Many black metal bands do not perform live so much and pursue much more to the activity in the studio. What about you, do you consider live shows as a pleasant and important thing, or you prefer the work in your own studio, composing the songs, making the sound of the album?
Both go hand in hand as far as we are concerned; recording an album is important to give our songs their final shape and original sound, but the live element allows us to deliver our feelings, to use this environment as a fuel and catalyst for the energies that we want to channel during our rituals. So, as I said both are important and one does not go without the other.
You are making almost everything yourself since the album "Pentagrammaton" (2010) – production is made by Phorgath, layout by you and Neraath. Is that the best possibility for you to have everything under the control, when no-one talks into it?
Yes and no, we are not the kind of people who let the label or distributors tell us what to do or not, we are pretty hard to work with in that respect. Our creations will remain what we make of them and an external factor will NEVER be allowed to decide what we do or not. We simply do these things ourselves because we can and it is our job. Phorgath is a sound engineer, Neraath and I are designers and work in the artistic domain, so why shall we ask someone else to do the jobs we can do ourselves? Plus, who better than us knows how this or that should sound or look like? It is just pure logic in my opinion.
I will return to the production for a while. In my opinion, "Pentagrammaton" have a bit weaker sound than its predecessor "Tetra Karcist" (2007) or the two albums released after "Pentagrammaton". What is your meaning about the sound of this release after few years? Do you think that it just took some time to you to find the right sound for ENTHRONED or are you absolutely satisfied with the result?
"Pentagrammaton" is an album, a chapter with a different tone and vibe and we deliberately wanted the album to sound rougher, live and "used". It was all part of the general concept of the album in some sort of way, and I know many people did not understand it and did not like the album very much due to its production, but honestly I am 100% satisfied with it and I think regarding our directions and goal, Phorgath did an amazing job with it. When you look at the trilogy of "Tetra", "Pentagrammaton" and "Obsidium", "Pentagrammaton" is the hole, the depths of unconformity and it reflects the agony and struggles the concept of those very chapters drowned us in. That's all what we asked, and we realized it.
I think the new album "Sovereigns" is a bit different from the previous albums, especially the guitar riffs and melodies are a bit dissimilar, I hear new influences there. Who is the composer of the music, did the new guitarist ZarZax participate?
Everyone composed "Sovereigns", may it be Neraath, Phorgath, ZarZax, myself or even Menthor. Each member came with their own ideas and we put them together to come to what you hear on the album. It is not only the great ideas of ZarZax or Menthor but also, we just reached new emotions and ideas while keeping our own signature. I really think this line-up is a pure blessing and that we were meant to get to this with these members.
The drummer Manuel Rodrigues alias Menthor is the member of ENTHRONED since 2012. He was born in Portugal and he is also a member of English LVCIFYRE or American NIGHTBRINGER. How does the cooperation between you function, are you working only via internet and meeting each other only for tours?
ENTHRONED and LVCIFYRE are his only main bands, so basically we meet quite often for rehearsals, concerts, tours etc… like every band would, we just have to find the right logistics to work things out.
Albums "Obsidium" (2012) and "Sovereigns" (2014) were released by Polish label Agonia Records. Are you satisfied with attitude of this fast growing label?
Absolutely, Agonia have done a far better job until now than any other label we have ever cooperated with. Many people were wondering why we signed with them, as we had offers from the biggest labels etc… but I always preferred to work with people who were passionate, who knew the band from the beginning and followed us, who supported us just like they were fans of our arts and not of "how much we could put in their pocket". Agonia gave us the support we wanted, we have complete freedom and they do not interfere with our musical and lyrical approach whatsoever, and they respect us as much as we respect them in total honesty, which to me means they are the label I am looking for.
You released "Towards the Skullthrone of Satan" (1997), "The Apocalypse Manifesto" (1999) and "Armoured Bestial Hell" (2001) under the British label Blackend. After you left this company, they released a box-set comprising your first four albums without your knowledge. Do you remember how did you solve this situation?
We left that joke that called itself a record label.
I can't stand people abusing bands and fans for a little cash, releasing crappy releases without even warning the band about it. I saw that they recently re-released that rip off box set again… what do you want me to say… that kind of people are just pathetic and the worst enemy of any band, fans and of the underground. The antithesis of what a band like Enthroned stands for.
You are a vocalist of ENTHRONED since 2007. I know that in the beginnings you did not want to take this position but the other members did convince you. Did you get used to this position after the years, is it OK for you to be a frontman?
It took me a while, but I got used to it and definitely enjoy it as I can give the right feeling to my own lyrics, the right kind, and tone of aggression that is needed. It's just that I've never liked being the center of attention and more in the background doing my own thing, but you can't have it all, can you?
Except ENTHRONED you are a member of the band THE BEAST. You have released only few demos, one EP and one split album with GOAT TORMENT, in which you have been for a while too. Do you plan any full-length album with THE BEAST?
Not at all, THE BEAST has been over for a while, it was a project I started back in the days with Nebiros (Ex- ENTHRONED guitar player) and the tracks featuring on the split with GOAT TORMENT were already written and recorded long before the split got released. ENTHRONED is my only band for now, we will see what the future brings, but ENTHRONED has 100% of my focus right now.
Neraath and Phorgath are also the founding members of the black/death metal band EMPTINESS. They released the fourth full-length album called "Nothing But the Whole" in May. I have to admit that I did not hear anything from EMPTINESS, could you describe the production of the band to our readers?
Describing the music and concept of EMPTINESS would be the hardest question I have been asked in a long time, to be honest!
EMPTINESS is a unique band, with a unique approach. The band used to play dark black/death metal, but throughout their time they have developed such a sick, twisted and unique vibe that it is almost impossible for me to actually label them. All I can say is that EMPTINESS is one of the darkest bands I know, I HIGHLY recommends everyone to check "Nothing but the Whole", which is in my opinion one of the top releases of the year, the production is simply amazing, but I warn you: it is pretty special and unique.
How would you describe the Belgian black metal scene? Do you think that there are many bands which are unique and worth listening? I personally like for example CULT OF ERINYES, PANCHRYSIA, GORATH or SAILLE, would you recommend any other bands?
As I said: definitely EMPTINESS, else POSSESSION, which is more in the vein of old cults such as SARCÓFAGO, old SEPULTURA, KORROZIA METALLA, KAT etc…, as well as GOAT TORMENT, LVTHN, AMEN RA and a few others. But these bands are to me the best bands in Belgium around these days.
More than a half of 2014 is over. Do you like some records which were published this year? Are you more a supporter of old school bands or you are interested more in the progress of the scene, new albums etc.?
I am a very ecclectic person, I listen to a lot of different genres old and new, this year's top releases for me would be "The Satanist" from BEHEMOTH, "Melana Chasmata" from TRYPTIKON, "Serpent Sermon" from MARDUK, "Grave Ekstasis" of IRKALLIAN ORACLE, "Death" by TEITANBLOOD and "Promulgation of the Fall" by DEAD CONGREGATION.
Thank you for your time and answers. I wish you much success in all aspects and I hope that soon I will be able to see your show once again. The last words are yours....
Thank you for the interview and your support!
Khep'r!
REVIEW of "Sovereigns"
(Czech language)
http://www.enthroned.be/
https://www.facebook.com/Frater.Silurian
http://www.agoniarecords.com/