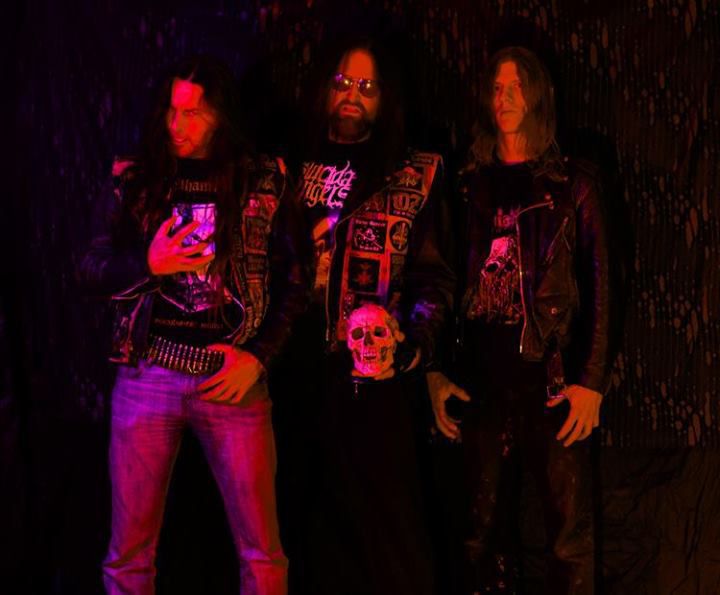 Hi NUNSLAUGHTER! How are you after your finished European tour and how did you enjoy that? Were Swedish bands DEMONICAL AND WARFECT great companies?
Donald Crostley: Greetings... We have return from our tour and it was amazing to go back to so many countries that we have not been to in a while. Yes both bands were not only excellent company on tour but also great bands to see every night. They are forever in our mind and heart.
You played at Obscene Extreme in Czech Republic in terms of your tour. I have to say your set was excellent and really devastating. What do you say on this unique festival?
It was one of the largest shows we have ever played. It was very well organized and we hope to return one day. Lots of freaks and interesting people there.
This leads me to your new album "Angelic Dread" what is your fourth. It contains 31 classic death/thrash songs (15 songs are new and 16 are remastered). These songs are typical NUNSLAUGHTER´s school. Is the result of this album satisfying for you, I suppose? This album is exactly in your style what you are playing almost thirty years!
To date this is the most satisfying release. It came together easily and we were able to work with an engineer that understood what we were shooting for.
NUNSLAUGHTER doesn´t change their music and remastered songs are the proof of that. Why do you decide to make these songs again and put them to "Angelic Dread"?
The 16 bonus songs are old songs newly recorded. It was something we were talking about for a long time and finally it came together.Many of the songs we perform live are only available on a limited 7" format and it is becoming difficult for people to find there recordings. We wanted to make it easy to get these songs and also have another go at making them what we wanted them to sound like.
The sound is really old school on the album "Angelic Dread". Dirtiness, rawness simply belongs to you. You don´t try to be "progressive" and I like that. Just making the biggest noise and go. Are you satisfied with the finished sound on the album?
HELL YES! We toiled over this one more than any in the past. We had the time and cash to make this sound how we wanted and it has a perfect sound for Nunslaughter.

"Hells Headbangers Records" has released this album, they are releasing the old school bands like for example VOMITOR, DECEASED or VICTIMIZER. Are you satisfied with this label and cooperation? And producing your album by a medium-sized label?
Yes we have been working with HHR since the very beginning. They always pull through for us. There are no "major" labels that are interested in NunSlaughter. We are rebels and a force they cannot control. We do what we want and when we want.

How does it look when you are composing some new material? Do you want to everyone could write songs alone or do you prefer composing together in rehearsal room? Are your songs completed when you come to studio or not? And who has the main decision in the band with composing? (laugh)
We write as a band at the rehearsal room. Jim is the main riff writer but all contribute and I assist with arrangement and most of the lyrics. We have skeletons of songs when we go into the studio and some songs we write in the studio.
The lyrics are full of blasphemy and anti-Christianity. What do these songs mean for you and  who is author? Do you take these lyrics like a message to world or just only the disagreement with the practices of Church?
I write most of the songs and Jim helps with titles and occasionally he writes a song or helps with a word here and there. The songs are based somewhat on my beliefs and somewhat in telling a story. I despise religions but I do not defile corpses. The real meaning is for me to know and for people to interpret how they like.

You are one of the most old school bands who I have ever met. I love metal classics, "cliché" and everything what belongs to that. Your image – battle jackets with patches, studded forearms, drinking beer on stage – how I said it belongs to you and I hope that your image won´t change! (laugh)
Thank you. We are never try to be anything except who we are. We will not change.

You grew up in 80´s and your band has played since 1987. What bands have influenced you at the time? Do you still have some up to date vinyls in your collection?
The early bands the meant a ton to me were Slayer, Bathory, Slaughter, Hellhammer, Venom, Mantas, Death, Massacre and Morbid Angel. I only own bootleg LP's so I do not have any modern vinyls unless you count 7"s. Then I have lots of them.
What music currently do you listen? Do you observe the new wave of retro thrash metal and death metal? If so, what bands have fascinated you?
I do like some newer bands like Midnight and Toxic Holocaust but for the most part I listen to old live shows or heavy metal bands. Judas Priest, Iron Maiden, Manowar etc.
We can see your discography, it is really magnificent. It has the four "full albums" and many EP, splits, live records and demo tapes. Why do you prefer the "split album"? What are your terms to choosing the bands who can participate in your album or do you take every offer? Is some split album which is according to you higher than the others?
Having a split record with a band unites us forever and that is something that cannot be changed. We work with bands all over the world and with all kinds of styles of extreme music. We cant do all the splits we want but it usually boils down to if we have songs available and how many we have planned out. I dont like to get too far behind when making plans.
Just let´s talk about the excellent split with the Czech thrashers - RADIOLOKÁTOR who live in my town. How has started the cooperation with this band and what do you think about their music? The old school thrash metal with Czech vocal?
That is a magic release. It was suggested by the label and I was unfamiliar with RADIOLOKÁTOR. When I checked them out I was totally into their music and we had to do it. One of our best looking split 7"s and we are proud to share a record with them. Tell them Nunslaughter says HELLo.

What do you think about the bands in Czech Republic? Do you listen some of them? The old or the new one?
I am a fan of GRIDE.
You all from the band have some next bands or projects (except NUNSLAUGHTER). Can you tell us something more about that?
Jim has many different projects like Spawn of Satan and Schnauzer. I currently do not have anything additional I am working on.
How much do you think has changed the metal-underground scene if you compare that with 80´s? Things like bands, organizers, demands, … for example in USA, in Ohio.. ?
People seem to have a firmer grasp on promotion and it is much easier because of the internet but bands still usually dont get treated very well in the USA.
What about the selling of vinyls? I know you dont release the huge amount but don´t  you a problem with sale? Are people going to concerts in the USA? Sometimes I have a feeling people are rather at home or in some pub but I still know the places where this music still lives on and on…
Usually the labels take care of selling the records for us. We dont to very many shows in the USA so I am unaware of it being difficult. We focus on making music we let other people focus on selling it.
I think vinyls are the immortal and as their big fan I´m really glad I can listen to you on the vinyls. But CD are still actual too, what is your opinion on the digital format and paid downloading? And on the other hand what do you think about illegal downloading?
It´s all about having people listen to the music. If some people want to download music rather than buy a record then that is still cool because they have your music to listen to. Illegal downloading is fine for me. I dont make a living at music so it does not affect me in the least bit.
Are you rock stars or do you have going to work like common mortals? (laugh) If so, is it working doing things all together like jobs, bands, tour, recording? Where "devils" like you can work? What are you doing?
We all have regular jobs. We only do a handful of shows each year. Tormentor owns his own studio, Sadist is a delivery driver, The Mangler does silk screening for a living and I am currently unemployed.

The last question – what are your plans in near future? Some next tour to "Angelic Dread"? Or recording of new splits? Or even some seaside holiday and drinking beer? (laugh)
Our ANGELIC DREAD tour is over now it is time to work on new material and put some fucking records out.
Really thank you for the interview for Fobiazine!  If you want to say something to your czech fans, lets do it! See you soon at your concert, I hope. Thanks! Stay old school!

Metal is Death. Death is Metal. Nunslaughter is Death Metal.
http://www.nunslaughter.com
www.facebook.com/NunSlaughter
www.hellsheadbangers.com