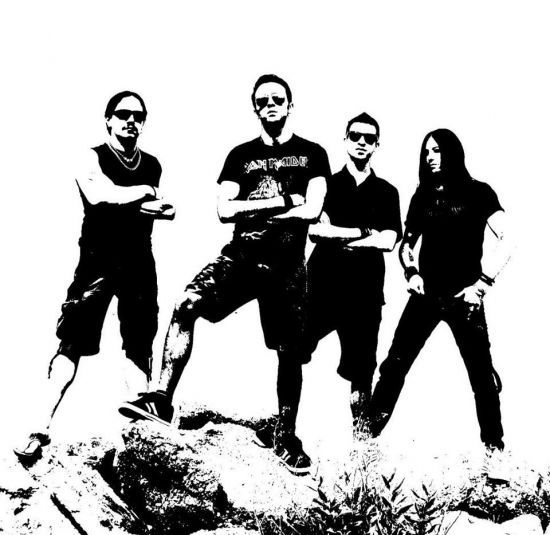 When was your group set up, why this particular name, what does it mean and what the initial reason of its creation?
The band was born at the end of 2009 by an idea of me (Joe) and the drummer (Doc) with the intent to create a heavy and catchy sound, straight in your face mixed with spiritual and philosophical lyrics; and becouse of that the name SPIRITROW that combine spirituality and "row" representing the line; something direct, strong and as i said above straight in your face.
Introduce the individual members - their age, whether they have played somewhere, and how long they have played their instrument?
I'm Joe (vocals/guitar) from Motta di Livenza a small town in the north east of Italy and i with the drummer Doc formed the band. We used to play together with another band called Pnx-mode. I started play guitar when i was 15/16 after i learned to play french horn in a citizen band when I was 10 to 12. Doc, as well, used to play i na citizen band the saxophone. We are both self-taught of our own current instruments. There is actually a big new change in the band, we recently have changed line up that sees Luca Buso at the lead guitar and Baal T the bass (currently). I take advantage of this interview to thank Fish ( ex lead guitar) and Gianluca Donato (ex bass p.) for what they have been/are and what they did for Spiritrow.
Under what conditions have you made a recording, are you satisfied with it, how many have you produced, has it been with sales, what is the cost?
"The signs" is the first album we recorded and we are really satisfied. We went to the studio with the idea to get something direct, heavy but really "clean"; compressed sounds, not that heavy distortions and the less use of effects was possible. We have been selling the album since last July when the album came out under cd and a new item in the market that is a customised usb wristband that had an incredible response; both for 10 €.
Lyrics - why did you decide to sing in English... who wrote the words, what topics have you choosen?
One of the things of the core of Spiritrow are the lyrics. We really care about that. We decided to write in english to send a message that can be reached everywhere ( and actually we are getting good response in countryes like Indonesia...) I personally wrote the Lyrics with Philosophical and spiritual themes using an unusual (for metal music) poetic composition style.
Who is the author of the logo, cover, Website – how much importace do you placeon these things?
Andrea "spazz" Marson with Gianluca (ex bass pl.) are the authors of the logo, cover and all the artwork of the band in this album. We payed a lot of attention on choosing the right logo and stuff. I can say we really care about details tgat can make the difference and in some cases reason fo r people to be "attracted" by the band.
Which bands have inspired you?
We have different influences. Personally i grew up with Sepultura, Metallica, Kreator, Testament some hardcore like Sick of it all, some punk like Nofx when i was 12. I'm a big fan of death and black metal also. Doc follows more new metal bands, he loves Alter bridge some hardcore and some classic hard Rock and Metal. I guess this album can have influence in bands like Gojira, Soulfly, Slipknot and some hardcore.
Have you sent your recordings to the labels… which ones? What was their response?
We signed a contract with Fog foundation label in January 2013 and we are relly happy and proud to be part of their roster. we got a lot of good responses all around Europe and Orient!
How many shows have you done, and which ones do you consider the best?
We have been playing a lot. It's another thing we aimed for the band. We had the chance to open to bands such Arch Enemy, disarmoch orchestra, Sadist...; we won a lot of contests and one of those is where we played yesterday 03/01/14 in the most important club of our area for venues. We played also in some imortant festival in the north east of Italy. Next saturday we have a special gig in which we introduce the outcoming video of our single "The signs" and very soon we'are gonna play in your country,(31/1, 1/2,2/2,3/2). I don't have the schedule right now but i know for sure we are playing at Tirish Banska Bystrica February the 2nd. I guess the best gig we ever played so far is in Rome opening for Arch Enemy!
Do you have ambitions to play in other countries?
Plans for the future...
As I said above we are playing in your country and Slovakia at the end of the month and answering also to the next question, for sure it's our gosl to play more and more and more abroad in the future!
Thanx a lot for the interview!
Hope to meet you on tour!