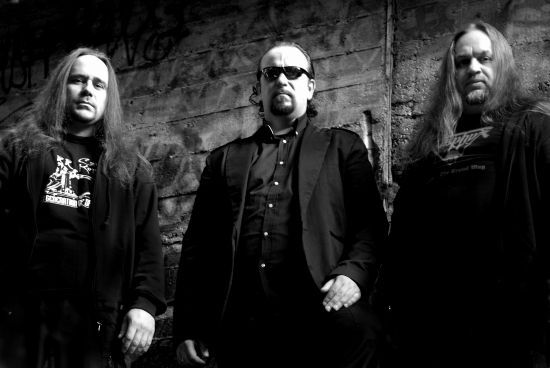 Ave Trauma! I tried to find somewhere the history and informations about your band. I didn't find anything in Czech language.  It's necessary to correct it now. Can you remember your beginning, history and please introduce the group.
Trauma has been established on May 1988 in Elblag, a town in the North of the Poland. We were fascinated by Slayer, Possessed, Kreator, Sodom, Sepultura, Celtic Frost. Being under their influence we wanted to create our own music and lyrical message. Initially we had been playing as Thanathos band for 4 year. We were creating a music on the spur of the moment. We used do a rehearsals almost every day in order to become a better and more coherent. On July 1989 we recorded the first demo " Deo Optimo Maximo". Next year we recorded the secend one called "Out Of Sanity". In 1992 we decided to rename a band so we have been performing as Trauma ever since. We recorded seven albums, one split "Daimonion" which consists of two mini albums and one live album "Crash test Live". Trauma has been found as on of the most experienced polish bands performing a many tours and an individual gigs with bands such as: Nile, Morbid Angel, Behemoth, Monstrocity, Vomitory, Vital Remains, Loudblast, Samael, Sinister, Rotting Christ, Bolt Thrower, Xenomorph, Enslaved, Schizo, Krabathor, Discharmonic Orchiestra, Tiamat, Moonspell, Master, Vader, Decapitated, Sceptic, Dies Irae, Crionix, Lux Oculta, Christ Agony, Dead Infesctrion, Squash Bowels, Parricide, Disenter, lost Soul, Devilyn, Hate, Hermh, Dead Infection, Abused Magisty, Vesania, Calm Hatchery, Devilish Immpresion,  Soulfly, Azarath, Sepultura ….ad more…
 
You donpl't have any bassist. How do you record, who made the bass links on "Karma Obscura"? And what about your concerts? Why don't you have in fact any bass player, don't tell me, that there isn't any in your "death metal country"?
The official line-up is: Chudy - voc, Maly – drums and me Mister – guitar. During the few last years a line-up changed to frequently so we made a decision to stick to three-person band. More people in the band more difficult to come to a consensus. I record all guitar's track so that allows me to keep them under control. When we play live we get support from two session guitarist: Tomasz Myslinski – bass guitar and Krzysztof Piatek – guitar. Yeas, it's true, there is a lot of really good musicians in the Poland however in the region where I live is ….a dry ground. Because Chudy and Tomasz live and work in Gdansk (60km away from my place) so they commute. The same Krzysztof, he gets his doctorate so he has to commute as well. As You see is not that easy obtain a stable line-up.
                                           
Your new album "Karma Obscura"is on sale at the moment. What are the first responses? What about the fans and reviews?
Here, in Poland, Trauma has an established position so everything what Trauma records it sells very well. People collect our cd's. They know we are the one of the oldest group in Poland therefore they have respect for us. To be honest I haven't heard any really bad comment or feedback about us.
Music is our passion and we create a music when we feel there is a right moment for it. I don't mean any economic factors or situations. Thanks to a such a favorable opinions we know for the fact that our approach to the music is absolutely right.
The album was recorded in the famous Hertz studio by Slawek and Wojtek Wieslawski brothers. Why just there? You have recorded there for several times yet. Didn't you want any change? "Karma Obscura" has an excellent sound. I think only if you didn't want to go some other way.
 I was asked many times if Trauma was bound by any long term contract with Wieslawscy Bros. As a matter of fact Im not surprised. Everything we have recorded in the last 13 years was done in Hertz Studio in Bialystok. I have never had a problem with that. Hertz studio changes as quick as we do a music so every time we come back to Bialystok, we came back to a new, modern studio equipped with a stuff and a highly developed recording technology. We have known Wieslawscy bros for years so we always feel comfortably when we are in Hertz Studio. This is kind of a positive impact on general recording session. I don't know what future brings. We may come up with a concept of recording somewhere else.
"Karma Obscura"was published by Polish label Witching Hour Productions. Why just this label? Are you so satisfied? If I could listen to records from this label, it was black metal mostly.
Our recording in Hertz has its drawback. Unfortunately a sessions are very expensive. On the other hand, we never scrimp on a production. Nowadays the public have brought a level really high so their expectations are not as used to be . If you want to make yourself stand out from the other bands, forget about average sound. You know, metal music has to sound a brutal, magnificent. Is not blues or country music.  Signing a contract our priority was to have all of recording costs paid by a record label. Witching Hour. Prod. paid for our last session as well as a new one. We have known a chief of Witching Hour Prod. for years so we didn't mind to signing a contract with him. That's true, Witching Hour Prod. has been considered as a record label focusing on black metal but not entirely. Within a few years he release a some of death metal CD such us: Massachist, Lost Soul, Vedonist, Naumahia and re-releases of Vader.
The cover was made by Mentalporn. It's the Polish design agency. But who made the cover and what is the main idea? I like it very much, but I thought for a long time, what is the painting like? Is there any link between the cover and the lyrics? I like that you regard the graphic as important in this time of downloading.
A name of a men from graphic design agency METALPORN  is QRAS.  He is well-know, very thought of and recognized artist in our country. He did some artwork for Behemoth, Hate, Lost Soul. Qras redesigned  a layout for vinyl version of "Archetype Of Chaos" as well as he designed a graphic for Trauma's merchandise. To be honest he did an amazing job. I really like to work with him because we understand each other very well. You asking me about a link between cover and lyrics. Well, I don't want to talk about this. Relation between cover and lyrics is quite obvious however everyone can interpret this relation in many other ways.
Who makes music in TRAUMA and how was the recording of "Karma Obscura"? I'm interesting in the process of composing. Is there anybody the main "brain" of the band or do you compose together?
When we were young we occasionally worked together on Trauma's music. Older we were getting, more time we were short of. It Was really difficult to come along and do some work together. Wasn't as easy as used to be when we were a teenagers. I have been running my own business for a few years, so I'm able to devote a more time to music. Who is the "main brain"?  It's not a secret. I'm a leader, "main brain", I compose whole Trauma's music. I need my team to put finishing touches only. We got used to working like that. As long as this system works, there is no point to change it.
Sometimes the death metal lyrics are downplayed. What are lyrics on your new album "Karma Obscura" like?
I don't know how the other bands point of view looks like but for us lyrics are really significant as well as music because they make a one and an integrated message.  Just try to familiarize yourself with them so You'll see how important component they are.
You have played since 1992 (since 1988 under the name Thanatos actually). If you are looking back in the history, what period in your opinion was for the cd-sale the best? Tell me your meaning about today's consumer listening of music. Many people don't appreciate original Cds. Is there a large decrease of cd-sale? Does it pay off to publish music on Cds?
I don't care how many cd's we sell. We are not getting any profits anyway so I don't give a shit about it. I've always wanted to write music for pleasure and my own satisfaction. When we play for a maniax we do it always with the same dedication. Doesn't matter how many of them is standing in front of us. I have always had a fun doing music. As long as I feel such joy at doing it, I will not stop being a part of Trauma.
I think there aren't weak albums in the history of TRAUMA. Do you have any in your discography you don't like so much and what album do you prefer and do you play most often?
I'm not that objective person to judge this. I'm emotionally involved in every album of TRAUMA. I would not be able to compose music I don't like. That would be silly. Whole discography of Trauma I can compare to family photo album. You look at them, browse them and feel how more intensive memories become. Intensive and strong like old good wine.
Your style can be marked as combination of old school death metal with technical elements ( sometimes there sounds black, thrash and heavy metal solo). You are as musicians very dextrous. Do you have any musical education or are you self-learners?
We have been on the stage for over two decades. During this time, we have developed our own style of the music which is in fact a combination of many different kinds of metal music. We trying to be close to our music origins or roots but reinventing a music and making it a modern is our purpose as well. So, cut a long story short , no one from us graduated any conservatory or any music school. We are autodidacts with a lot of experience and full of passion to what we do.
When we are talking about the music carrier, what about you and vinyl? Is there any record of TRAUMA published on vinyl?¨
So far only "Archetype of Chaos" album has been published in vinyl. We are doing our best to have a "Karma Obsura" published on vinyl as well. I leap at the chance to announce If any record label in your country is interested in releasing a vinyl version of Trauma please let me know sending an email.
You have moved for 21 years on stage. Do the fans, promoters etc. change during the time? What about you? Do you access recording, concerts in other way as before 20 years?
We have been playing uninterruptedly since May 1988. It has been more than 25 years. We started as Thanatos but in 1992 we changed a name into Trauma because The Dutch Thanatos was becoming more popular in Europe so we didn't want to be confused with this band. To be honest with you, during the time everything has been changed. First of all the socialism is gone which is the most significant change offering "an access to the world". You must have noticed that too as we had been stuck in this shit until the end of World War II. Initially no domestic music scene existed. Here, in Poland, we were one of the first band together with Vader, Armagedon, Imperator, Violent Dirge, Slaughter, Ghost, Necrophobic, Dragon, Dead Infection and many others. Everything was changing around so and started affecting our life. An Internet and mobile phones appeared, we joined The European Union (Czech Republic as well)) so all this taken together changed a communication between people and eventually made this communication substantially faster. It had a great influence on music scene and generally people. Today, a few of them bands from my country are on top. It was impossible before.
Poland is bigger country than Czech Republic. You have many excellent death metal bands. When I leave out the most famous as BEHEMOTH, VADER etc., there are many new young groups, such as SPHERE, EMBRIONAL, HELL UNITED and others. Do you have in this "New wave" any favourite; can you recommend any new good record from your country?
My country is a gold mine in the terms of number of good bands playing here. In my opinion we have got one of the best music scene in the world. Unfortunately, I can't tell the same about a concert agencies, managements, promoters etc. There are still not too many of them. Yeas, I really like a music of young music groups from my country. I recommend Mass Insanity, Hyperial, Redemptor, Sothoth, Calm Hatchery, Pleroms Gate, Anthem, Deivos, Gortal, Extinct Gods, Devillish. I'm not quite into Hard Core music scene but I know you could find at least a few of good bands presenting that sort of music.

When do you make show in Elblag, how many people do come? Do people in Poland visit metal concerts? In our country there are coming sometimes only few people. Everybody prefers sitting at home on the Internet.
We don't make a show in Elblag very often. The last one was done in May this year and 150 people came along to see us. An atmosphere and climate during a concert was really nice. People really like us in Elblag. On ours gigs you can spot two generation of fans raised in Trauma music.
Generally attendance on the gigs in Poland is considerably lower than used to be a few years ago. To me this tendency affects whole Europe so doesn't seem to be a problem of our country only. An Internet makes a people more lazy or inert. They prefer to watch shitty video on Youtube rather than feel a real atmosphere of real concert. That's why we respect maniax who come on gigs, support bands buying theirs T-shirts or CD's. 
In my opinion, I think you don't make gigs very often. Are there problems with travelling or money?
First of all, Trauma is not as professional band as Behemoth, Vader, Decapitated. They play plenty of gigs all over the world because that's their job. They are being supported by many people responsible for a certain things. More they play more they get and more popular they become. In the case of Trauma a music is not our profession. We do ordinary work for a living, so we can't play so much like bands I mentioned above.
What kind of music do you listen in band? Are there any records this year you are interested  in?
I think everyone from us is waiting for different music but regardless a sort or style of music, we all value good music. There is so many outstanding bands so you can easily get flurried trying to rate them. Personally I really like the last Autopsy, Gorguts – complex, advanced music but interesting, the latest Crarcass – wicked, terrific album, Dream Theater – as usual music on the top level ( they are like a bloody robots). I fucking love a psychedelic climate of Midday Veil "The Current". It's jolly good album. Plenty of good albums were released this year and is hard to mention them all.
Do you collect cds or vinyls? What record did you buy last?
I'm not collecting cd'd. I'm just being what I like, therefore, I have got a few hundreds of them. Recently I bought couple of Dio's albums which I didn't have on CD. Although I have got around 30 vinyl's sitting on my shelf I'm not collecting them. Our vocalist Chudy is a maniac who is collecting everything on CD and vinyl. He spends horrendous money on audiophile music equipment and CD's. This year, he came back from Brutal Assault heavy-laden as camel. It took ages for me to get through all CD' he bought.
 
Do you know and listen to any Czech bands?
Of course I know. We have been to European tour with Master and Krabathor, so we know each other very well. Also I know Bruna Hypnos, legendary Master's Hammer. Moreover I remeber Tortharry, Pandemia, Spasm, Disfigured Corpse, Malignant Tumour, Godless Truth, Root. In my collecton I have got the one of the oldest album of DEMENTOR " Kill The Through On Christ" and Forgotten Silence " Thots".
Can the Czech fans look forward to your concert in the Czech Republic? I know it is too far, but what about any music festival in our country, will you come?
We have been keen on coming to your country for long  but we don't know anyone who does any festival in Czech Republic. We would really like to attend the Brutal Assault next year or any other festival. I know there is quite a lot of them during a summer holiday. Despite the lack of connections we are hoping that will eventually happen.
Tell us something about your future plans for next months.
We are going to play as many gigs as we can and slowly but surely start writing a new album, however, that is not going to happen this year.
Thank you for the interview and I wish you lot of crazy fans and sold Cds.
Thanks for your support and pleasant conversation. Please familiarize yourself with a New album "Karma Obscura". Sooner or later we will come along in Czech Republic so see you around.
http://trauma.art.pl/
https://www.facebook.com/TraumaOfficialPage
http://www.youtube.com/user/traumadeath
http://witchinghour.pl/

Translate by Susan.
REVIEW - "Karma Obscura" (in Czech)