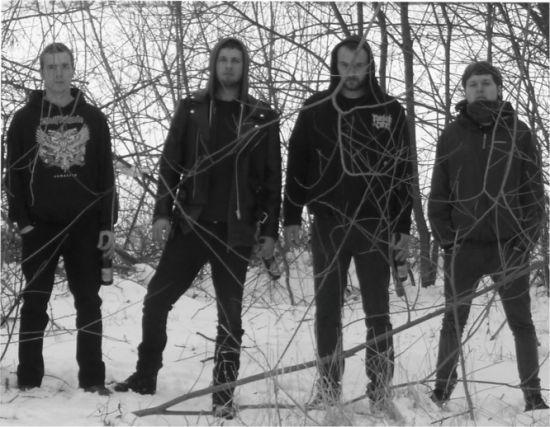 When was your group set up, why this particular name, what does it mean and what the initial reason of its creation?
Hi there. We started sometime in 2009 after the split-up of our previous band 'Deviace doby'. Things had become quite destructive and also musically not satisfying. We wanted to play something more metal oriented. We were looking for an overall concept, inspired by bands like 'Bathory'. The content should be: legends, dragons, knights, battles, whores, booze, etc. We did not want to write the usual lyrics about politics, etc. .. Someone has to write about other things.
'March of the hordes' we first came across as the title song of some obscure black metal band. I told it to the guys during rehearsal, and the new name was born.
Introduce the individual members - their age, whether they have played somewhere, and how long they have played their instrument?
Not much to tell – not much to write about. After recording a split with 'Disbeatless' our vocalist Marf left the band. Then Maalee came on vocals and Mafia on bass. Then we started to do some different stuff.
Recently Banan left, so we are four and are going deeper even into metal.
Balda - guitar
Mitch - drums
Määlëë - vocals
Mafia - bass
Under what conditions have you made a recording, are you satisfied with it, how many have you produced, has it been with sales, what is the cost?
We recorded at Hromy (5STL) in Low Resolution Studio (http://bandzone.cz/fan/lowresolution) in J.Hradec. 
In one room we arranged the furniture, fixed carpets for sound improvement, opened another beer, and played the songs a few times. Then a Maalee recorded the vocals and was done.
It took a while to get a Master mixed down etc. We are satisfied with it. Underground as hell.
Then there were some complications with the packaging I don't want to even mention 'cause I'm glad it's over and it turned out well.
We are satisfied with this material. But it was recorded almost a year ago and things have to keep moving. The next coproduction was recorded with 'Fear of Extinction' at studio Davos and will be out on Phobia records in summer.
Lyrics - why did you decide to sing in English... who wrote the words, what topics have you chosen?
Well, we are thinking about using Czech language (smile). But I can't promise. English suits us simply better and we have never tried to change that.
As mentioned before we always like to tell some dark stories, well that's sort of a metal cliché...
"It does not give a choice
Touches of the dead limbs
of bodies that fell into obscurity
Tearing the inner fulfilment
in remaining entrails of thoughts
faded glory is mixed with fear"
Who is the author of the logo, cover, Website – how much importace do you placeon these things?
The designer of the logo is my cousin Wagnum. Quite a talent for drawing, but he pissed off. Check his blog where he put together a little of Slavonice underground spawn so http://wagnum.blogspot.cz/ watch out!
Cover on this coproduction did Klaudiusz Witzcak. He did it for free and in just a couple of days. Thank you!
Which bands have inspired you?
For me it is classic metal, grindcore bands, and I guess a people which read your magazine know what I mean... However the Swedish, Norwegian scene and for example 'Death Breath', 'Death Machine', 'Dead Congregation', 'Death Strike', etc.
Have you sent your recordings to the labels… which ones? Chat was their response?
No we did not. We are waiting for someone to call and give us some money (smile)... We didn't think about this.
How many shows have you done, and which ones do you consider the best?
I am not sure, 60 maybe? I guess so... But nothing special. In 2012 there were some good shows with 'Napalm Death' in our Cultural center in Slavonice, with 'Demonical' in Brno, 'Miasmal' at Club 007 in Prague, 'OEF' festival, Chilli fest, 'Nägel Mit Köpfen', and recently with 'Cough' in Prague, it was kick ass.
Do you have ambitions to play in other countries?
Sure we have ambitions and we are working on it, preparing to be confident enough and then make it happen. We are planning a small tour for September.
Plans for the future...
Our own LP ... Until then we are sharing another one with 'Fear of Extinction' sometime in summer.
http://bandzone.cz/marchofthehordes
http://marchofthehordes.bandcamp.com/
http://marchofthehordes.blogspot.cz/