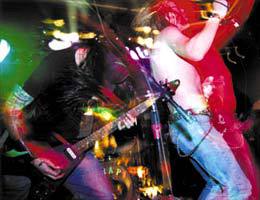 1. Hallo from Czech Republic. Here we go with the first question. Can you briefly introduce your band from the beginning till today?
Sure - 1996: Erik Larson, Asechiah Bogdan and myself started ATP. Shortly thereafter, we found Johnny Throckmorton, our first singer. We recorded three albums for Man's Ruin with that line up and two different bass players. In 2002, Mans Ruin went bankrupt. We re-located to Relapse, got a new guitar player, Ryan Lak and a new bass player, John Peters. Both are still in the band. We recorded "Staring at the Divine", our first album for Relapse and our last album with Johnny Throckmorten. In 2003, we hired our new singer, John Weills. In February of 2004, we recorded our 5th full-length and 2nd album on Relapse entitled "Fulton Hill." And that's where we're at now.
2. The CD FULTON HILL was released by Relapse Rec. Which is exactly a big firm. How did you get under such a firm?
Luck; fate; good fashion sense? I don't know. I am just happy that there's some cool people like Relapse out there who appreciate what we do and want to put out records for us. It helps out alot.
3. I can see very good production on your record. How many time took the recording? Were there any restrictions from the firm or did you have free hands?
No restrictions from Relapse. They are big on artistic freedom, so they let us do what we wanted to do. Again, very cool. It took us about 6 weeks total. I am also really happy with the production.
4. Do you have any other job? Or are you pro-musicians?
Yes, we all have other jobs. Unfortunately, rock and roll doesn't pay the bills right now. Maybe some day it will, but if not, I'm cool with that too.
5. I can feel some motorbike smell from the FULTON HILL atmosphere. Like Harley-Davidson rides. Do you have any relationship with this kind of people?
Loud rock music tends to attract bikers. We are friends with some folks that would fall under that category but I won't get too specific. I think the relationship exists because being in a rock band and being in a motorcycle club are both lifestyles that are big on freedom of expression and living your life as much as possible by your own rules as opposed to someone else's.
6. What about lyrics? Some songs titles (Lunar Eclipse, Blasphemy) cant got lost in the black metal scene...
Well, I did wear corpse paint at a show one time. haha. I never thought about those song titles as being black-metal-esque, but I guess I could see it.
7. What are your favorite bands? Our webzine seems to be more metal oriented, do you listen to any extreme metal bands?
Absolutely! I don't know how extreme they are, but I love alot of metal bands. Mastodon, Keelhaul, Burnt By The Sun, Entombed, At The Gates, and all the old shit like Judas Priest, Dio, Maiden, Nazareth, old Def Leppard. The list goes on and on...
8. There will be Europe tour in autumn. Do you already know what places will you hit? Will you play in Czech Republic? And have you ever been in Europe?
I think we're supposed to come to the Czech Republic this time. I sure hope so. We're gonna try to get to as many places as is humanly possible. We have been to Europe a few times. The only real tour we did over there was back in 2000 with High On Fire. It was a blast.
9. I mentioned in the beginning that this interview is for Czech Metal zine. Do you know where Czech Republic is and do you know any metal bands from my country?
I do know where the Czech Republic is. I have to admit though, if I do know about any metal bands from there, then I was unaware that they were from the Czech Republic. I guess the biggest eastern eurpean band that I know about is Vader from Poland. Their drummer, Doc is amazing.
10. Thank you for your time, Do you have something on mind you want to share with our readers?
Thank you for the opportunity to appear in your zine! I appreciate it and hope to drink beers with you in your country this fall!! Until then, check out the new Alabama Thunderpussy website for news and updates at: www.atprva.com