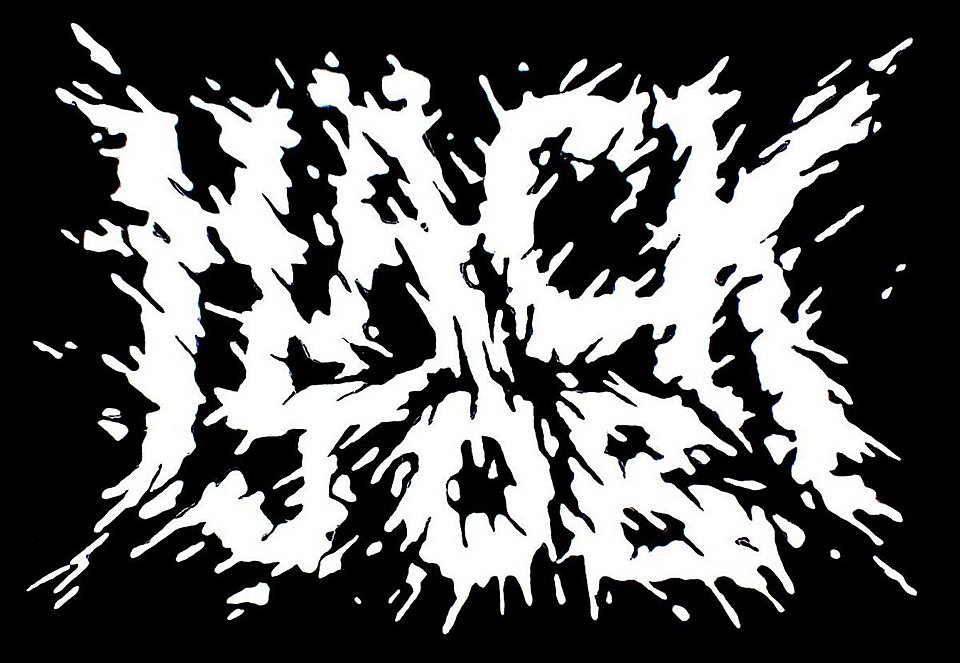 When was your group set up, why this particaler name, what does it mean and what the initial reason of its creation?
Alan: We started HACK JOB in 2015 after Joch suggested starting a fast hardcore band. We all knew each other from other local bands and gigs and had all recorded tracks as members of other bands for a 2" record i put out. It became clear pretty quickly that we shared a love of thrash, grind and bad horror movies.
Damo: The name HACK JOB seemed to fit as we're all kind of slapdash in our approach and not overly talented players, a little self deprecating but kind of an inside joke. Once Alan had drawn up the logo we knew it was right. The logo is a take on the John Carpenters The Thing logo by the way.
Joch: Me and Damo had been in band together before and after this awesome idea Alan came up with a 2 inch record released though Pea Brain, it was thrash time.

Introduce the individual members - their age, whether they have played somewheres, and how long they have played their instrument?
Alan: I'm Alan. I play bass and do the yelpy vocals, and have not got any better at either for something like 35 years! I have played in a number of bands over the years including CHINEAPPLE PUNX, WHOLE IN THE HEAD, THE SHORTS, and i currently play and sing in ABRAZOS as well.
Damo: I'm Damo, I play guitar and bark like a big dog, I've been playing in various bands for the last 20 years, not particularly well mind you but I've played bass or guitar and sometimes shouted in BUNNY, ED WOOD, JOYTHIEF and some others and also currently play bass in an alternative rock band called BITTERMAN.

Joch: I'm Jochen, i play drums and do some shouty bits, been playing a many bands over the Years, Playing in The SLM at the moment, used to play in ED WOOD with Damo, BLACK ANCHOR and some other projects.
Under what conditions have you made a recording, are you satisfied with it, how many have you produced, has it been with sales, what is the cost?
Alan: We are extremely lucky that a good friend of ours Dave Sloan has a practice space and recording studio - The Fishtank, Portsmouth - so we have recorded everything we have done there. He knows what we are after and it is a very low stress experience, despite us having ridiculous ideas all the time. I´m really happy with everything we have done (a demo, 2x split 7"s, a 5" and a few other bits and bobs you can check out on Bandcamp). People seem to like what we do, so we have sold a few records but we have probably given as many away!
Damo: Yeah, The Fishtank is really cool DIY space that a few local bands contribute to and Dave kind of runs (Dave is the main man in my other band BITTERMAN so I'm there a lot) all the bands contribute payment and equipment and we've done a few small gigs there. Check our Bandcamp page or Rip Roaring Shit Storm Records for our releases.
Joch: The main man Dave Sloan, who also rums Charlies Big Ray Gun Records with me, so we use the Fishtank, love our recordings and releases so far lucky to have a good mate Dave record it all for us.
Lyrics... who wrote the words, what topics have you chosen?
Alan: We all get involved with the music and lyrics, Damo writes songs with more than 3 notes and i don't.
Subject matter ranges from personal anger, political outrage, to songs about terrible 1970's horror films. Often all at the same time.
We like things short and punchy.
Damo: Alan is the primary word smith of the band writing much better lyrics than me. We are all on the same page with regard to politics and bring fans of horror films, the writing process is very easy between the 3 of us.
Joch: I hit things fast leave the Word magicianary to these other 2 gents.
Who is the author of the logo, cover, Website – how much importace do you placeon these things?
Alan: Again, we share the work with covers, logos etc. I like a bit of art so I tend to draw the hand drawn stuff like the logo. Joch is on the case with websites, Bandcamp etc. We don't have a "brand image" for the band, if we like something, we will use it or nick it. Skeletons, Killer Klowns, lots of black, you know the deal.
Damo: Whilst the 3 of us have to be ok with the final product I'd say Alan you're definitely the head of the art department having designed the logo and painted it on a massive back drop. I'm not very arty so just throw some ideas at the more talented guys. Joch you're definitely the computer whizz kid.
Joch: I tend to blag web site things and help with Art work when it needs to be digital, Alan is the artist in the band.
Which bands have inspired you?
Alan: Personally I love old school grind and hardcore, so bands like NAPALM DEATH, THE STUPIDS and EXTREME NOISE TERROR started me off loving noisy music. I also like more modern stuff like, DESPISE YOU, DROPDEAD, TRENCHER, and loads of old 77 stuff too. It all adds to the mix but SPAZZ are probably the closest to what we write as a band.
Damo: We're all into fast hardcore, thrash and grind, those early Earache bands like INTENSE DEGREE and HERESY are definitely a huge influence as well as those first wave of US power violence bands, that's not to say we don't take influence from all sorts from noise rock to post punk at times, even of that's not particularly obvious, haha.
Joch: I love all sorts PIXIES, NOFX, MUNISIPLE WASTE, THE DESCENDENTS, THE AFTERNOON GENTS, RASH DECISION, and loads more but good music I can rock out to.

Have you sent your recordings to the other labels… which ones? What was their response?
Alan: We have dished a few out and people have been great. We've had some really positive zine reviews and got a few gigs out of it. Gadgie, Issue, and Suspect Device have all been great to us.
Damo: Rip Roaring Shit Storm Records have been really good to us helping release the 2 split 7" and the 5" EP. Jochen runs CBRG Records as well.

How many shows have you done, and which ones do you consider the best?
Alan: I don't know, must be around 100? Playing Chimpyfest in London a couple of times was great. It was fantastic to play with Steve Ignorant's SLICE OF LIFE and have it confirmed that he is the nicest man in showbiz. We played with PIZZA TRAMP and RASH DECISION a few times which is always great fun.
Damo: Supporting THE CRIPPEN's was definitely one of the funnest gigs I've played! The Weekend at Chimpys gig was a great too. We've played with ARMOURED FLU UNIT a few times, those guys are great. We were booked to play DreadFest in Leeds but because of the Covid Pandemic it's been put back to next year. Can't wait to get out there gigging again.
Joch: No Idea on the number at least 5 lol, but yeah loads of great gigs in the time we have been a band Chimpy Fest was amazing, going on tour with a our good buddys RASH DECESION was really cool.

Do you have ambitions to play in other countries?
Alan: We would love to. We are all busy people so getting things sorted is hard, but hopefully when we are all allowed to travel again we will organise a trip to Europe.
Damo: Yeah mainland Europe has been on the cards for a while but life gets in the way.
Joch: Yes always (Fuck Brexit).

Plans for the future...
Alan: We are busy writing for an LP at the moment - something like 20 songs already written, so that will keeps busy for a while. Can't wait to get back out there and play some gigs!
Damo: Yeah all go with the full length at the moment, it's been a long time coming but we, well Alan, keep getting these silly ideas like the covers CD called "Near Misses", the 5"EP called "Please Worship Satan Responsibly" and more recently the 100 one second songs thing, these have all been really fun but I think we're ready for a proper album now.
Joch: More gigs, more releases, more fun, play faster.