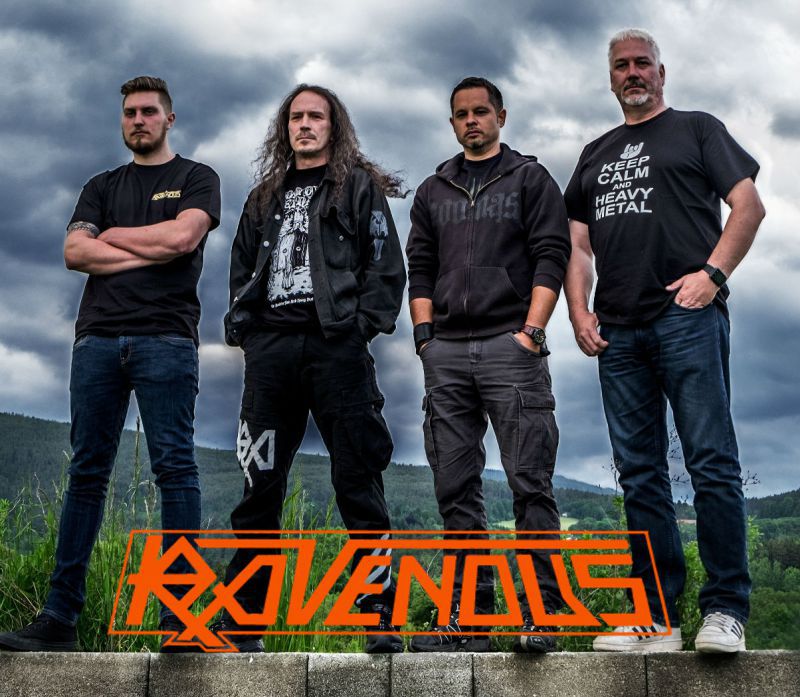 What is the date of foundation of your band? Whats the meaning of the bandname? What was the initial impulse to form a band?
Our Band exists since 1988.After we ve relaesed our Cd Book of covetous souls in 1991 we had some troubles with management so we made a Break for 20 Years.But Max and me has played just for fun all the time.I have also played in other Bands so I had contact with our second Guitarist Jo Brunner all the time.2014 We ve rerelaeased our Cd with some Bonus Traks again.Since this time we exists again as band to play gigs.Our bandname has no special meaning .The impulse was the song"Ravenous Medicine" from VOIVOD
Introduce band members – Name, age, musical experience, anything else you wanna share.
Jo Koglbauer: Guitar and vocals: old: By the Band since the beginning my favorites are all good Metal bands from ACDC til ZZ TOP .But as more thrash and death as better.
Max Gruber: Drums : older: Also by the band since the beginning. Favorite music old metal and thrash
Jo Brunner: Guitar: young: By the band since 2014 Influences death and black metal
Steve Müllner:Bass: Younger: By the Band since 2017 .His favorites are Rock and metal bands
What about your latest recording – Where/how it was recorded/produced? Who released it, how is it doing?
We had only brought out our old Cd Book of.. with some bonus tracks .You can listen it on spotify or buy by our label Via Nocturna. New songs are ready.I record now demos then we decide what we can do.We are in contact with our coverdesigner Joachim Luetke who has made our first cover.He also want to make the new cover and he have good connections to some interresting labels.
Lyrics – what language do you use (and why?) and what are the topics/importance?
I sing english.I think it sounds better for our music.But more less I make it like the old Obituary .Important is how it sounds. then come the message.
Who is behind your graphic designs – how important is this to you?
Joachim Luetke. I like our cover and i am shure by our new Cd the cover is simelar. By book of ... the Cover is like a damaged book when you see the back side and have a dark message
Which bands/people/artists would you label as your source of inspiration (if there are any such)?
In the first time bands like Sepultura ,Slayer, Metallica and so on.But of course like every band weve tried to find our own sound.By the new matirial i think we have found it .
Whats your experience with applying for record contract(s) with record labels... Are you happy where you are?
I am always happy.But our expirience is ,that it becomes difficult when more people think they can decide.In the last time we see that its not difficult to find a label. But is not easy to find a label what give us the right support
How many gigs have you played so far, any good ones to mention?
We play not very often.but we had any good gigs like the Alpine Steel Festival or the Kaltenbach Open Air in the last time.
Whats your global ambition of the band – working hard on becoming bigger? Or primaly just having fun?... or anything else?
I and Jo like to make new songs, but if we play this songs as Ravenous decide the band.We like to play our songs.With our new material we will see whats happen.
Your plans for future? And are you looking forward to your show at Thrash Nightmare festival vol. 6? :-)
I dont look to far in the future.The next we gonna do is to record our songs.and of course we are very happy to be a part of the Thrash Nightmare....We play kick ass Thrash so we are on the right place by this festival.
RAVENOUS: Facebook
Info about Thrash Nightmare festival vol. 6 (27.10. 2018, Písek - Divadlo Pod Čarou):
FB page
FB event