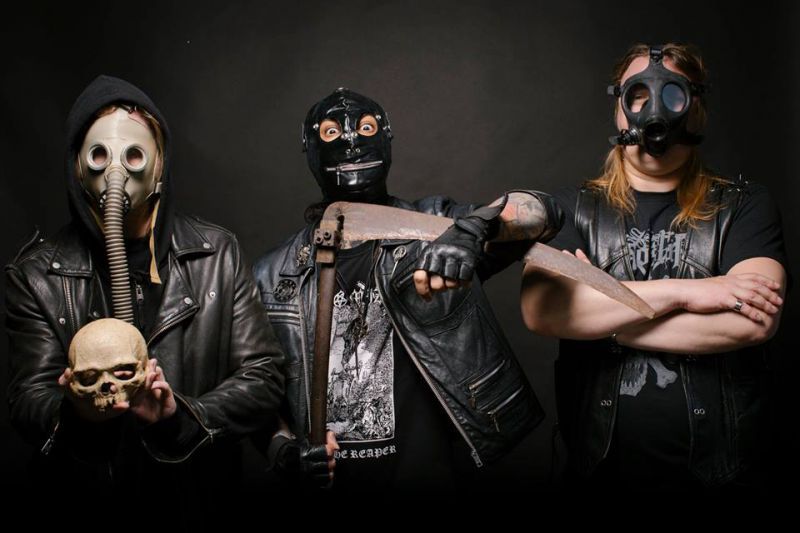 What is the date of foundation of your band? Whats the meaning of the bandname? What was the initial impulse to form a band?
Leatherface: We beggan in 1999, the name of the band I choose because is a fucking blasphemy and represent all evilness and underground subversive themes that we wrote in lyrics and scream in albums.
Introduce band members – Name, age, musical experience, anything else you wanna share.
Leatherface: Its me Leatherface - vox and bass, Warlock - vox and guitar (he live in Brazil and is retired of stages but still with me in the band making songs and recording), Max The Nekromancer on the guitars and our drummer live in Brazil (Papa Jupiter) so live we use some session members like Marc Reign (Morgoth, Agonized, Ex Destruction).
What about your latest recording – Where/how it was recorded/produced? Who released it, how is it doing?
Leatherface: We recorded in Brazil before I move to Europe in 2014 in AM STUDIO, our two last albums we recorded there "Confessioni Di Un Canibale" (realesed in Brazil CD format by Dying Music rec.) and "The Grim Tales Of The Reaper" (will be out soon by Ketzer rec here in Deutschland), the promotion is fucking underground and metal magazines and sites do not search us because we don't pay announces under pages there, so we sell a little in our pages in internet and the massive part of sells is alive.
Lyrics – what language do you use (and why?) and what are the topics/importance?
Leatherface: We scream in english for hit more maniacs, we made some parts of lyrics in Italian (Lucio Fulci song) and portuguese our native mother language, in the song Mangue Negro. The topics are about horror movies we loved, we same already made a song about the director Lucio Fulci (in third album "Jesus Is Not Here Today"), horror histories that we created, porn actress and depraved themes and etc... Every is evil, ugly and profane you can find in our lyrics.
Who is behind your graphic designs – how important is this to you?
Leatherface: Very fucking important, the connection with the music and art to bring the peoples near of our vision is important a lot. I made some covers in past ("More Horror and Death Again" - CD version), we worked with some artists like Adriano Papa (ex-drummer of Gangrena Gasosa and Voodo Priest in Brazil), Mark Riddick (USA), Self Mutilation (Chile), my art professor Ciro, made some covers and art stuff to me and my human flesh mask too, I think the more famous we worked was my friend from Brazil Marcelo Vascus, he worked with us in our first cover and today he make a lot of big bands like Slayer, Soulfly, Kreator and etc... (covers and t-shirt arts), but I am working now with Magda Piech and Yuri Costa. You can check this dudes here and here.
Which bands/people/artists would you label as your source of inspiration (if there are any such)?
Leatherface: Black Sabbath, Exorcist, Piledriver, Indestroy, Goblin, Jacula, Fabio Frizzi, Nekromantix, Master's Hammer, Mortuary Drape ... talking about lyrics inspiration (writers) I can say Lovecraft, Anton La Vey, Alan Moore, Stephen King, Edgar Alan Poe. A lot of movies too like Evil Dead, Exorcist, The Last House Of The Left, The Hills Have Eyes, Possession, Texas Chainsaw Massacre, Guinea Pig, A Meia Noite Encarnarei No Teu Cadaver, Irreversible. So many things inspire us a lot, good bands we growning up listened, tons of movies we watched, soundtracks and etc.!
Whats your experience with applying for record contract(s) with record labels... Are you happy where you are?
Leatherface: Well big labels area fucking joke but undergrounds labels can be problematic too. We had a amazing and friendship and respect history with Horror rec but unfortunally they close the doors, we worked with some labels like Iron Bone head, Ketzer rec, Dies Irae rec, Deaththrasharmageddon rec., Marquee rec and anothers (sorry I can't remember everybody here now), most part of the underground labels are limited but cool guys and honest peoples that make it because they love this kind of music and underground scene.
How many gigs have you played so far, any good ones to mention?
Letherface: I think we played in 14 countries, we are a small underground band fighting and working hard for our space in underground scene, is hard a lot, many mafia business in big events, metal magazines, big labels corrupted with managers that doesn't give a shit for the bands, music and music fans.
About mention... Yes man is always bloody savage in London, Wien, Romania, the gigs in Köpi here in Berlin are fucking skullfuckingchrush... and played with Impaled Nazarene, David Vincent (I Am Morbid), Rotting Christ, Master's Hammer, the Maestro Claudio Simonetti (Goblin), Mystifier, Mortuary Drape and anothers amazing bands, was fucking awesome. Suomi (Finland is always special too), Chile we had a blast there. Well I am fucking excited too be there and bring the hell!
Whats your global ambition of the band – working hard on becoming bigger? Or primaly just having fun?... or anything else?
Leatherface: Record, play and spread our plague around the world, now I live in Europe (since 2014 I moved to Berlin) so is more easy travel here and make music. Yes fun is important, you need make what you wanna do and love. What is the sense play a fucking underground band with heavy themes in lyrics and anti comercial songs? So work hard, someday the things beggin happen because you worked for this happen, but is a long way to the top if you wanna rock n'roll!
Your plans for future? And are you looking forward to your show at Thrash Nightmare festival vol. 6? :-)
Leatherface: Yes man for sure! We played there in 2014 in Pilsen, we didn't have a big audience but I don't give a fuck, can be 6 peoples, 100 or 1000 peoples there to watch us and I will play like a hell and give my best in stage for the maniacs, I love cults bands from there like Root, Master's Hammer and we are looking forward to back and spread our nightmare noise soundtracks! Thanx for the space wait see you all maniacs there will be fucking evil and epic! Děkuji!
SODOMIZER: Facebook
Info about Thrash Nightmare festival vol. 6 (27.10. 2018, Písek - Divadlo Pod Čarou):
FB page
FB event