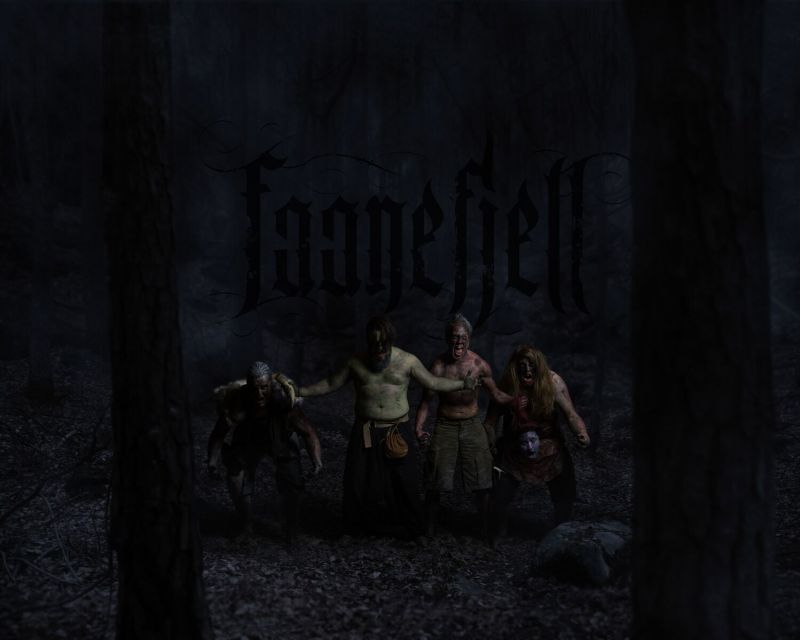 What is the date of foundation of your band ? Whats the meaning of the bandname ? What was the initial impulse to form a band?
The band was formed by in 2007, and started out as a temporary project, where the only goal was to tell stories and drink beer. Syrtroll and Grimtroll, the founding members, recruited Draagyn, Beist and Berserk to be able to perform the music to a live audience. Faanefjell is a mountain in Southern Norway which has a reputation for having a lot of trolls.
Introduce band mambers – Name, age, musical experience, anything else you wanna share.
Draagyn (guitar) and Beist (bass) are the two members that have been in the band the longest. Berserk (drums) joined soon after, and the band stayed stable for a while. Some time later, however, Syrtroll and Grimtroll left. They were replaced by Darg (vocals) and Graug (guitar).
What about your latest recording – Where / How it was recorded/produced? Who released it, how is it doing?
We finished recording our second album, "Dovrefall", quite some time ago. However, due to a lot of complications with the recordings along the way, we were unable to release it as soon as we hoped. In the end, we used Joachim of Underwing to mix the album, and ended up with a record we're proud of. We are working out the final details of an agreement with a record company right now, so we hope to be able to release "Dovrefall" late this year.
Lyrics – what language do you use (and why?) and what are the topics / importance?
As of now, all our lyrics are in Norwegian. The trolls are Norwegian (and not very knowledgeable of the rest of the world), and thus do not know any other languages. We try to tell stories in our lyrics, and it is all centered around the creatures in the Faanefjell universe. Our first album, "Trollmarsj" was about the human incursion into the trolls' dominion. "Dovrefall" sees the trolls take the fight back to the humans, in an attempt to permanently exile them from their sanctum, Dovrefjell.
Who is behind your graphic designs – how important is this to you?
Graphic design is extremely important to us, as good artwork can turn a good album into an incredible one. This is why we chose to work with the exceptional Kim Holm on the artwork for "Dovrefall", where he has managed to turn the music into some incredible images which really stands out. We are proud to have his art associated with our music on this album.
Which bands/people/artists would you label as your source of inspiration (if there are any such)?
We take inspiration from a myriad of bands and genres. Berserk is really into death metal, Graug is more of a folk metal-guy (and ABBA, of course), while Beist prefers doom. Darg mostly listens to death/groove metal, and Draagyn is the prog-head in the band.
Whats your experience with applying for record contract(s) with record labels.... Are you happy where you are?
We have talked to a few record labels through the years. Mayhem Music was there when the band was created, and worked with the band for quite some time. Later, however, Faanefjell has been without a label for a while, so we are glad we have found a label now that seems to be right for us. We're a little careful about saying which label right now, however, as the final contract is not signed yet.
How many gigs have you played so far, any good ones to mention?
We're not sure about the number, but a few that tends to come up is Wacken Open Air 2012 and Inferno Festival 2013.
Whats your global ambition of the band – working hard on becoming bigger? Or primaly just having fun?.... or anything else?
The goal is to drink beer all over the world.
Plans for future?
Right now, we're awaiting the release of our second album, "Dovrefall", and have begun writing tracks for our third one. We're also playing a few festivals this summer, like Boarstream, Metal Magic, In Flammen and Enter the Eternal Fire.
https://faanefjell.bandcamp.com/
https://www.facebook.com/faanefjell