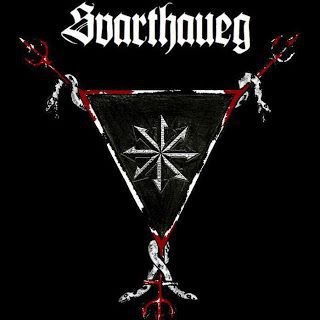 "
More and more often I hear that no one can record true old school black metal in Norway anymore, that it is all just chasing for money.
" "
Hmmm… So let's make a black metal album as it should be.
" "
I wanted to hear this! They will shut up…
".  This might be a discussion of yet little-known men just about a second before setting up a band called
SVARTHAUEG
.
According to a recent interview with vocalist Adramelech, which was mainly about more known band DØDSFALL, where he has been active since last year, I was convinced that SVARTHAUEG will take the path of old school and absolutely classic Norwegian black metal. The first piece that Adramelech revealed, the first track of the reviewed album "Drakonsk Magi" – "Astral Path to the Realms of Death" confirmed these expectations. Sharp guitars, Mr. Defest hard on drums and vocals as mentioned in the interview – uncompromising, strong and aggressive. Adramelech's words about training various voice positions and using them widely on "Drakonsk Magi" were also fulfilled.
His vocal seems to me quite characteristic, got my attention already on this year's DØDSFALL's album "Djevelens Evangelie" and on SVARTHAUEG's debut is even more refined. Musical aspect of these two bands can't be compared though – surely both bands play black metal, but DØDSFALL puts emphasis also to distinctive melodies and heavy passages, whilst SVARTHAUEG more firmly keeps "devil's hoof" style. Listen to it yourself and expect a perfect model of "BM ride made in Norway" .
"Drakonsk Magi"
includes nine magic chapters, four of which were already on EP "Ritual" (2012). I haven't heard that but I suppose there were some production changes at least. No point of describing one song after another, "Drakonsk Magi" kicks it from the first song and holds the trail till the end of the record. There are songs that catch your attention since the first moment and with repeated listening they only get deeper and deeper under your skin. I'm talking about the second track "Balam" or "Serpents Tongue" with it's absolutely killing wild drum part at the end. But there are also songs that are still good, but not much above the average, definitely not blowing your mind off. Everything fits together nicely though and you will not be bored. Not enough time for that either, the 34 minutes of the record don't allow it. Have to say that the length of the record is just perfect. If it would be 20 minutes longer, there would be a big possibility of a stereotype and boredom, but not in this case.
The sound is absolutely all right, not even the bass has been forgotten during the mixing process as it sometimes happens - in addition, the beginning of "Evoke" makes the bass sound stand out and lets us hear its metal sound. SVARTHAUEG were recording in three studios – Defest recorded drums in IKA studio, guitars, bass, some drums corrections and mix were made in Invent Sound studio in Poland, and Adramelech's vocals were recorded in Endarker Studio supervised by Magnus "Devo" Anderson (MARDUK) who also did the mastering. This demanding and surely expensive process seems to be worth, the record has a complex sound without mistakes.
Although I don't have the lyrics, Adramelech was talking about some occult obsessions which should get lyrical form on "Drakonsk Magi". I hope I'll be able to at least additionally look into the bowels of Adramelech mind.
Debut record of SVARTHAUEG will be pleasant for every fan of true black metal without any frills and curls. They don't play for effect and beauty, it is an uncompromising orthodox black metal! This album has been my partner during many sleepless nights and cloudy days and I still enjoy every listening of it.
Tracklist:
Astral Path to the Realms of Death
Balam
Black Goddess
Enter Chaos
Evoke
Under the Sign of the Beast
A Hymn to the Ancient Spirits
Serpents Tongue
Ritual VII
Total Time: 34:15
https://myspace.com/svarthaueg
http://www.obscure-abhorrence.de
Překlad: Duzl