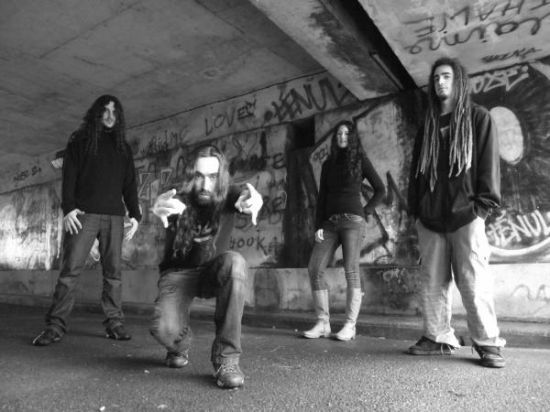 When was your group set up, why this particaler name, what does it mean and what the initial reason of its creation?
Scars On Murmansk was formed in summer 2010 around Cindy Goloubkoff (ex-Hypnosis) and Romain Larregain (Silent Opera) on guitars, Pierre Bouthemy (ex-Hypnosis) on bass & vocals, and Jon Erviti (Cylenchar, Silent Opera) on drums.
After the split of Hypnosis, Cindy and I wanted to start something different, new and fresh. We found in Romain and Jon the right persons, and the project was born!!!
To find a good name was the most difficult I think, and after a lot of discussions, we thought that Murmansk would be the perfect name, as we all liked the cold and raw/agressive sound in the name of eastern cities... Unfortunately, it was already taken by a finnish band that asked us to change it... We wanted to keep the idea and when Romain purposed Scars On Murmansk, we all thought that it was sounding really good!!!
Introduce the individual members - their age, whether they have played somewheres, and how long they have played  their instrument?
Cindy and I are the veterans, as we have played in Hypnosis for 17 years. Romain ans Jon, even if they're still young, play their instrument for more than 10 years now and have a strong experience, playing in such bands like Silent Opera or Cylenchar for many years. Romain is also a guitar teacher and professional musician as well!!!
Your guitarist Cindy has an interesting name that also makes sence in the Czech language (like a dove). Does she have the ancestors in our country?
Cindy has some russian origins, and her name means something similar (it's something like "blue dove" I guess) in the russian language!!!
Under what conditions have you made a recording, are you satisfied with it, how many have you produced, has it been with sales, what is the cost?
It costed us only time, because we recorded our first EP in our home-studio, that is also our rehearsal room!!! Everything went well and we're happy with the result so far, that is really good for a first effort!!!
We did not press this EP, except promo-cds for webzines, radios, etc..., cause we prefered to put it in FREE DOWNLOAD on our website!!! So every people interested can download it there:
http://perso.numericable.fr/murmansk/download/TTDP.html

Lyrics - why did you decide to sing in English... who wrote the words, what topics have you choosen?
I wrote all the lyrics. When I started to write in the beginning of Hypnosis, english was to me a natural choice, first to write something that most of people could understand, and also because it was sounding more powerfull, and suited more with the music to my opinion!!!
And that always the same now in Scars On Murmansk!!! Concerning the themes, "Trough Dark Places" deals with the dark side that is inside of each man, "My Death" is a questionning about the afterlife, "Buried Dreams" could be resumed as this: "Is it possible to live without dreams and hopes"? "Blind" is about man stupidity and his avidity of power, a topic that is also developed on "Dark New Messiah"!!!
Who is the author of the logo, cover, Website – how much importace do you placeon these things?
I also did the complete artwork, based on free photos found on internet. Of course artwork is very important, and participates to transcribe the atmosphere you put into the songs... Using these photos of an abandonnned house, we wanted to create the desolate atmosphere, the path to nothingness that is present in all the lyrics...
Which bands have inspired you?
We consider ourselves as a death-metal band, but each one came into the band with his own influences, from death to thrash, black, heavy, prog, etc..., and that is very interesting I think!!! We just try to write songs in the most honest way possible, with strength and passion!!!
Have you sent your recordings to the labels… which ones? What was their response?
Not yet, but we should do it in the months to come, as we plan to record our first album at the end of the year!!!
How many shows have you done, and which ones do you consider the best?
We haven't done any show with this band yet...We all play or have played live a lot with some other projects, but Scars On Murmansk is a really young band... But some dates should be planned in the months to come!!! We're really impatient to play these songs on stage, but we also want to take the time to purpose the best performance possible...
Do you have ambitions to play in other countries?
Of course!!! With Hypnosis, we have visited Germany, Belgium, Netherlands, Switzerland, Spain, Italy, Luxembourg and even Czech Republic in the last 6 years, and we're really impatient to hit the european roads again with Scars On Murmansk!!!
Plans for the future...
We are now working on the videoclip for the song "Through Dark Places", and we should shoot this in the weeks to come. Some dates are also being planned (only in France for now) from september to november!!! Meanwhile we're still working on some new material for a first album set to be recorded between december 2011 and january 2012...An then, we will see how everything works!!! We are pretty busy as you can see!!!
Website:
www.myspace.com/scarsonmurmansk
www.facebook.com/scarsonmurmansk